The new production of Anything Goes – presented by John Frost & Opera Australia – recently won 3 prestigious Helpmann Awards. About to wrap up it's Brisbane season, Anything Goes will play at the Sydney Opera House from 5 September – and DanceLife has a double pass to give away!!
Keep reading to find out how ….
The Anything Goes winners of the Helpmann Awards are:
CAROLINE O'CONNOR / As Reno Sweeney – Winner of Best Female Actor in a Musical
ALEX RATHGEBER / As Billy Crocker – Winner Best Male Actor in a Supporting Role in a Musical
ANDREW HALLSWORTH – Winner of Best Choreography in a Musical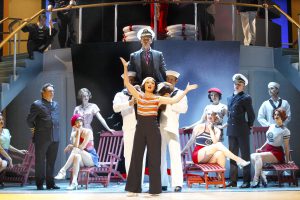 Opera Australia Artistic Director Lyndon Terracini AM and leading Australian theatre producer John Frost AM were thrilled. "We are extremely proud of Anything Goes, and very happy for this well-deserved recognition for Caroline, Alex and Andrew" they said.
The Age gave Anything Goes four stars, saying "Riotously entertaining. Anything Goes is a must-see for musical theatre fans … Caroline O'Connor thrills as Reno Sweeney … she delivers everything you could want – a big, bold, brassy performance full of vocal splendour, impeccable comic timing, and show-stopping tap routines danced with dynamic flair."
The Herald Sun, also awarding four stars, claimed the show is "Stylish … exuberant … Anything Goes is still De-lightful, De-licious and De-lovely."
Caroline O'Connor leads the Anything Goes cast as evangelist turned nightclub singer Reno Sweeney; Todd McKenney plays Lord Evelyn Oakleigh; Alex Rathgeber is young Wall Street broker Billy Crocker; Claire Lyon is American debutante Hope Harcourt, and Carmen Duncan in her musical theatre debut plays Evangeline Harcourt; Wayne Scott Kermond is second-rate gangster Moonface Martin; Debora Krizak is Moonface's girlfriend Erma; Bartholomew John is Wall Street banker Elisha J. Whitney; while Gerry Connolly plays the Captain of the S.S. American.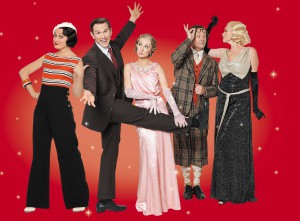 For decades, Anything Goes has captivated millions with its delightful story of madcap antics aboard the S.S. American. When the ocean liner embarks from New York to London, etiquette and convention get tossed out the portholes as two unlikely pairs set off on the course to find true love … proving that sometimes destiny needs a little help from a crew of singing sailors, an exotic disguise and some good old-fashioned blackmail.
This dazzling musical celebration features some of Cole Porter's best-ever musical numbers such as You're The Top, De-Lovely, I Get A Kick Out Of You and of course the title song, Anything Goes.
This is a first-class musical extravaganza, a ship-shape production that will have you 'all at sea' if you miss out!
www.anythinggoesmusical.com.au
TWITTER: @AnythingGoesAu
FACEBOOK: https://www.facebook.com/pages/Anything-Goes
INSTAGRAM: @AnythingGoesAu

SYDNEY SEASON
Venue:           Joan Sutherland Theatre, Sydney Opera House
Date:              from 5 September, 2015
Times:            Wed–Sat 7.30pm, Matinees Tues, Wed & Sat 1pm, Sun 3pm
Prices:            from $79.90*
Special price previews $69.90* (*transaction fees may apply)
Groups of 12 or more call 02 8240 2290
DanceLife has a Double Pass to give away to Anything Goes on Sunday September 6th at

3pm

at the Sydney Opera House. To win, please email your answer to the following question to win@dancelife.com.au and include your name and contact number.
Q: Anything Goes features the music of which famous musical theatre composer?
Entries close Tuesday 25th August. Good luck!