Joshua Russell
'We Will Rock You' Ensemble Cast Interview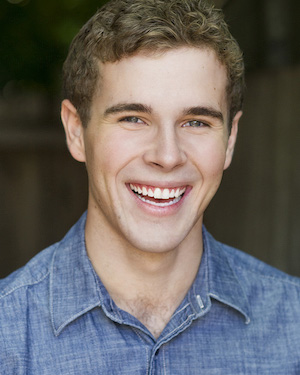 The worldwide smash hit musical WE WILL ROCK YOU is a futuristic musical adventure that will rock your world! Since 2002, over 16 million theatregoers in more than 28 countries have been rocked by this production. The talented cast brings to life the music of Queen in conjunction with Ben Elton's screenplay that fashions this hilarious comedy around more than 24 of Queen's biggest hits including We are the Champions, Killer Queen, Somebody to Love, Under Pressure  and Radio Ga Ga. DanceLife is thrilled to speak with members of this epic cast.
Our fourth & final interview in this series is with Joshua Russell.
______________________________________
How did your career begin for you?
It all started when I was young, I watched RiverDance on a video back in the 90s and just thought "I want to do that." I started with tap lessons and from there I went into ballet and then everything else. I was always into both sport and dancing, so when it came to the end of school I had this big decision to make – whether to go into a trade or take a shot at becoming a performer.
I got very lucky and went straight into Strictly Ballroom – I came in halfway through the Melbourne Season. It was an amazing experience. After that, I then went straight into Hugh Jackman's Arena Spectacular which was crazy! It's really been job to job after that which makes me feel very blessed. It's just amazing! And now I'm here!
Where did you grow up and where did you train?
I grew up in Sydney, and trained at ED5 – the two year diploma course. I graduated in 2014, so I feel very blessed for everything I've been a part of since then.
What can our viewers expect from this production from a dance perspective?
There are so many different styles of dance in this show from swing dancing to military style dancing but the movement is all very stylistically precise. It is a very different style of choreography and you've got to be 'on' all the time.
It's a really nice, versatile program of dance … What are your favourite characters you like to play in this production?
I really love to play the 'Bohemians', I love the individuality of it! You can bring a whole heap of different characters into the mix and have some fun with that.
I also love the 'Killer Queen' Scene, with the canes … Our characters' intention is to be just the biggest 'Badass' out there… It's very, very fun to play!
Where would you like to go from here in your career?
Wherever the wind takes me really… I won't stop doing this because it's my passion and I just love it!
#WWRYAU
www.wewillrockyou.com.au
WE WILL ROCK YOU is currently playing its final season in Melbourne at The Regent Theatre until the end of October. The Perth and Adelaide seasons will not go ahead as originally planned. Tickets, details and bookings are on the website.
JOSHUA RUSSELL | BIO
In 2014 Joshua graduated with a Diploma of Performing Arts from ED5 International. In 2015 he moved straight into Strictly Ballroom (Global Creatures) understudying the principal role of Scott Hastings and supporting roles of Wayne Burns and Nathan Starkey. He was also fortunate enough to then appear onstage alongside his inspiration Hugh Jackman in his acclaimed Broadway to Oz Australian tour.  Joshua's other credits include roles in Home & Away, Dance Academy and commercials for KFC, Telstra and SoyJoy. On stage he performed alongside Wayne Scott Kermond inCandyman, revealed his true love of sci-fi in the Dr Who Symphonic Spectacular and played Johnno in John Williamson's folk Musical Quambatook. Joshua would love to dedicate this performance to his family.