Most Outstanding Company Performance - Bangarra Dance Theatre's 'Lore'. Photo Jeff Tan
Winners List 2016 Australian Dance Awards
Bangarra Dominates
The 2016 Australian Dance Awards were presented last night in Perth acknowledging a year of outstanding artistic achievement from dance companies, choreographers and dancers from around Australia.
Performers on stage included the West Australian Ballet, Co3, STRUT Dance, Lucy Guerin Inc, K2Dance, Force Majeure, Tasdance and Ochre Contemporary Dance Company.
Big winners on the night were artists associated with Bangarra Dance Theatre and the company itself. The late Roy David Page – composer, performer, Nunukul Munaldjali man – was remembered in a touching In Memoriam, and shortly afterwards the Award for Services to Dance was made for his achievements.
The Award for Outstanding Performance by a Female Dancer went to Elma Kris for her moving performance in Bangarra Dance Theatre's Lore.
The most prestigious award of the night, Outstanding Performance by a Company went to Bangarra Dance Theatre.
Amongst other popular awards, Services to Dance Education went to Perth local Dr Joan Pope OAM for more than 50 years of inspired leadership in education through dance and music, influencing generations of young Australians.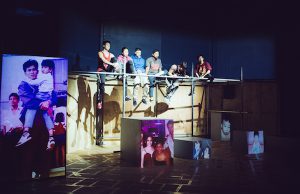 The Lifetime Achievement Award was made to inspiring Perth dancer and dance teacher Terri Charlesworth OAM CitWA for her initiative, dedication, generosity and passion, which have greatly influenced generations of Australian dancers. As well as being a dazzling performer, Terri has had outstanding success as a teacher and leader in dance education and training. Read our article on Terri Charlesworth here.
The Australian Dance Awards are presented by Ausdance and Harlequin Floors.
2016 WINNERS
Outstanding Achievement in Youth Dance
Force Majeure & Powerhouse Youth Theatre for Jump First, Ask Later
Award for Services to Dance Education
Dr Joan Pope OAM


Keith Bain Choreographic Travel Fellowship
Patrick 'Lucky' Lartey
Outstanding Achievement in Choreography
Lucy Guerin for Motion Picture (Lucy Guerin Inc.)
Oustanding Achievement in Dance on Film or New Media
Meryl Tankard for Michelle's Story
Outstanding Achievement in Commercial Dance, Musicals or Physical Theatre
Circa for Il Ritorno
Outstanding Achievement in Community Dance
Dancenorth for Twilight
Award for Services to Dance
Roy David Page


Outstanding Achievement in Independent Dance
Sue Healey for On View: Live Portraits
Outstanding Performance by a Female Dancer
Elma Kris for Lore (Bangarra Dance Theatre)
Outstanding Performance by a Male Dancer
David Mack for Frame of Mind (Sydney Dance Company)
Oustanding Performance by a Company
Bangarra Dance Theatre for Lore
CLICK HERE for the Short Listed 2106 nominees in all categories.