Dance Highlights of WOMAdelaide
March 6 – 9
Now in its 27th year, WOMADelaide is a four-day festival of Music, Arts and Dance celebrating cultural and creative diversity held since 1992 in Adelaide's beautiful Botanic Park. The festival has become a truly unique part of the Australian festival landscape, showcasing the best, the essential – and the surprising – in global music, dance, art and ideas.
Next year's line-up includes 5 incredible dance/physical theatre acts.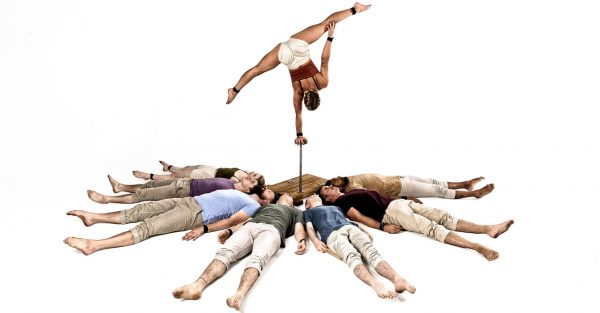 Gravity & Other Myths – A Simple Plan
Gravity & Other Myths (GOM) is an Australian, internationally-renowned circus company pushing the boundaries of contemporary circus. Formed in Adelaide, Australia in 2009, GOM has rocketed to stellar acclaim with a series of disarmingly accomplished ensemble works. GOM's work utilises an honest approach to performance, to create shows with a focus on human connection and acrobatic virtuosity. A Simple Space has achieved huge international success, receiving multiple awards, and having performed more than 600 times across 30 countries. The seven acrobats in GOM push their physical limits without reserve in a performance that is raw, frantic and delicate. A Simple Space, which has been performed over 600 times in 30 countries, evokes a visceral response because there's no fine-tuning through makeup, lighting and contrived theatrical overlay. On the grass and up close, this gritty show allows audiences to feel the heat and be immersed in every breathtaking moment.
B.DANCE – Floating Flowers
Thirty-one year old Taiwanese choreographer Po-Cheng Tsai founded B. Dance and established a unique choreographic language and aesthetic through mixing contemporary with traditional Asian formalities. He was inspired to create the magnificent Floating Flowers to honour his late father and free himself from memories that haunted him. Appearing to drift gracefully above the water, the 14 dancers are wrapped in diaphanous muslins that represent floating lanterns. The choreography is refreshingly optimistic.  His work has awarded him Tanz Magazine (Germany)'s top 32 most promising choreographers, Upcoming Choreographer of the Year 2018 and more. Floating Flowers is inspired by traditional Taiwanese religious celebrations that that place at the Ghost Festival, one of the most beautiful and popular Buddhist ceremonies in the country. Southeast Asian culture uses water lanterns to deliver wishes and pay respects to the deceased, which is represented by dancers appearing to waft gracefully over water. Combines traditional Asian movements and martial arts with contemporary dance. The 60-minutes show has been touring Europe since 2016.
Foco alAire – LosTheULTRAMAR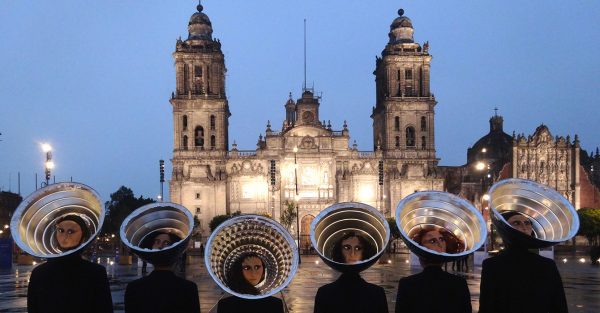 From Mexico, LosTheULTRAMAR is a project that seeks to recover the human archaeology in several ways: share, confront and establish a dialogue of all beings toward the other. LosTheULTRAMAR represent a kind of tribe, a product of the globalised world, sharing their slow-moving procession and dance with the public. Wearing dark suits, industrial aluminium lampshades as a mask, as a head-dress – reminders of tribal traditions from around the world – these beings appear out of nowhere. Mysteriously, wordlessly, and using minimal body movements, they have potent emotional impact. Directed by dancer, writer and sociologist Marcela Sánchez Mota and since 2007 choreographer Octavio Zeivy, Foco alAire Producciones was founded in Germany in 1999. Their work has always been characterised by the study of the role of the body in communication.
Presented for the first time in Australia at WOMAdelaide, LosTheULTRAMAR explores the role of public space, containment and minimal movement as a choreographic element.
Wired Aerial Theatre – As The World Tipped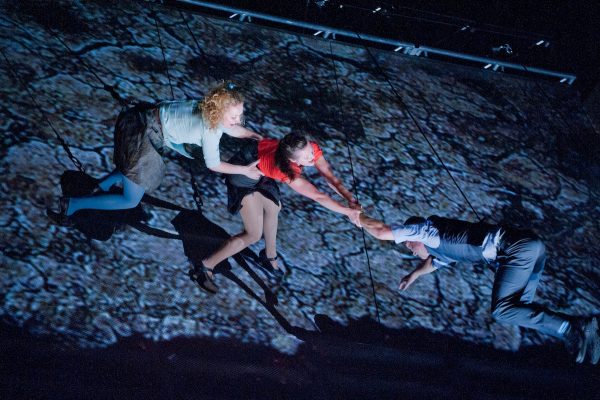 The aerial spectacular As the World Tipped is a politically-charged and environmentally-focused performance for our times, by the renowned UK company, Wired Aerial Theatre. To be presented nightly in Frome Park, and towering 13 metres above the audience, As the World Tipped is an exceptionally ambitious and beautifully crafted aerial performance where dance and theatrics entwine with extraordinary projections that illustrate the very real and immediate realities of climate change. The audience will see the dancers perform with spectacle, humour and emotion as their world is, literally, tipped upside down. Dance, theatrics and projections that will illustrate the very real and immediate realities of climate change. Since Wired Aerial Theatre's beginnings in 1999, the theatre has being world renown in cutting edge work in contemporary dance, physical theatre, gymnastics and climbing.
Orang Orang Drum Theatre – LaguKu & Memories
Transforming a traditional art form into something new, vibrant and colourful, Malaysia's Orang Orang Drum Theatre's twelve performers use precision percussion, theatre and dance to share the rich folklore of Malaysian society. LaguKu reveals the hidden power of the drum through a myriad of diverse, percussive instruments from different cultures, combined with vocals and highly physical choreography, and The Memories explores the idea of collective memory and the concept of 'home' as a migrant. The name Orang Orang Drum Theatre fittingly means 'people' and 'community' in both Chinese and Malay, which represents their mission to bridge the gap between the performance art and their audience. The team, formed in 2013, includes over 20 professional and part time drummers. They set out to transform the Chinese traditional art form into a multi-cultural new genre of performing arts with theatre, movement and stories. You can watch their performance here.
WOMAdelaide
Friday 6th – Monday 9th March 2020