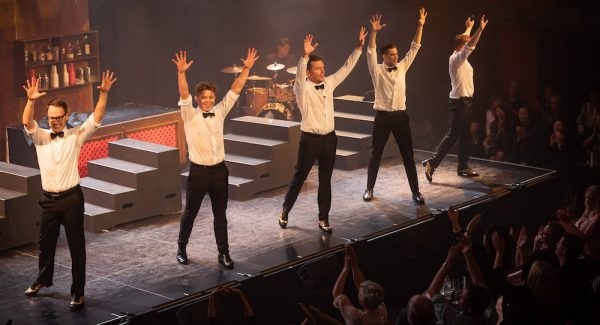 The Tap Pack Live from the Sydney Opera House
Saturday 16 May, 8pm
Streamed live from their 2018 performance at the Joan Sutherland Theatre at the Sydney Opera House, the global tap sensation The Tap Pack is featuring in the venue's From Our House To Yours digital program this week.
Following the smash hit season in 2018, the modern kings of swing return to transport you to a world of timeless entertainment. Performing live from the Joan Sutherland Theatre direct to your living room, get ready for some slick suits, classic tunes and magic moves.
The Tap Pack recently announced the re-scheduling of their Australian tour to 2021. Get the new dates and cities here.
The Tap Pack is a modern rat pack with world class tap. Don't miss this high energy, tap comedy show inspired by the infamous "Rat Pack" of the 50s which included the famous talents of Frank Sinatra, Dean Martin and Sammy Davis Jnr.
Picking up where The Rat Pack left off… The Tap Pack conjure up a modern twist to the crooners and artists from the 50s through to the noughties! Featuring songs from Sinatra, Dean Martin & Sammy Davis Jr to Sheeran, Bublé and Beyonce, The Tap Pack mix slick humour, high energy entertainment and world class tap dance.
So, dust off your dancing shoes and make sure your coffee table is sturdy! Toe tapping is impossible to resist with these masters of dance serving up their brilliant best.
THE TAP PACK LIVE