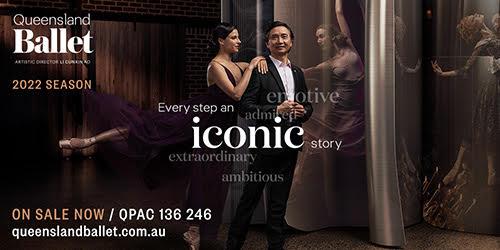 The Sleeping Beauty
Queensland Ballet
The classic story audiences know and love will return in 2022 when Queensland Ballet presents The Sleeping Beauty for a limited season at Gold Coast's Home of the Arts (HOTA).
After last year's box-office record-breaking season, this blockbuster ballet will delight audiences with the magic of a fairytale where evil tries but fails. The story of the princess doomed to eternal slumber only to be awoken by her true love's kiss, where cats creep, fairies flit and beautiful bluebirds herald the triumph of good. As the Princess awakes, she touches the heart of every living creature.
Queensland Ballet Artistic Director, Li Cunxin AO said he is looking forward to bringing the iconic production to Gold Coast.
"The Sleeping Beauty returns to the stage with all the enchantment of classical ballet, captivating audiences with exquisite Renaissance-inspired costumes, spectacular choreography and elaborate stage sets. All under the spell of Tchaikovsky's dramatic musical score," Mr Li said.
"After such a positive reception from our Giselle season, QB and HOTA have harnessed our chemistry, and I am beyond excited to announce that both seasons at HOTA in 2022 will be exclusive to the Gold Coast. The Sleeping Beauty in February and then Moonlight Ballet in November," said Mr Li.
The official partnership will see HOTA present two QB seasons in 2022, with plans for 2023 and beyond already in play.
HOTA CEO Criena Gehrke said she was delighted to welcome QB to its home away from home on the Gold Coast.
"The partnership between Queensland Ballet and HOTA is an alignment of our values as two leading organisations in southeast Queensland. We are both deeply committed to supporting, nurturing, celebrating and showcasing artists, and have a rich belief in the impact art has on its community," said Ms Gehrke.
"The exclusive season of The Sleeping Beauty at HOTA is a moment of celebration of the partnership that we get to share with audiences, and I am delighted they're returning to the Gold Coast to perform at the end of the month."
The Sleeping Beauty
Surfers Paradise

– Gold Coast's HOTA Theatre
from 25-26 February 2022