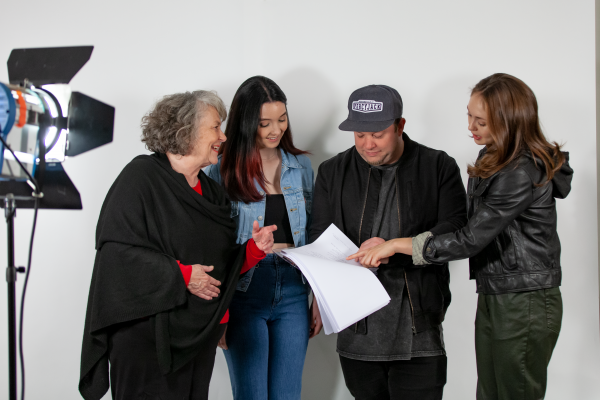 New Teen TV Dance Drama Starts Production
The new teen coming-of-age dance drama The Red Shoes: Next Step has commenced production this week in Sydney, Australia.
From the creators of the family fantasy adventure box-office hit The Legend of the Five, The Red Shoes: Next Step stars two-time gold medalist ballet dancer Juliet Doherty (High Strung: Free Dance and Driven to Dance) as the lead Sam Cavanaugh and The Conjuring 2's Lauren Esposito as her rebellious best friend Eve.
The Red Shoes: Next Step opens with Sam backstage about to dance the lead in "The Red Shoes" ballet when her older sister Annie, a brilliant dancer, is struck by a car while on Facetime with Sam. Guilt-ridden, Sam quits the Academy, returns to high school, runs wild with Eve, and lands herself in community service, to be served cleaning studios at the Academy; a constant memory of the tragedy.
Surrounded by old friends and rivals, Sam pushes through the work, avoiding reminders of her past. But when Gracie, "The Red Shoes" principal, is injured, Sam is pressed by her ballet teacher Ms Harlow to take over the role and dance with Ben, an old friend, long-time crush, and renowned dancer. Sam grapples with her guilt, wondering if her sister would give her blessing, but it's her own grief and fear she needs to confront to reignite her deep love for dance.
The Red Shoes: Next Step is written by Zachary Layner, Award-winning writer John Banas (Miss Phryne Fisher Murder Mysteries) and Peter McLeod (The Legend of the Five), and directed by Jesse A'hern, (The Legend of the Five) and Mad Max's Joanne Samuel.
Directors Jesse A'hern and Joanne Samuel state: "The Red Shoes is written with genuine characters and themes that delve into the importance of the strength and bond between dance families and friends. We aim to produce a world within The Red Shoes that feels grounded in reality, showing, on one hand, the challenges, stress and pain that comes with ballet, but on the other the freedom, love, and acceptance that can also be found through dance."
The Red Shoes: Next Step is shooting in a range of locations in and around Sydney. Supporting cast members for the film include professional ballet dancer Joel Burke, Carolyn Bock (Neighbours, Wentworth), Paris Opera Ballet dancer Primrose Kern, Meitta White (Conspiracy 365), Ashleigh Ross (Dance Academy) and Nicholas Andrianankos (The Legend of the Five).
Executive Producer Tanya Esposito is proud to be delivering a film that will resonate with audiences globally.
"The Red Shoes explores themes through dance that are universal across all cultures and ages. Being predominantly a female lead cast and with the collaboration of a female director, we feel that the story's foundation of friendship represents an authentic female voice that audiences will relate to," said Tanya.
Esposito further adds, "The Red Shoes comes at a unique time where there is a void of dance-centred films aimed at a younger audience. The film will also appeal to a wider demographic who will appreciate the complexities of our professionally choreographed dance scenes. It has been a real pleasure working with a young multi-talented cast and I believe The Red Shoes showcases the high calibre of young dancers Australia has to offer."
The Red Shoes: Next Step producers are Tanya Esposito and Jesse A'hern, the Director of Photography is Kent Marcus and the Choreographer is Daniel Gaudiello. The Red Shoes will be distributed in Australia by Pivot Pictures.
---
JULIET DOHERTY (Sam Cavanaugh) ⏤  is an American actress and dancer. 23-year-old Doherty is best known for her leading roles in High Strung: Free Dance and Driven to Dance on Netflix. Juliet is a two-time gold medalist of the Youth America Grand Prix International Finals and has been a featured artist at the Kennedy Center, Lincoln Center, and Radio City Music Hall. The New Mexico native was initially trained by her mother, Krista King-Doherty, at Fishback Studio of the Dance, and continued her classical training at the San Francisco Ballet School. Doherty began her professional career at 12 touring with the renowned Radio City Rockettes in the Radio City Christmas Spectacular. She originated the role of "Ondine" in Marie, directed by Susan Stroman and recently appeared in the role of "Lise" in the Tony Award-winning musical An American in Paris. She has been awarded prizes from the National Society of Arts & Letters and the Beijing International Ballet Competition. At the age of 15, Juliet became one of the youngest TEDx speakers. She spoke about empowering young artists and people alike to achieve their dreams through mindful practice. Juliet has amassed a following of more than 360k on Instagram and teaches worldwide for pre-professional academies, companies and universities. Juliet is now a brand ambassador for MDM, an Australian-owned and operated company established by former professional dancers, Timothy Heathcote (Sydney Dance Company) and Simone Goldsmith (Principal of the Australian Ballet).
LAUREN ESPOSITO (Eve) ⏤  is a 23-year-old Australian actress based in Hollywood and Australia. Starting her career in musical theatre at age 11, Lauren landed her first screen role playing the recurring character, Cynthia, in the acclaimed drama series, Love Child, in 2016. Immediately following filming, Lauren was offered her first feature film blockbuster, The Conjuring 2, playing the supporting role of Margaret Hodgson. Lauren's most recent films include the lead role in the family adventure, The Legend of the Five (2020) and also opposite Disney star Peyton List in Swimming For Gold released by Universal nationally in Australian cinemas in September 2020 and across the US streamer HULU in October 2020. Lauren has also starred in several US cable network films including SYFY's Arctic Apocalypse (2019), and Lifetime Movies American Psychos (2019). Lauren Esposito is also a young fitness and lifestyle influencer who brings a following for The Red Shoes target audience of over 23K Instagram followers.