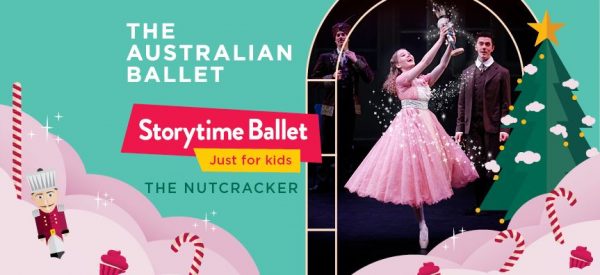 The Australian Ballet Tours the Season's Magic with 'The Nutcracker' Storytime Ballet for Kids
Dec 11 – Jan 24
Packed with wonder and delight, The Australian Ballet's Storytime Ballet will take ballet's young
est audiences on a spellbinding adventure with a children's production of one of the world's most beloved ballets, The  Nutcracker, touring from 11 December 2019 to 24 January 2020.
Designed as a perfect school holiday and Christmas activity, the Storytime Ballet series has been expertly crafted just for kids.
With a performance duration of just under one hour, this live and interactive production features a narrator to guide the audience through the story and calls on the kids in the seats to help with some magic spells along the way.
Children are encouraged to come dressed in their favourite ballet-inspired outfits and dance along with the performers.
Storytime Ballet: The Nutcracker is an enchanting tale with a Christmas theme, set to the famous Tchaikovsky score, which instantly ignites the festive spirit. This spectacular production features glorious bespoke sets and costumes created by Australian designer Krystal Giddings.
"There is nothing more special than experiencing The Nutcracker at Christmas time," says Artistic Director David McAllister.  "These specially designed Storytime Ballets allow us to tour more extensively and increase accessibility to ballet across Australia. It means we can provide the perfect first ballet experience for more Australian families."
This production was created as an immersive experience intended to conjure pure, light-hearted fun, and follows Clara as she goes on a magical journey and meets the Sugar Plum Fairy, the Mouse King and The Nutcracker Prince.
The Nutcracker is the world's most beloved ballet and a firmly entrenched Christmas tradition around the world. Its child protagonist, Clara, receives the gift of a nutcracker doll from the mysterious magician Drosselmeyer. After vanquishing the Mouse King, Clara and the Nutcracker journey to the marvellous Land of Sweets, where she experiences many thrilling dances, culminating in the exquisite Dance of the Sugar Plum Fairy.
Storytime Ballet, now in its fifth year, beguiles new and loyal dance fans; more than 34,000 people attended last year. The series has been greeted with critical acclaim and many sold-out performances. Both kids and parents have responded warmly to this special program, which was made with children in mind at every step of the creative process.
THE AUSTRALIAN BALLET'S STORYTIME BALLET: THE NUTCRACKER
MELBOURNE

⏤ Arts Centre Melbourne
11 – 15 December
SYDNEY
⏤

Sydney Opera House
18 – 4 January
GOSFORD
⏤

Laycock Street Theatre
8 – 9 January
SYDNEY
⏤

Sydney Coliseum Theatre
11 – 12 January
CANBERRA
⏤

Canberra Theatre Centre
16 – 18 January
ADELAIDE
⏤

Festival Theatre
22 – 24 January