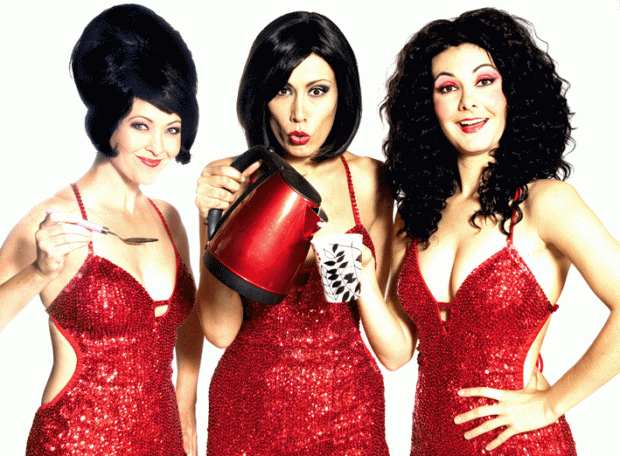 Fast becoming notorious for reworking vintage gems from the 60s, 70s and 80s, Sydney's hilarious female trio, The Margaritas, serve up a delicious mix of cabaret and burlesque with a deliciously wicked sense of humour. Tart and complex with a hint of bitterness, these sophisticated temptresses will add some of your old favourites into the blender and serve them up with a twist for Mardi Gras 2010. NB: Creators Jackeline Laso, Nathalie Cotte, Natalie McCormack. DanceLife caught up with the girls to chat about their new show 'On The Rocks'.
1. Tell us how you found each other and formed 'The Margarita's'?
We knew each other for a while working together in the entertainment industry. We were all at a point in our careers where we wanted to create our own project and manage ourselves.
We all have a very kooky sense of humour. So finding each other was a blessing as it is not easy finding people you can work together on a creative level as well as being good friends.
2. You are all triple threat performers. Do you think this is a key ingredient to creating a successful show?
It really depends on the show itself. For our particular show it works well to have experience in singing, dancing and acting as it draws on all of them. In general it is very useful to be versatile but it really depends on what you want to do and the show you are trying to create. Some shows run more on just the music and musical talent, some just on dance and then others such as musicals tend to draw on all 3 elements. We are a vocal group – a band if you will, but we bring in theatrical elements such as dance, movement, costumes, and characterisations which suits our show and adds to the entertainment value of it.
Also, comedy is a big ingredient for us and during our creative process and rehearsals, we often go beyond the realms of good taste/what's possible but it's this over-zealous approach that gleans the best results. Often one of us might say "Now I know this isn't possible, but what if we had naked men/fireworks/an albatross colony interrupt the last verse of this song…?" Triple threat ability is very handy obviously, but the fact that we are creatively inspired, believe we're offering something unique and immensely enjoy what we do really shines through in performances and is key to the success of our shows.
3. We last saw you in Slurp, Don't Sip which received standing ovations and rave reviews. How do generate new show ideas and where do you get your inspiration from?
We tend to each be inspired by different songs and have a base idea or 'vision' for it. We'll workshop it together and something will grow out of that. We draw inspiration from so many different sources mainly the music or song itself – artists we like, pop culture, movies, everyday life situations – pretty much everything and anything.
We choose songs and part-parody part-tribute them – usually endeavouring to insert an unexpected twist at some point, or giving the song an unusual flavour or theme. It may be a song people will have heard many times, but they will have never seen it presented the way The Margaritas do it! We're inspired by many varied and legendary vocalists, from James Brown to Kate Bush, and our choreography ranges from classical ballet to waacking (one of our members Jackeline Laso has studied in New York). A comedic influence is Benny Hill – although it's more like we are the buxom young ladies and Benny rolled into one!
4. Recently you were seen busting out into song throughout Sydney's public transport system. How effective was this strategy in getting your name out there?
It was great! We definitely lightened up people's faces when we sang and from what we could tell, the public really enjoyed it. It would have been pretty memorable considering it's not what you see every day. One lady approached us and hired us for her daughter's 21st.
It was like small-scale flash-mobbing and was a very pro-active way of getting out there and making the public aware of us. I cherished seeing people smiling on public transport.
5. Tell us what we can expect to see in your new show 'On The Rocks' which will debut at Sydney's Seymour Centre's from 25th March?
It will be a pastiche of vintage songs which we interpret in our own special way. Lots of colour, movement and song laced with our own special brand of humour as we add our own twist to a very eclectic soundtrack! There are lots of surprises install. Cheeeeecky…. is what I can say. It's a very exciting show!!
THE MARGARITAS IN 'ON THE ROCKS' (25 Feb- 6 Mar Thu-Sat 9.30pm, $18-25, Seymour Centre, Downstairs Theatre)
Bookings & More Info: Box Office P: 02 9351 7940 W: www.seymourcentre.com