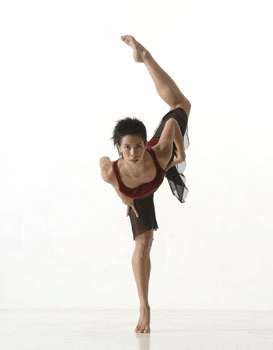 At least 3 times per week I ride my bicycle into Byron Bay. I live 6km out of the town centre and the ride gives me clarity and ideas for my three favorite things within my world of dance – directing my school, writing for DanceLife and my work as a performance enhancement coach. As I was riding this morning I noticed the higher the gear I was in the greater the resistance in my muscles, creating a greater challenge and harder ride. In that moment I could have chosen to let my tired legs win, slow up the bike and simply cruise, or I could step up to the challenge by letting my powerful mind drive the bike and override my tired legs. I chose the latter and when I did this I became capable of riding faster; and boy can I ride fast! I become more focused, alert and centered as my senses become alive and I am more capable of handling the traffic obstacles.
Life provides similar analogies and so does the dance studio. The more we are challenged, the more capable we become of mastering harder choreography and technique but only if we take on the challenge! The more we repeat those challenging steps and create a consistent rhythm the easier they become and we quickly find ourselves ready for a greater challenge. This is how we improve, this is how we grow and this is an important principle in life.
The same principle also applies to the mental and emotional aspects of dance. Today dancers not only need to be dance fit, they need to be emotionally and mentally fit. Your mental and emotional fitness is only strengthened through having a balanced perception of yourself and of the world around you. This enables you to endure set backs, audition rejections and critiquing from your teachers, directors, examiners and adjudicators. It also enables you to humble yourself after the high of the win and get you focused again on the next goal. Your mind and emotions play a major role in your dance life.
I do not necessarily promote "positive thinking" but rather, "balanced thinking". Balanced thinkers know that for every positive experience there will be a drawback and for every negative experience there will be a benefit. Your world is perfectly balanced with challenge and support, however when you chose to focus on only the negative without the positive or the positive without the negative you become out of balance either stressed or hyped.
So while you are refining your goals for 2010 consider creating goals that will help you grow emotionally and mentally. Some goals maybe;
• Stand at the front of the dance class more often
• Ask your teacher to give you more feedback on your ability and career prospects
• Enter more eisteddfods so you get used to staying focused at competitions
• Audition audition audition!
• Try public speaking
Try something new, anything that will help you to grow out of your current mental and emotional box. Decide to love yourself no matter what the outcome and give yourself permission to fail; it is only through failure that one can discover success!
I look forward to assisting you in growing as a dancer, performer or teacher in 2010 on DanceLife! …Remember YOU are the one that can make anything happen!
Yours in dance
Kate xx
www.katehiston.com
www.byrondancedynamics.com.au
© Copyright Kate Histon 2010 on behalf of DanceLife Australia. To copy or distribute any part of this article you must first seek permission by the author Kate Histon.