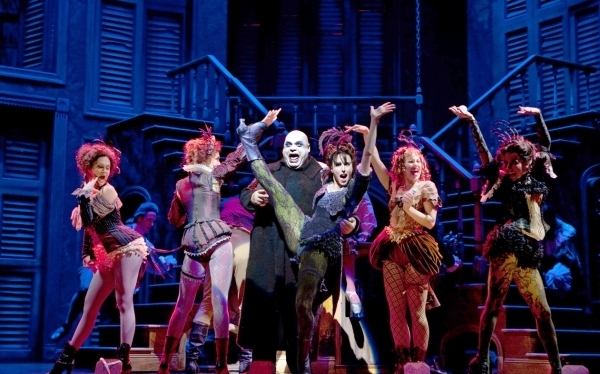 It was announced last week that The Addams Family, Broadway's new smash hit musical comedy based on the bizarre and beloved family of characters created by legendary cartoonist Charles Addams, will make its Australian premiere in Sydney in March 2013 at the Capitol Theatre.
The Addams Family will be produced in Australia by Rodney Rigby together with Stuart Oken, Roy Furman, Michael Leavitt, and Five Cent Productions by special arrangement with Elephant Eye Theatricals and with the support of Events New South Wales on behalf of the NSW Government.
NSW Premier, Barry O'Farrell said securing The Addams Family premiere demonstrated that Sydney is starting to become the number one city for first run musicals in Australia.
"Sydney and NSW is back in the business of attracting the finest in musical theatre – and there is more to come. Musical theatre is now taking centre stage on the NSW events calendar. We are seeing producers embrace our city for their shows, which are becoming an essential part of the Sydney visitor experience," Mr O'Farrell said.
"This is a very pleasing result and the City is very excited to be part of the team effort that has brought this acclaimed musical to Sydney," said Lord Mayor Clover Moore MP.
"We highly value our partnership with Events NSW, dedicated to boosting cultural and economic opportunities."
The Addams Family opened at Broadway's Lunt-Fontanne Theatre in March of 2010 and immediately became one of Broadway's biggest hits. In its fourteen months on the Great White Way, the show has grossed over $US62 million and is consistently among Broadway's top-grossing shows each week. Prior to Broadway, the musical grossed over $US12 million during 8 weeks in Chicago, becoming the most successful pre-Broadway engagement in Chicago's history.
Producer Rodney Rigby (Jersey Boys and Rock of Ages) said: "The Capitol Theatre in Sydney could have been easily designed by Charles Addams and is the perfect theatre to be the Australian home of The Addams Family – we cannot wait to move in with Gomez, Morticia, Uncle Fester, Grandma, Wednesday, Pugsley and Lurch!
Broadway Producer Stuart Oken said: "We've been blessed with terrific success on Broadway and I am thrilled to be bringing the Australian premiere of The Addams Family to the beautiful city of Sydney."
The Addams Family features an original story. It's every parent's nightmare. Your little girl has suddenly become a young woman, and what's worse, has fallen deliriously in love with a sweet, smart young man from a respectable family. Yes, Wednesday Addams, the ultimate princess of darkness, has a "normal" boyfriend, and for parents Gomez and Morticia, it's a shocking development that turns the Addams house upside down when they are forced to host a dinner for the young man and his parents.
The production features all the favourite characters – Uncle Fester, Grandma, Pugsley, Lurch, and the Beineke Family of Mal, Alice and Lucas.
In a prolific career spanning six decades, Charles Addams created several thousand cartoons, sketches and drawings, many of which were published in The New Yorker. But it was his creation of characters that came to be known as The Addams Family that brought Addams his greatest acclaim.
With a unique style that combined the twisted, macabre and just plain weird with charm, wit and enchantment, Addams' drawings have entertained millions worldwide and served as the inspiration for multiple television series and motion pictures.
The Addams Family features a book by Jersey Boys co-writers Marshall Brickman and Rick Elice, and music and lyrics by Andrew Lippa. The production is directed and designed (sets and costumes) by Phelim McDermott and Julian Crouch, with creative consultation by Jerry Zaks and choreography by Sergio Trujillo.
Rick Elice said: "When Jersey Boys was opening in Sydney, I found myself walking after dark to a restaurant our friends had raved about. Directionally challenged, I promptly got lost, but to get lost in Sydney is really to find oneself. Then I turned a corner, and the Capitol Theatre loomed into view. Ah, the wave of joy that washed over me, as another wave had the day before at Bondi! What a theatre! What a city! If only one day a show of ours could play the Capitol! So I couldn't be happier about The Addams Family. Family's important to me. The people of Sydney treat us like family. It'll be nice to return the favour."
For more information, visit the official Addams Family Musical website.