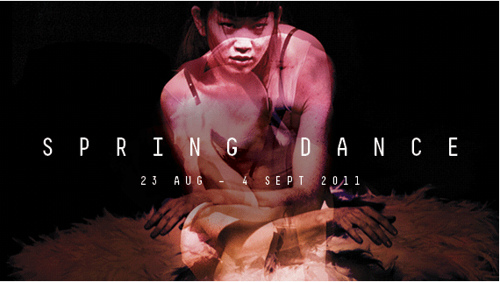 23 AUG – 4 SEPT 2011
Sydney Opera House today unveiled a rich and varied program for its third annual Spring Dance – Australia's only international, contemporary dance festival.
Curated by Wendy Martin, highlights of the festival will include a world premiere from Lloyd Newson's UK-based company DV8, the first Sydney performance by Alain Platel's acclaimed company, les ballets C de la B, from Belgium and Spain's avant-garde flamenco artist Israel Galván who will perform in Australia for the first time. This year Spring Dance will be dedicated to the legacy of Pina Bausch, one of the most influential and innovative choreographers of the twentieth century.
Martin said, 'By showcasing the work of choreographers Lloyd Newson and Alain Platel, we will bring together two artists who cite the enormous influence Bausch has had on their work. This seems like the perfect springboard to explore the influence this iconic dance-maker has had on the landscape of contemporary Australian dance.'
In 2011 Spring Dance will take over the Western Foyers with performances in the Drama Theatre, Studio and Playhouse and a series of talks, masterclasses, film screenings and an exhibition in the Western Foyer and Broadwalk.
PRODUCTIONS
Sydney Opera House will host the world premiere of DV8's Can We Talk About This? choreographed and devised by Artistic Director Lloyd Newson. Like his recent productions that have combined dance with verbatim theatre to tackle social and political issues head-on, Can We Talk About This? will explore ideas around freedom of speech.
Alain Platel's company, les ballets C de la B, will present the acclaimed production Out of Context: for Pina. For its first Sydney season, it will include a 'Pina Intervention' by performers who have danced for Pina at her Tanztheater Wuppertal.
Israel Galván, the daringly innovative Flamenco artist from Seville will come to Sydney Opera House with the Australian premiere of his award-winning production La Edad de Oro which uses the techniques and artistry of Flamenco while building on tradition to create a new, pared-back aesthetic for the genre.
The work of Melbourne-based dancer and choreographer Ros Warby has been acclaimed by critics around the world. She will return to Sydney to perform Monumental at Spring Dance, in which she explores ideas around two iconic symbols of classical ballet: the swan and the soldier.
Chunky Move perform at Spring Dance with I Like This – a witty and irreverent take on the making of a dance piece – created by two of Australia's finest contemporary dancers and emerging choreographers, Antony Hamilton and Byron Perry.
And for young audiences (and the young at heart!), Sydney Opera House will present The Forest by the UK-based performance company Fevered Sleep. The Forest will reflect their interest in creating design-focused productions that develop theatrical environments to envelop their audience and draw them into a world of fantasy, intrigue, movement and storytelling.
FILMS, TALKS & MASTERCLASSES
This year's Spring Dance will have a rich program of talks, films and masterclasses on offer to celebrate, discuss and examine the legacy of Pina Bausch.
Caroline Baum will host three sessions of talks and film screenings held over two days. Film screenings will include Pina Bausch, a film by Anne Linsel; Life in Movement, a documentary about the late choreographer Tanja Liedtke and Dancing Dreams, by Anne Linsel and Rainer Hoffman about the creation of Bausch's Kontakthof. Screening in the Western Foyer throughout the festival will be a specially commissioned film presenting choreographic highlights from the career of Meryl Tankard who danced with Bausch's company in the 1970s and 1980s.
Speakers will include former Adelaide Festival Director Jim Sharman, choreographer director/ choreographer Alain Platel, choreographers Shaun Parker, Michael Whaites and Kate Champion and dancer Lutz Förster, a long time member of Pina Bausch's Tanztheater Wuppertal.
Audiences will also have the rare opportunity to learn from the industry's best, with a series of masterclasses on offer throughout the season. Classes will be led by Lloyd Newson, Israel Galván, Alain Platel, David Harradine, Antony Hamilton with Byron Perry and Ros Warby. Applications and bookings for these classes will be taken by Ausdance (ausdance.org.au/ 02 9256 4800).
The performers of Sydney Dance Company will be on show in an exhibition of photographs taken over a three-month period by the fashion and advertising photographer Jez Smith. Pushing for Perfection will be on show on the Western Broadwalk throughout the Spring Dance season.
Tickets for Spring Dance 2011 go on sale on Friday 10 June via www.sydneyoperahouse.com or by phone on 02 9250 7777.
Keep up to date with Spring Dance 2011 by joining us on our Facebook page Dance at the House or online at Sydney Opera House – Spring Dance.