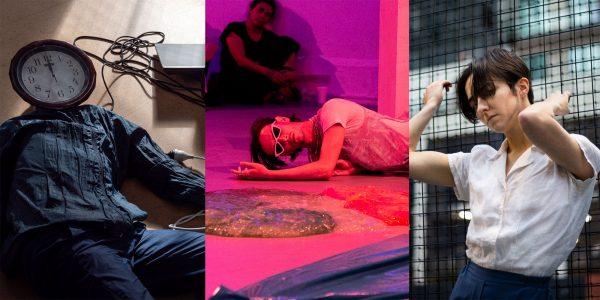 Temperance Hall Next Generation Choreographers
A Dead-End in itself, UpAndUpAndUpAndUp, and Billy Soy
Co-Curated by Temperance Hall Artistic Director, Phillip Adams and Artistic Associate, Luke George, this program features works by three independent Melbourne artists Thomas Woodman, Benjamin Hurley, and Pia Lauritz. A triple-bill of new solo works that ascribe to media fixation, gender-defining provocations, and a queer exploration of self-identity.
"We welcome these three next generation choreographers to Temperance Hall offering a program that presents an intermeshing of experimental, queer and interdisciplinary choreography. Pia, Tom and Benjamin garmented to run amuck with decadence and sophistication, as only Temperance Hall will allow," says Phillip Adams, Artistic Director of Temperance Hall.
Thomas Woodman presents: A dead-end in itself, a contemplation of how to interpret information in a world where the outlets for dispersing such information continue to proliferate. The work departs from the claim made by artist Chris Burden during Poem for L.A., a TV advertisement from 1975, "Science has failed / Heat is life / Time kills". A dead-end in itself runs with this claim then turns it inside out, struggling with irresolvable paradoxes.Benjamin Hurley presents: UpAndUpAndUpAndUp; A never ending spiral of ascension that continuously fires like a loose cannon. Slapstick humour and irrational decision-making envelope a queering of identity in situ. A bright red-light beams, intensifying its rays upon a lost and scrambling French boy searching for his bearings. Time vacuumed into a vortex of lucid colour, synth techno pop art, slime, looping sketches and a dripping wetsuit draped from the sky. It never ends.Pia Lauritz presents Billy Soy, a dance exploration into Pia's budding Drag King identity, William Von Soy: "Hey groovers, I'm Billy Soy! Your fave keen (soy) bean silly boy. I'm all about the good vibes… so have a drink – or five – and watch me wiggle my heart out for a live audience! William Von Soy xx"Full program information including descriptions of individual works and artist bios are available on the Temperance Hall website.
A dead-end in itself, UpAndUpAndUpAndUp, and Billy Soy
South Melbourne

– Temperance Hall
From 7 –9 April 2022