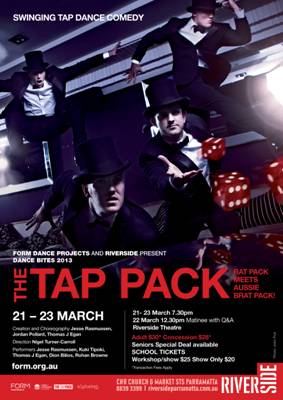 Swinging Tap Dance Comedy
What is the "The Tap Pack"?
THE TAP PACK is a high energy, tap comedy show inspired by the infamous "Rat Pack" which included the famous talents of Frank Sinatra, Dean Martin and Sammy Davis Jnr.
This new, highly entertaining act features 5 of Australia's finest young tap dancers tapping up a storm. With credits in film, stage and television and with over 20 musical theatre productions between them, THE TAP PACK are set to explode onto the scene.
Our aim is to entertain. We bring a new, invigorating energy to a timeless style. Cool classics with a fresh twist!
We have been fortunate enough with "FORM DANCE PROJECTS" to have 4 exciting shows in the annual Dance Bites season. Dance Bites features some of Australia's most innovative and exciting choreographers/performers at the Parramatta Riverside Theatre. With a highly experienced and creative cocktail of artists THE TAP PACK bring a modern edge to live jazz music and tap dance.
We hope to combine our talents into a show that will appeal to the young and the young at heart. Frank, Dean and Sammy were not only famous for their success but the close bonds they had together, much the same as this cast, which is reflected through the story, comical banter and choreography in the show
BOOK NOW: http://riversideparramatta.com.au/show/the-tap-pack-2/
Form Dance Projects and Riverside present The Tap Pack – The Rat Pack meets Aussie Brat Pack!
Choreographer: Jesse Rasmussen

Performers: Jesse Rasmussen, Kuki Tipoko, Thomas Egan, Dion Bilios, Rohan Browne

When: 21-23 March, 2013
Where: Riverside – Cnr Church & Market Sts, Paramatta