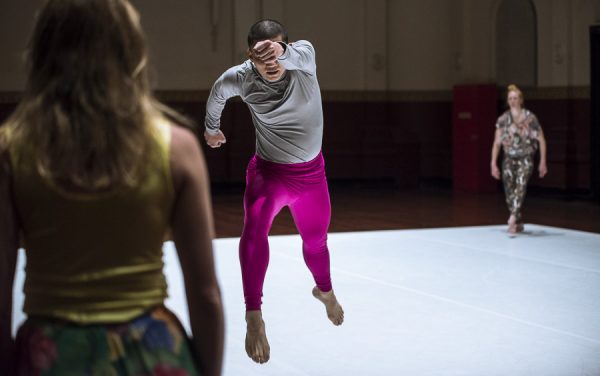 WA's STRUT Showcases Collaboration by Jo Lloyd & Anny Mokotow
Workshop Where Dance and Dramaturgy Intersect
Sharing the belief that dramaturgy (the craft of dramatic composition) is a practice inherent in the processes of production and stimulated by the dancer as much as the choreographer, Jo Lloyd and Anny Mokotow impart methodologies developed from Lloyd's recent choreographic interrogations.
In Lloyd's work Confusion for Three (2015), hypnotic tension is generated by three dancers as they negotiate a progressively unraveling system of choreography. Navigating their physical histories – from traces of folk dance to idiosyncratic body rhythms – the performers reveal a series of desperate encounters, in a destabilising flood of movement.
Utilising this work as a process/performance model, participants will engage with clear choreographic parameters, enabling them to investigate/negotiate their physical and conceptual dramaturgical choices.
The workshop will conclude with a performance, presenting a new iteration of 'Confusion', unique to the participants and the context.  This is an exceptional opportunity for dance artists to engage with two assured practitioners and be exposed to new practices, whilst investigating the dramaturgical role of the performer.
The workshop will take place over November 12 – 23. Register your Expression of Interest to participate here >> strutdance.org.au/opportunities/master-workshops/jo-lloyd–anny-mokotow-nov-12-23
From celebrated Australian choreographer Jo Lloyd, Confusion for Three is a thrilling dance encounter with explosive physicality, live music and tour de force performances that asks us to surrender to the state of confusion for ultimate revelation. The question remains: can this confusion be sustained, and where does it lead us?
Jo Lloyd is an influential Melbourne dance artist working with choreography as a social encounter, revealing behaviour over particular durations and circumstances. A dance graduate of the Victorian College of the Arts, she has presented work in New York, Japan, Hong Kong and locally in Dance Massive, Next Wave, the Biennale of Sydney, Liveworks and Dark MOFO. In 2016 Jo was Resident Director of Lucy Guerin Inc. developing her new work OVERTURE, which was developed at Arts House through a CultureLab in 2017 before its premiere in 2018.
Recent projects include Confusion for Three (Arts House 2015), Mermermer created with Nicola Gunn for Chunky Move's Next Move 2016 (nominated for a Helpmann and Green Room Awards), choreography for Nicola Gunn's award-winning Piece For Person And Ghetto Blaster (COIL Festival New York and Dance Massive 2017) and All Our Dreams Come True created and performed with Deanne Butterworth for BUS Projects 2016. Jo has worked with choreographers Shian Law (Personal Mythologies Next Wave 2014 and Vanishing Point Dance Massive 2017), Gideon Obarzanek (Chunky Move), Shelley Lasica, Sandra Parker, Prue Lang and Rebecca Jensen.
COLLABORATIONS SHOWING: JO LLOYD & ANNY MOKOTOW
Thursday 22 Nov / 6:30-7:30pm
State Theatre Centre of WA – Middar Room
FREE EVENT
CONFUSION FOR THREE

 (original iteration) WA Premiere
15 – 17 Nov / 7:30pm
Perth Institute of Contemporary Arts, Northbridge
Tickets: pica.org.au/show/confusion-for-three/
Choreographer: Jo Lloyd
Performers: Rebecca Jensen, Shian Law & Jo Lloyd
Composer: Duane Morrison
Lighting Design: Jenny Hector