DON'T MISS 3 AMAZING DANCE OPPORTUNITIES THIS MARCH
presented by SourceDance
SourceDance Workshops
~ March 15
Carnival Sydney 'Choreographer's Ball'
~ March 21
Kidz Carnival Sydney
~ March 22
(Details for events are below)
PLUS! … WIN FREE PASSES!!
We have 1x Full Day SourceDance Workshop Pass  (worth $130)  AND
2x Tickets to the Carnival Show (worth $60) to GIVE AWAY!! 
Scroll to the end of this article for entry details.
---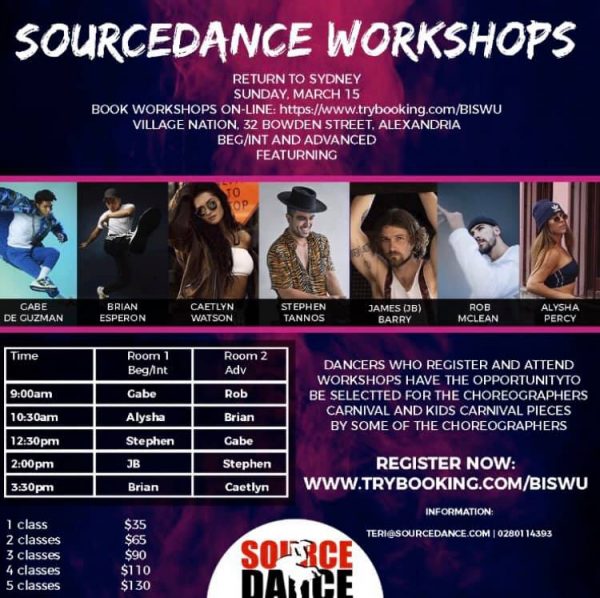 SOURCEDANCE WORKSHOPS
SYDNEY @ VILLAGE NATION


SUNDAY MARCH 15, 2020


Village Nation, 32 Bowden St, Alexandra NSW
Workshops begin at 9:00am
Workshop participants have the opportunity to be selected to be in Gabe de Guzman's or Brian Esperon's Carnival  pieces. Those selected will have the opportunity to work with and learn choreography from Gabe and Brian following the workshops, and they will be performing in these pieces at Carnival!
REGISTER NOW AS SPACE IS LIMITED
---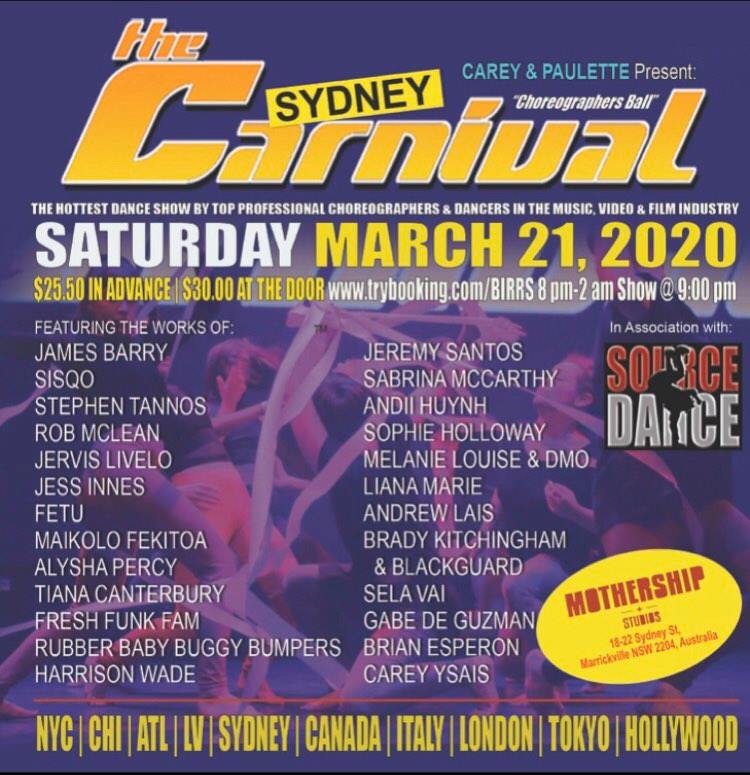 CHOREOGRAPHER'S CARNIVAL SYDNEY
@ MOTHERSHIP STUDIOS


SATURDAY MARCH 21, 2020


Mothership Studios, 18-22 Sydney St, Marrickville NSW 2204
Doors Open at 8:00pm. Show Starts at 9:00pm
TICKETS

:
$25.50 in advance / $30 at the door
The hottest dance show by top professional Choreographers & Dancers  in the music, video & film industry!
Always imitated but NEVER duplicated!
Dance the greatest form of free expression. A story told through the motion of the body. Love, passion, fear, anger and all of life's journeys can be shown through the art of dance.
This is the Choreographer's Carnival. The hottest dance show by top choreographers and dancers in the music, film and video industries.
Choreographer's Carnival started 21 years ago to give working choreographers and dancers a venue where they can have free artistic expression without the constraints of an artist, a director or a script. Carnival is an event where it features not only choreographers from the film and video industries, but from all over the world. Carnival started every last Wednesday of the month in Los Angeles and now can be seen in New York, Chicago, Sydney, London & Tokyo. With such celebrities as Janet Jackson, Jennifer Lopez, MYA, Omarian, Paula Abdul, Toni Basil, Missy Elliott, Queen Latifah, Twitch, Terry Crews, Robert James Hoffman III, Lil Mama, Marques Houston, Debbie Allen, Cris Judd, Mayte, Kenny Ortega, Adam Shankman, Wayne Brady and many others as participants in the show, Carnival has proven to be the apex of all dance shows.
Carnival has consistently provided an outlet for the world's top choreographers. After 21 years, we still strive to bring the world the greatest dance show on earth.
The Choreographer's Carnival has launched or boosted the careers of the elite in the dance world such as Brian Friedman, The Groovaloos, The Beat Freaks, The Jabbawockeez, Andre Fuentes, Rosero McCoy, Jamal Sims, Marty Kudelka, Robert James Hoffman III, Affion Crockett, Chris Scott, Kevin Tanchareon, Wade Robson and Columbus Short to name a few.
Where else can you see a show that highlights not only hip hop but ballet, funk, lyrical, tap, modern, performance art and spoken word. Only at the Carnival, where you get more dance for your dollar.
Featuring dance works by:
​JAMES BARRY
SISQO
STEPHEN TANNOS
ROB MCLEAN
JERVIS LIVELO
FETU
JESS INNES
ALYSHA PERCY
TIANA CANTERBURY
FRESH FUNK FAM
RUBBER BABY BUGGY BUMPERS
HARRISON WADE
JEREMY SANTOS
SABRINA MCCARTHY
ANDII HUYNH
SOPHIE HOLLOWAY
BRANDON ATOUI
LIANA MARIE
ANDREW LAIS
THE BLACKGUARD
SELA VAI
GABE DE GUZMAN
BRIAN ESPERON
CAREY YSAIS

---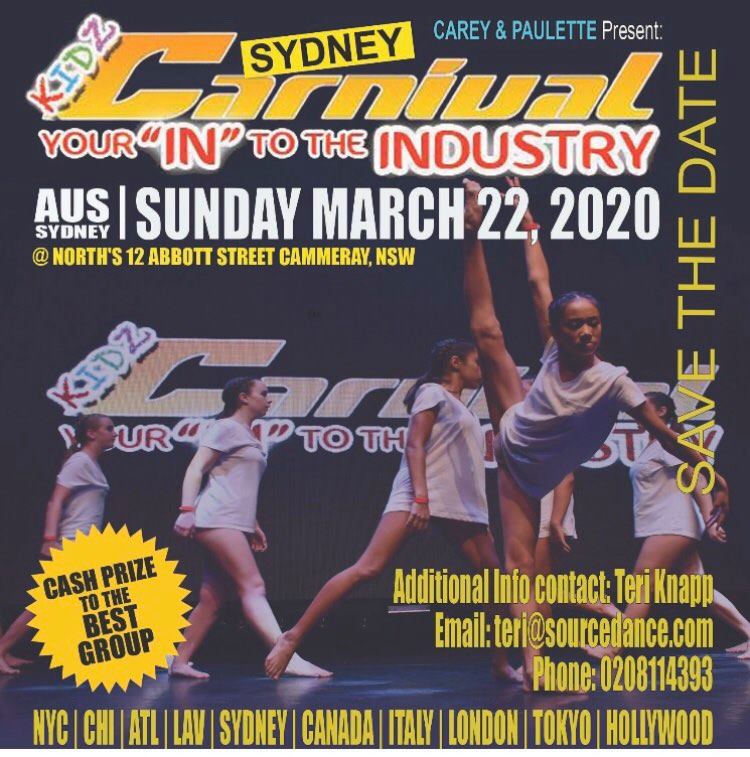 KIDZ CARNIVAL SYDNEY
@ NORTHS


SATURDAY MARCH 21, 2020


Norths, 12 Abbott Street, Cammeray NSW
Doors Open at 11:00am
TICKETS:


$35 in advance / $40 at the door / $60 VIP
KIDZ CARNIVAL was created by Carnival Choreographers Ball as an alternative to a conventional dance competition. KIDZ CARNIVAL is definitely not your ordinary competition! It provides a truly unique industry experience to dancers 17 and younger who perform.   This show is so much fun as it is run like a big dance party with great lighting and a DJ…unlike any other event you have attended.
 Prize money and an invitation to enter the Kidz Carnival in LA in July 2020 for the winners of each age division.
Ages 12 and under / Ages 13 – 17
---
WIN FREE PASSES!!
We have 1x Full Day SourceDance Workshop Pass  (worth $130)  AND
2x Tickets to the Carnival Show (worth $60) to GIVE AWAY!! 
To enter please tell us in 25 words or less why you want to win either the SourceDance Workshop Pass or the Double Pass to see the Choreographer's Carnival Show.  NOTE: the Workshop is open to all ages, but the Carnival show is for 18years +.  You can enter both competitions, but please do so separately.
To enter please email in your 25 word answer, along with your name and phone number to win@dancelife.com.au.
Use the subject title in your email of either 'SourceDance Workshop' or 'Carnival Show'.
Entries for the Workshop Pass close Thursday March 12.
Entries for the Carnival Show close Tuesday March 17.
Winners will be notified as soon as possible for acceptance.
GOOD LUCK!