Songlines
Bangarra Dance Theatre
Stephen Page is a creative icon. As our Artistic Director of over 30 years, his vision and tenacity have created one of the most prominent and successful Indigenous performing arts companies in Australia. Stephen's exceptional contribution to First Nations arts and the national cultural landscape will be felt for generations to come.
During his tenure, Stephen has changed the performing arts ecology across Australia and, through his work with the company, has collaborated with First Nations communities and creatives to bring cultural stories to life on the stage. Stephen has developed a culturally centered practice where he has not only given space and recognition to his collaborating partners, but he also gives back to the communities he has worked with through deep cultural exchange.
As he moves from the helm of Bangarra to the next phase of his creative journey, he leaves an unparalleled legacy. His spirit will always be a part of this company. His body of work, his leadership, and his legacy of putting First Nations culture on the global stage is a significant and unique contribution.
We thank Stephen for his unfailing dedication to his People, to Community and to Bangarra Dance Theatre.
Read the full statement from Larissa Behrendt, Distinguished Professor, Bangarra Chair (2010 – 2014)
Ryan on Dance Clan
First time choreographer, Ryan Pearson is a Biripi, Worimi, Minang, Goreng and Balardung man from Taree, NSW. In his Dance Clan piece, Ryan explores his own experience with euphoria and what it means to him as a young, Indigenous, gay man. Watch him speak about what it means to tell his stories on stage. Book now.
3 – 18 February 2023
Studio Theatre at Bangarra
Walsh Bay, Sydney
Waru in Sutherland 
Waru – journey of the small turtle is back in January as the debut performance at The Pavilion in Sutherland! Join us under the skies of the Torres Strait for an immersive story about climate change, caring for the environment and the traditional cultural values of respect and reciprocity. Four shows only! Book now.
28 – 29 January 2023
The Pavilion Performing Arts Centre
Sutherland, Sydney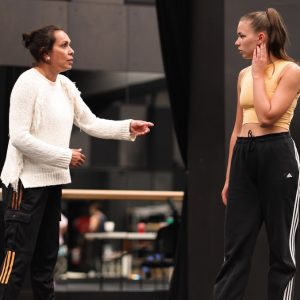 Incoming Artistic Director Frances Rings shares with us the importance of career pathway programs and the role they play in defining the next generation of First Nations creatives. Our Russell Page Graduate Program has seen over 20 dancers begin their professional dance careers with us and relies on contributions from our generous supporters. This holiday season, we hope you will make a tax-deductible donation and join us in investing in the next generation of First Nations artists. Donate now.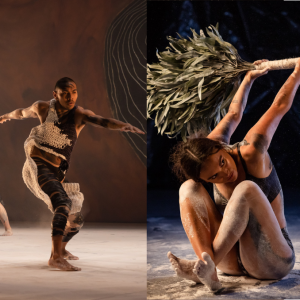 Farewell Gusta and Glory
Please join us in wishing farewell to two of our bright talents, Gusta Mara and Glory Tuohy-Daniell. Gusta is a proud Torres Strait Islander and Queensland man who is a remarkable storyteller and a role model for young Torres Strait Islander performers. Glory is a descendant of the Indjalandji Dhidhanu and Alyewarre People of North West Queensland. Her passion for her Culture is prevalent in everything she does, and we look forward to seeing her professional choreographic debut in Dance Clan. Read more.