AfterDark Theatre presents adults only Cirque Cabaret show SOCIETY
Direct from New Orleans to Melba Spiegeltent
An opulent Adults Only evening direct from the French Quarter of New Orleans, the ever elusive Circus Society now invite Melbourne audiences to their electric and flamboyant parade in Society.


Presented by AfterDark Theatre and running from the 10th – 26th of May, the illustrious Melba Spiegeltent in Collingwood will play host to an ensemble of highly skilled international Cirque artists who have converged for this unique premiere season.
Influenced by the city of New Orleans and the best party on earth, Mardi Gras. In the past these types of infamous festivities were hosted by secret societies competing to uphold the most lavish party in their quarter.
Blending Cajun party culture, French exuberance, Creole voodoo, masquerade, and breathtaking acrobatics, Society also serves up audiences an extroverted lighting design and unique styled sound track of live music and original tracks. An alluring, all-encompassing onslaught on the senses, nothing is off limits in this indulgent Circus Cabaret.
With a star-studded international cast including world renowned Latin Ballroom and Ballet dancers, a competitive Gymnast, Circus Oz and Flying Fruit Fly Circus alumni, and graduates of Melbourne's prestigious National Institute of Circus Arts performing a mesmerising mix of contortion, acrobatics, aerial, manipulation, juggling, and dance across the evening – Society promises to deliver audiences a visual feast like no other!
Society is directed by Francesco Minniti, assisted by Julie Sharpe. The performers are Jacinta Rohan, Mathew Brown, Tully Fedorowjtsch, Simon Storey, Mimi LeNoire, Alyssa Moore, and Francesco Minniti.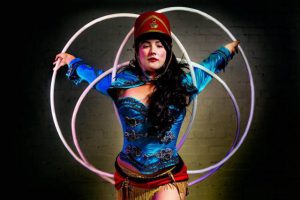 Running since 2007, AfterDark Theatre has built a solid reputation as a high-end design and production company, offering Australian circus lovers a veritable feast of superior quality shows and events. Previous award-winning productions include Pants Down Circus, Sediment, BARBAROI, Element of Consequence, and The Boardwalk Republic.
Continuing with that trend, AfterDark Theatre now proudly presents Society, a high octane tribute to the Bourbon Street Circus and the wild nightlife of the French Quarter.
Some of the company's accolades include winning 2017 Green Room Award, Innovation in Contemporary Circus (Sediment); 2016 Adelaide Fringe Weeklies, Best Circus (Barbaroi); 2016 Melbourne Fringe, Best Emerging Artist (The Element of Consequence); and 2014 Adelaide Fringe Weeklies, Best Circus (Pants Down Circus ROCK!).
www.afterdarktheatre.com

SOCIETY | AfterDark Theatre
10 – 26 May, 2018
Bookings: online only via www.afterdarktheatre.com/current-shows
Enquiries: 0421 340 184
Venue: The Melba Spiegeltent – 35 Johnston Street, Collingwood