Patricia Wood's Choreographic Lab
Expressions of Interest Now Open | Close April 16
Expressions of Interest for dancers to participate in the May Choreographic Lab with choreographer Patricia Wood are now open. Free to participate, however all selected dancers must become DirtyFeeters
About Patricia Wood's Choreographic Lab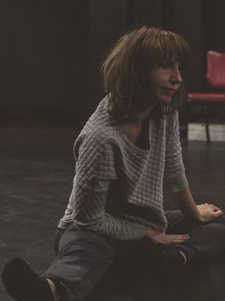 "DANCE PIRATE RADIO-A TELEPATHIC DEMOCRACY is an experimental dance practice that questions dance's inherent ephemerality. This project is interested in finding a language in and around dance that ignites a multiplicity of histories and subsequent futures. We will transmit radio for dance/aether dancing."
Patricia Wood  is a performer and choreographer. She has worked with dance companies and independent artists performing in Australia, Asia and Europe. These include Les Commandos Percu (Fr), Stan's Café (UK), Tasdance, and with Mette Edvardsen, Ros Crisp, Clare Dyson, Natalie Cursio, Dean Walsh, Jo Pollitt and Paea Leach.
Patricia has received support from the Australia Council for the Arts, Ausdance, Critical Path and Frontyard. In 2014, Patricia worked for Ausdance NSW and Sydney Dance Company to produce the large-scale community event, Big Dance.
This year Patricia completed a Masters in Research (Dance) at Macquarie University and became a Teaching Artist with Sydney Dance Company.
Choreographer: Patricia Wood
Dates: 7 May – 18 May
Times: 10am – 5pm, Monday – Friday (Friday 18 May, there will be a studio showing 5pm – 6pm)
Location: ReadyMade Works, Ultimo NSW
To register your interest please complete the expression of interest form by midnight, Monday 16 April.
More information on The Choreographic Lab Program.