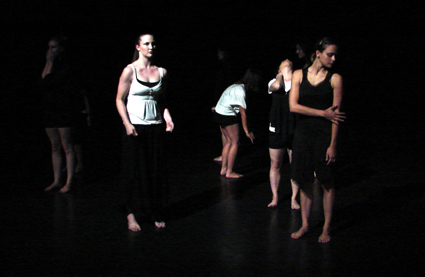 The 2010 season of the short dance festival Short Sweet+Dance has concluded with awards, rave reviews and cheering crowds at the Parade Theatre, NIDA.
"The overall standard was truly surpassing, even by the consistently high measure customarily applicable to this worthy event on Sydney's autumnal arts calendar." – Lloyd Bradford Syke, Australian Stage online
Offically opened and applauded by the NSW Arts Minister the Honourable Virginia Judge MP, SS+Dance played to full houses over three weeks at two venues – Riverside Theatres and the Parade Theatres NIDA.
Co-producers Western Sydney Dance Action and Short+Sweet congratulated all artists and crew for making the season a success!
Said Festival Director Olivia Ansell:
"In just three years the festival has offered 110 choreographers and 450 dancers the opportunity to trial and share new work – just in Sydney alone. The dance model also exists in Melbourne, Canberra, Malaysia with plans for Singapore and India in the near future!"
See below for 2010 SS+dance award recipients…
Most Outstanding Choreography Week 1-Sean Marcs with P.S
Most Outstanding Choreography Week 2-Gemma Dawkins with A Little Light Dinner Donversation
Most Outstanding Choreography Week 3-Tim Farrar with Few Things of the Same Kind
Most Outstanding Male Dancer – Benjamin Hancock for Martin Del Amo's Nowhere to hide Part 3
Most Outstanding Female Dancer – Anna Healy in Sean Marcs' – P.S Kay Armstrong's Ballyhoo, Emma Fishwick's An Empty Room, Jayne McCann's Inferno and Kevin Privett's By Looking
Best New Talent: Venetia Millar for performance in Surface Tension (co-choreographed Marttaleena Luukkonen, Eleanor Kelly and Venettia Millar)
People's Choice: Three Hits and a Miss choreographed by Chris Horsey and performed by Tracey Wilson, Trent kidd, Chris Horsey and Wilson Thomas
People's Choice Wildcard: Mashum Liberta for Pass Out
Entries for Short Sweet+Dance 2011 will be called shortly!