Twisted Elements presents Grand Premiere of RITUAL
A Thrill Seeking Immersive Dance Experience
After its sold-out taster premiere in February, Sydney's renegade dance company Twisted Element will be presenting their most recent, and most boundary pushing work RITUAL.
This production will catapult the company into a whole new level of production, making RITUAL the largest scale, and most sophisticated immersive production by the company so far.
This multi-sensory production transforms the concept of performance beyond the barriers of definition and category. By blending contemporary choreography, mind-blowing aesthetics, and social experimentation, the company's work rejects the expected by breaking through the fourth wall into a melting pot of chaos and beauty.
RITUAL explores cultism, ceremony and mass conditioning, where boundaries are blurred and identities warped within a futuristic, dystopian world. This full-scale, immersive production is Twisted Element's most ambitious yet, and the fully female company rise to the challenge with inspirational director Angela Hamilton at the helm.
Coming straight from the beating heart of Sydney's inner-west, RITUAL will be presented in Create or Die's new designer warehouse in Marrickville. During the performance the audience will be transported throughout the space allowing them to fully experience every element of the new production.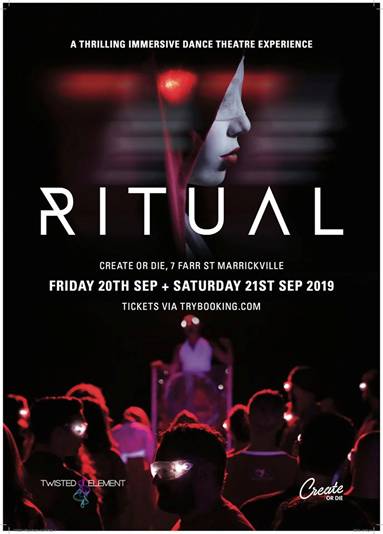 Even better still, the space is BYO, so you can enjoy the transformative performance with a glass (or bottle) of your favourite drop.
Throughout RITUAL, Hamilton challenges the audience to look within and find themselves emotionally changed from the experience. You will enter this world and be changed forever.
Directed by Angela Hamilton. Collaborating Dance Artists: Charlotte Twitchell, Bernadette Lőrincz, Anna McCulla, Ellena Nou, Clarissa Harrison, Fra Gozdek, Ina Borch, Georgette Sofazis, Naomi Hibberd, Nicola Ford & Georgia Sekulla.
RITUAL by Twisted Element
Friday 20 September, 8pm
Saturday 21 September, 6:30pm & 8:30pm
Create or Die, 7 Farr St, Marrickville
Bookings: www.trybooking.com/book/event?eid=532937&