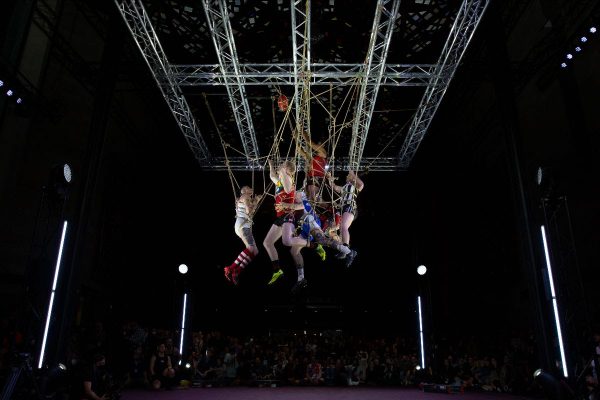 APAM (Australian Performing Arts Market)
RISING
RISING, Victoria's largest arts and cultural event which recently wrapped its inaugural program, has today been announced as the host for the next APAM (Australian Performing Arts Market) Gathering during its 2023 festival from 14 – 18 June across the festival's final weekend. 
The APAM Gathering at RISING will showcase the works, ideas and ambitions ofAustralian and New Zealand artists. Performing artists, producers, presenters and curators are invited to join colleagues and friends from across the country and around the globe, for the opportunity to engage in a curated IRL and digital program of performance, networking, and dialogue.
 
"It has always been our intention for RISING to be both the crucible for great artists to come together and create powerful work, and the platform to perform these new and original productions to a wide and diverse audiences," said RISING co-artistic director Gideon Obarzanek "I'm thrilled we are hosting the APAM Gathering as part of RISING in 2023, which will provide Australian and New Zealand artists and companies with even more opportunities to take their work around the country and onto the global stage."
 
 "APAM is excited to welcome the international performing arts community back to Australia in 2023 for the APAM Gathering at RISING", said APAM director Catherine Jones, "The success of RISING's 2022 festival has given a taste of what national and international artists, producers and presenters can expect to experience next June in Melbourne."
"APAM amplifies our nation's performing arts industry, providing a place for leaders to gather, connect and present their work to local and international counterparts," said Minister for Creative Industries Steve Dimopoulos, "RISING will be the perfect host for next year's gathering, showcasing Melbourne at its creative best."
Australia Council CEO Adrian Collette said "We are thrilled to be supporting this gathering in Melbourne in 2023 for our fantastic performing arts community. APAM showcases our most exciting and dynamic contemporary works to national and international presenters, and provides a vital platform for dialogue, new horizons and exchange."
 
The Australian Performing Arts Market (APAM) works year-round, and across Australia, to connect contemporary Australian theatre, dance, emerging and experimental art with international and national opportunities.
APAM is a strategic initiative of the Australia Council for the Arts. Based in Victoria through the Victorian Government's support, APAM services the Australian contemporary performance sector, connecting and brokering relationships with international presenters, venues, and cultural organisations.