to a simple, rock 'n' roll … song
Drama Theatre, Sydney Opera House, Jan 30
Reviewed by Amy Campbell
A packed Drama Theatre at The Sydney Opera House awaited in anticipation for Michael Clarke's contemporary dance triple bill by the quirky title of to a simple, rock 'n' roll … song. Read more about the show here in our previous article.
The first piano chords of Erik Satie's score begin and we are instantly stepping back in time.
Act 1 presents SatieStuds/Ogives Composite is Clarke's tribute to his early mentors Cunningham and Frederick Ashton and strong influences are seen here through extensive unforgiving parallel lines and lineal phrasing.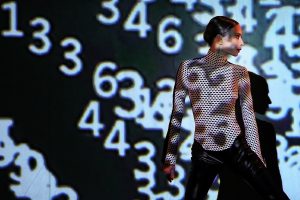 The company of 8 extremely efficient technicians move through the work with ease and control and have a deep sense of commitment to the sometime stoic nature of the work.
Act 2 brings us 'Land' and is a dramatic contrast from the first piece. Clarke's reputation as an 80s bad boy feels more at home here as Patti Smith's 'Land of a Thousand Dances' invigorates the audience. Flared unitards in variations of black and white give us a 70s sense of rebellion and a multi-channel video installation 'Painting by Numbers' by Charles Atlas bringing a more dynamic 3D element to the performance.
Once again, the precision of the dancers works well with the provocative nature of this choreography as it reflects more intimate relationships, though I am wanting them to push this further with a little more daring.
By the time we reach Act 3: my mother, my dog and CLOWNS the audience is ready for whatever Clarke has in store. This piece feels like the most inventive and alive work of the triple bill and, once again, our unitard-clad dancers explore this deceptively difficult choreography with great poise and commitment. The piece is energised and the music of David Bowie feels thoroughly explored with dramatic flare.
Lighting design by Charles Atlas supports the theatrical nature of the work and is extremely complimentary to Stevie Stewart's costume design.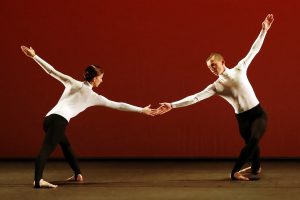 Every muscle undulating through the dancers torsos are on display. Once again the demanding and unforgiving choreography is engaging and thought provoking, though not particularly inventive.
The audience erupted in appreciation of this talented company and the energy and buzz was certainly felt through the theatre.
The audience left with mixed opinions and reactions and this reviewer believes that any work that stimulates passionate conversation is worth checking out.
***
Following the Sydney Opera House season, to a simple, rock 'n' roll . . . song. will travel to Perth from February 14-17 as part of the Perth International Arts Festival.
to a simple, rock n roll… song.


Drama Theatre, Sydney Opera House
Jan 30 – Feb 4
Bookings: www.sydneyoperahouse.com
His Majesty's Theatre, Perth
Feb 14 – 17
Bookings: www.perthfestival.com.au