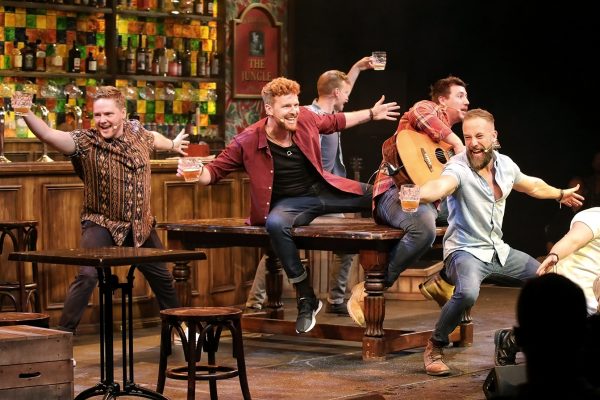 The Best Night at the Pub You Will Ever Experience
Drama Theatre, Sydney Opera House, Thursday November 7th
reviewed by Heather Clements
If you like pub culture, a beer, laugh, good music and a sing-a-long you need to go see The Choir of Man. And if you are feeling down, the $60 price of this ticket will probably do more for you than the cost of your psychologist. Just saying…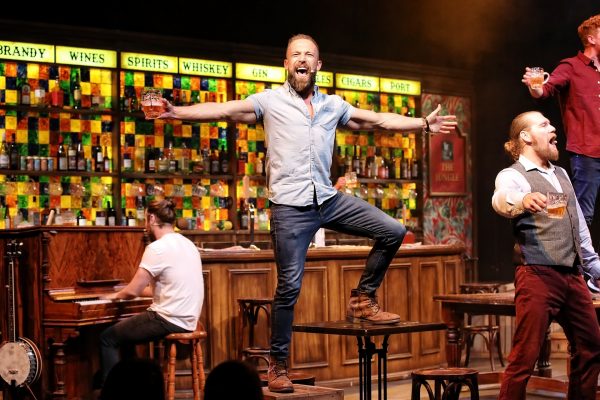 The concept behind The Choir of Man, which shot to instant acclaim at The Edinburgh Fringe Festival in 2017, is a small cast of 9 UK lads that mask their supreme talents behind their hipster beards, cheekiness, 3-piece-suits, beer-swilling and homeliness to give the audience one of the most authentic theatre experiences possible.
Quite simply ⏤ this is a great night out.
Get there early enough to share a refreshment on stage with the cast and set the scene and mood for the show to come. The staging and movement direction mean that the audience feels as though they are simply customers at 'The Jungle' (the fictional pub in which this show is set) and not actually at the Sydney Opera House… brilliance!
Following are 90 minutes of some of the most joyous and uplifting moments you will ever experience in the theatre, if not at your idyllic/fictional local pub!
Starting with Guns N Roses' 'Welcome To The Jungle', the song repertoire moves through Katy Perry, Adele, The Proclaimers, Red Hot Chilli Peppers and John Farnham to name just a few. It is like the best 'pick and mix' of the best sing-out-loud/karaoke songs ever ⏤ and so diverse which brings a cute element of surprise.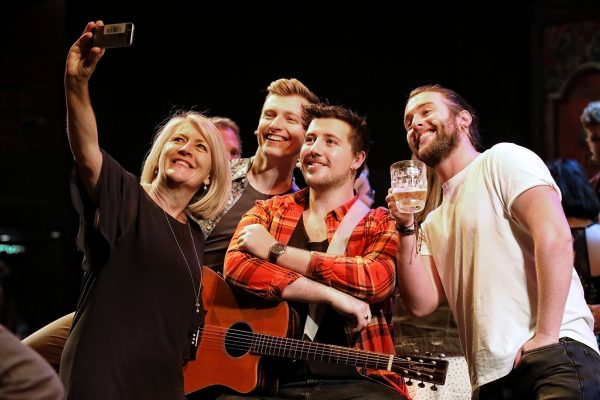 In fact, The Choir of Man delivers a total of 17 songs throughout their story-telling adventure and they are perfectly slotted-in to embellish their narrative from 'The Jungle'. Of special note is the bar tender's rendition of 'Pina Colada' ⏤ so incredibly funny, and I don't think I've ever actually listened to the lyrics before until now.
This is not billed as a dance show, but kudos to Jordan Oliver for his tap solos throughout the show adding a little pizzazz. Aside from the talent on display on stage in this 'faux' pub, the humour and story-telling are foremost and lovingly references the pub-cultural traditions of Ireland, Scotland and Britain.
This show demonstrates the power of good writing, humour, music and story-telling at its best.  However, make no mistake, do not dismiss this as just a few lads having a sing ⏤ these are seriously talented vocalists and musicians. And depending on the audience member in question, you will either want to hang out with these boys at the club, date them or parent them;  they are adorable!!
Their voices are sublime together, covering all the vocal ranges and working beautifully in harmony as displayed in songs such as 'Somebody to Love' and 'Waterloo Sunset'. The entire concept behind The Choir of Man touches our soul as a human species. We want to have authentic human interactions, a sense of community and belonging that has been lost for so long but is now slowly being reignited thorough shows and concepts such as this.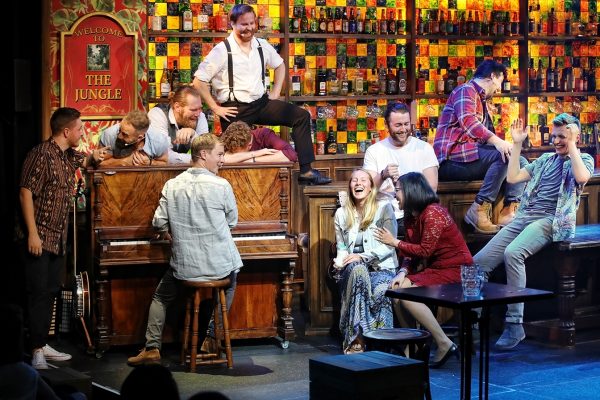 In short, everyone wishes they had a local pub like this one. Because aside from the music, alcohol and laughs … this show is humour and story-telling at its very best.
The cast of nine are Alistair Higgins, Peter Hughes, Tom Brandon, Denis Grindel, Matthew Beveridge, Daniel Harnett, Jordan Oliver, Mark Loveday, and Richard "Dickie" Lock.  Learn more about the Sydney cast here
The lead storyteller/narrator Denis Grindel is a perfectly lyrical Irish poet in action and makes each and every audience member (guest at their pub!) feel entirely welcome and we are invited into his world as he tells the story of the pub and The Choir of Man beautifully over the course of the show. He links the scenes of the show seamlessly.
There is a dance element too in this show with some rhythmic tap dance as performed by Jordan Oliver. He provides both class, timing and beat. Each of the nine cast are given their solo moments, and none fail to deliver as memorable performances.
The song sheet for this show starts with 'Welcome To The Jungle' by Guns N Roses, through to 'Chandelier' by Sia, 'You're The Voice' by John Farnham  and concludes with an Irish folk song 'PartingGlass'. And somehow, these all work seamlessly to deliver a beautiful show of cohesion and fluidity. Shout out also to the hirsute Dickie Lock who sang the always impressive 'Impossible Dream'.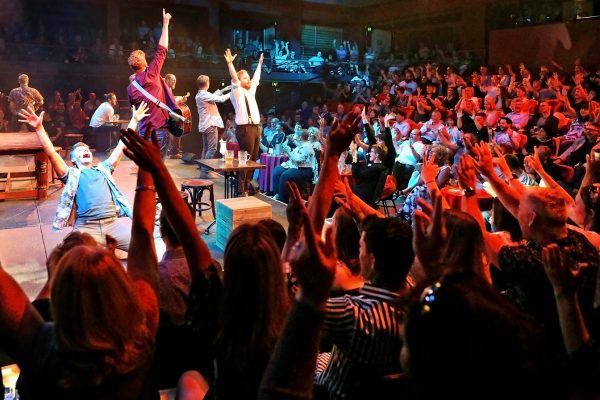 While not wanting to be gendered-focussed, I would like to suggest that anyone with a son who is interested in the performing arts book them a ticket and get along to this this uplifting show ASAP. The Choir of Man exemplifies what true masculinity is and shines a light on male talent on stage without judgement. They will love it! This show, if everyone who should see it actually does, opens the definition of what it means to be a pub-going bloke.
Attending this show will leave you doing a few things: thinking you like beer; booking a flight to the UK on a 6 week tour; visiting your local pub; believing you can sing and dance;  realising joy can be experienced in the simplest of forms; and loving a simple good time with friends.
I defy you to not to lose yourself in this show, leave with a smile on your face and a beat in your step and have a good time at The Choir of Man, and get up and dance and clap and totally lose yourself in this gorgeous show.
Also, don't forget to arrive a little earlier than show time to enjoy a a beer on stage with the cast. This is a truly unique treat and they are lovely and genuine to chat with. I feel that for them, this may in fact be the best job in the world!
If this show doesn't inspire you book a flight to the UK and tour the best pubs it should at least inspire you to start singing out loud in your kitchen again and kick your heels up.
Attending The Choir Of Man is truly one of the best night's out at the theatre I can remember … You will leave all your cares behind as you enter The Jungle. Enjoy!
THE CHOIR OF MAN
6 November – 1 December 2019
The Studio, Sydney Opera House
Bookings: www.sydneyoperahouse.com