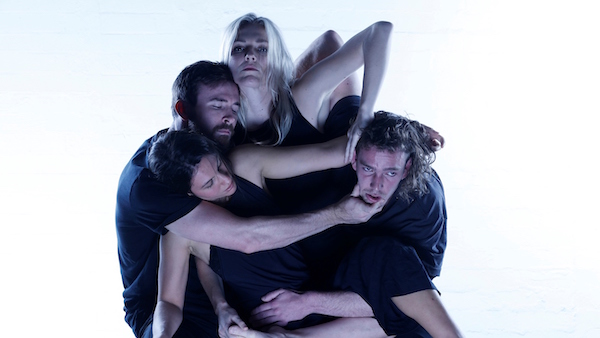 Pile of Bones
Arts House, North Melbourne, August 16
Review by Emre Icdem
Pile of Bones is a contemporary work of art by the award winning choreographer Stephanie Lake.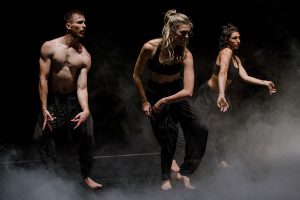 This world premiere dance show is a stunning audio-visual composition staged by four great dancers – Marlo Benjamin, Samantha Hines, Harrison Ritchie-Jones and Jack Ziesing. In Pile of Bones, Lake collaborates with renowned audio-visual artist Robin Fox (composer) and design team Harriet Oxley (costume) and Matthew Adey (lighting).
The promotional blurb states that this work "examines love, suppression, mutation and the uprising of inner demons and angels – bodies are encrusted with fluttering armour and caught in sticky webs."
Pile of Bones is a representation of a ritual that is so familiar, yet so unknown. It is familiar with the way it is dealing with birth, the celebration of life, death and rebirth, and birth again. It takes you through this cycle multiple times in a dreamy setting. The dream keeps changing every time you enter a new cycle. Every cycle starts with a poetic, yet striking depiction of birth.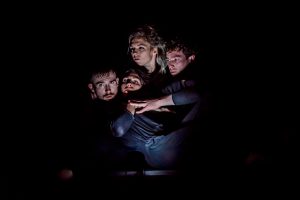 The dancers go through the same process during every cycle – birth, observation and adaptation, growth, connection, relationships, emotions. Every chapter takes you through a journey of emotions – lust, passion, a constant fight… to love.
The dance duo scenes represent the interaction of male and female entities, and express all these emotions followed by the birth of a new born species. Then, the whole experience becomes so unknown. While the dancers go through all these cycles, the audience gets to experience new life forms and their explorations, adaptations and possible mutations.
Different life cycles and species are expressed through various forms including change of costumes, sounds, light effects. The most remarkable difference between species is displayed by the behaviour portrayed in different choreographies. Sometimes robotic, fluid, and alienesque; but definitely poetic.
Even though it is a constant journey of transitioning experiences, the inevitable cannot be prevented. We begin where we end, we end where we begin. We are all just a walking pile of bones, destined for the same place.
I was delighted to see Pile of Bones at the Arts House in North Melbourne. It was a remarkable show that I would highly recommend.
stephanielake.com.au

PILE OF BONES
15 – 19 Aug 2017
7.30pm Tue – Fri, 2pm and 7.30pm Sat
Arts House, 521 Queensberry Street, North Melbourne
Tickets: $25 – $35
Bookings: 

artshouse.com.au

 or (03) 9322 3720