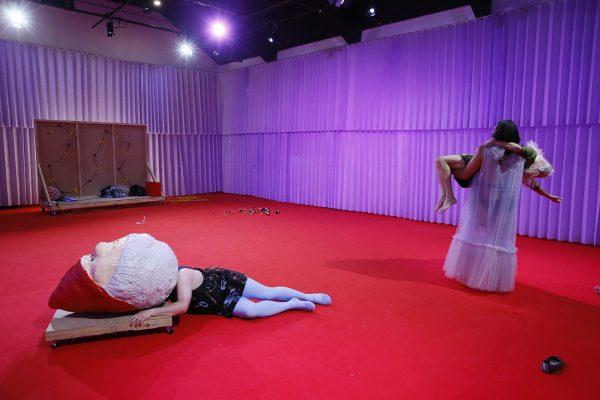 Where the Beauty of Ludicrous Self Expression is Embraced and Celebrated
Phillip Adams BalletLab
Reviewed by Brendan Daynes
Phillip Adams BalletLab labels themselves as a company that is an 'amplifier of experimental dance, performance and art' and their latest work, SICK does not disappoint.
Debuting as part of Midsummer Festival on Wednesday 9th February at Temperance Hall SICK is a dance collaboration between choreographer, Phillip Adams, dancer and performer, Ryan New and visual artist Jake Preval. SICK delves into all the possibilities of performance and art, intertwining elements of dance, spoken word, music, sculpture, and self expression.
The scene was set with two Hammond organs at one end of the room and an illuminated photograph of a urinal at the other. New and Adams entered, dressed in rhinestone-laden, graffiti embellished leather jackets, elizabethan ruffled neck collars and baby blue ballet tights and shoes, and circumnavigated the space. The overpowering silence at that moment provided the audience and opportunity to really absorb the work of Jake Preval who was responsible for the set and costumes design. This silence continued as New and Adams settled on the stools in front of the organs.
The silence was short lived with the organs coming to life as New and Adams rested their heads and arms on the keys, filling the open space with sound that was almost deafening. The sustained sound was broken and New and Adams came back to life and began taking turns performing experimental dance.
The various sounds and rhythms of the organ were looped and provided the soundtrack for the next hour as the performers playfully and bravely explored movement. This seemingly experimental movement included twirling buckets on a string as if attempting rhythmic gymnastics, the destruction of terracotta garden gnomes and rolling around on the floor with an oversize paper-mache gnome head.
There were many moments in SICK that challenged the audience and made them feel uncomfortable but the unwavering focus of the performers guaranteed that the solemnity of the performance was felt by all.
SICK is an absurd, crazy and nonsensical exploration that challenges our perception of "normal" and highlights that all human beings are a conflation of weird and wacky and confronts us with the weirdness of what it is to be human.