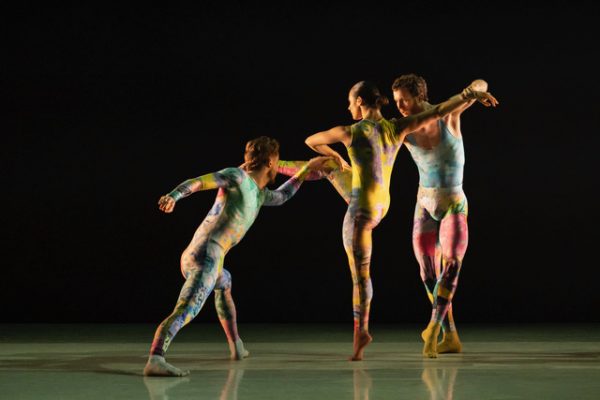 The New RESOUND Highlights the True Strength of SDC
Roslyn Packer Theatre Friday, 28 October 2022
Reviewed by Heather Clements
After a couple of years in Covid-hibernation, the enthusiasm of seeing Sydney Dance Company (SDC) back on the stage is evident in both the dancers and audience on the opening night of RESOUND.
The new RESOUND triple bill highlights the true strength of SDC and takes every opportunity to show-off its incredibly talented and well-trained company. RESOUND celebrates the Company's past identity in OCHO, revived from 2017; pays tribute to the traditional classical/contemporary style in SUMMER; and optimistically looks to the future of Australian dance with Stephanie Lake's specially commissioned new work THE UNIVERSE IS HERE.
RESOUND opens with a return of artistic director Rafael Bonachela's OCHO, meaning eight, which premiered in 2017. Eight dancers tell this story of human individuality and connection as they emerge from a stark glass box on stage and each proceed to deliver one of the most complex and hectic choreographic dance works, set to an original tribal electronica score by Nick Wales that culminates in calming Aboriginal song.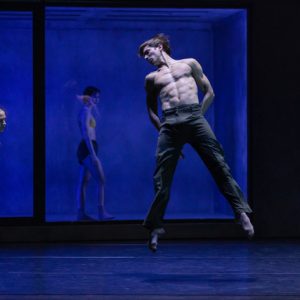 There are several parts to OCHO. Each dancer slowly emerges from the box enclosure to perform their individual stories and styles that highlights each performer's strengths. The minimalistic costuming also complements this element. After the final dancer, Chloe Leong, finally emerges, she is alone on stage bringing a welcome visual relief to the busy work that emphasises the separateness we all feel as humans, Meanwhile, the other seven dancers return to the glass box where they perform an interesting montage of poses and physical connections set to colour and strobe lighting. Finally, when all eight dancers come together at the end they perform in unison, while still maintaining their individuality, in an exciting routine that is hectic and high energy.
Bonachela creates perfectly choreographed chaos in OCHO, with so much action and fluidity on stage at the same time but with nothing out of place and every dancer beautifully connecting with each other seamlessly. OCHO ends with a quietness and subdued lighting as the eight dancers come together to the haunting vocals of Aboriginal artist Rrawun Maymuru.
Without doubt, OCHO is a lengthy, epic masterpiece of music, movement and motion that intelligently conveys concepts of connection despite our human struggles and differences. It is clear why it earned Bonachela awards and praise in 2017. At times, the movement reminded me of leaves and debris caught up in a whirlwind making erratic but beautiful patterns of movement; the dancers' physical agility and athleticism on full display. Personally, I wasn't sure about the costume choices, but it does show the dancers' vulnerabilities and physical prowess.
OCHO is probably even more relevant now in our chaotic, post-Covid lockdown world than it was in 2017.
Second on the program is SUMMER, a new trio work by Bonachela featuring dancers Emily Seymour, Liam Green and Dean Elliot. This short piece is the perfect antidote to OCHO as it provides an uplifting and fresh ambience as the dancers perform in colourful unitards against a stark black backdrop, focussing the eyes on every minute aspect of the clever trio work.
SUMMER draws heavily from the classical tradition of partnering and showcases the Company's strong technical training and grounding in ballet. In ways, it is a reinterpretation of a traditional ballet trio of two males and one female dancer vying for each other's attention. Created by Bonachela when the world was able to connect again after Covid lockdowns, SUMMER is an intricate display of technique and personal connection between the trio; there is always a physical connection at some point.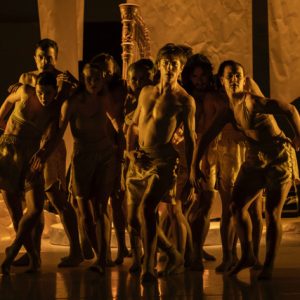 Set to original string composition by Kate Moore and performed by the Australian String Quartet, the dance culminates in a frenetic score with strobing lighting effects that make the dancers appear in stop motion. Visually, this was very effective and depicted the energy and brightness of the summer season. However, the true success of this work is the technically superb performances of the three dancers and how they deliver Bonachela's intricate ideas.
After the interval, Sydney Dance Company concludes their comeback season with the world premiere of THE UNIVERSE IS HERE, by award-winning guest choreographer Stephanie Lake. Off the bat, THE UNIVERSE IS HERE is captivating as it opens with a live harpist on stage and a cracking thunderstorm. My attention is piqued!
Featuring almost the full Company there is so much happening throughout the work that highlights the innovation in Lake's creative vision. 'Golden' and 'euphoric' are just two words that come to mind when trying to describe how this work makes me feel as a member of the audience. THE UNIVERSE IS HERE is a truly unique work with many dynamic performances set to myriad of music and dance styles, which constantly keep the audience engaged and excited to see what will happen next!
Lake creates innovative movements, shapes and patterns on her muses and it is clear that the whole process has been great fun for the dancers. Lake has been credited with re-imagining contemporary dance, and this work is testament to this. She utilises the full theatrical toolkit to get the most out of her works: music, human movement, structure, lighting, voice, set, and lighting. The resulting impact is almost whimsical in parts, but joyous all round as a true dance theatre experience is delivered in THE UNIVERSE IS HERE.
At this stage, Sydney Dance Company has no plans to tour RESOUND beyond its opening season of nine performances in Sydney. However, if you get the chance to watch any of these three works in the future be sure to get along and experience Sydney Dance Company at its finest.