New Breed 2022
Sydney Dance Company
Reviewed by Karina Lawrence
Walking into the awesome venue of Carriageworks in Sydney is always a wonderful feeling.
The theatre space simple, elegant revealing a sense of anticipation and excitement for this years season of New Breed 2022, presented with its Principal Partner, The Balnaves Foundation.
Featuring four choreographers, four world premier performances that is certainly shaping the future of contemporary dance.
A grand assortment of artistry, oozing the many layers from sex and horror to desire, connectivity and escapism. New Breed's 9th addition, certainly has it all.
Showcasing a rich diversity of choreographic ideas and subtle messages, this years season certainly sparks as a highlight, showcasing incredibly talented artists.
The four talented choreographers are Sophia Ndaba presenting her piece The Veil of Separation, Jenni Large with collaboration from her dancers choreographed Sucker, Charmene Yap with her piece Drunk Tank Pink and Soloist and Choreographer Luke Hayward presenting The Remnants Of, a definite stand out!
Lighting design for all pieces by Alexander Berlage was complimentary to each individuals artistry and enhanced each piece by seamlessly supporting each choreographers vision and story telling with the lighting moods that accented the atmosphere with each changing theme and work piece.
It was exquisite artistry by all.
The costumes were also beautifully presented by designer Aleisa Jelbart, including Annie Robinson with The Remnants Of piece, that amplified each performance, again strengthening the overall message for each piece and raising the uniqueness of the  choreographers message.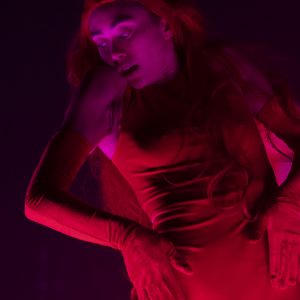 We began the evening with a simple pice of fabric, gracefully draped and hanging from the cyclorama, almost like angels wings that danced and intertwined throughout the performance titled, The Veil of Separation by Sophia Ndaba. With elegance and creative flow, accentuating the beautiful lines and fluidity of the dancers, simple yet effective, creating a pleasing wholesomeness to this creative message that represented integration and wholeness.
The lines and angels flowed creating a futuristic essence of grounding and integrated influence from those that came before us. It brought out an innate awareness of existence, almost from the beginning of time and our connection to mother Nature and all her power and glory.
The use of the fabric was its own unique set, creating ever changing scenes used by the dancers in various creative ways. Choreography influenced from the Dreamtime with animal like qualities appearing within the dance and integrated throughout the movements. The music was dynamic, with the use of simple yet effective lighting, holding your attention throughout this magical piece.
With partner work representing union and togetherness, along with effortless powerful leaps and expression in amongst integrated movements.
The art of this story telling was indeed unique, alluring with exquisite beauty and power.
A beautiful way to open this showcase and leave an imprint not only in mind, however through your body and soul!
Next up came Sucker by Jenni Large. It was like you decided to take the red pill and be swept into a 'Hot to Trot' dance party full of steamy sirens in dramatic pink and red wigs that oozed erotica. The lighting was truly an enhancement to this piece, that while the dancers remained completely focused and embodied their character, did leave you desire a little more dance content to showcase the years of hard work and dedication to achieve many incredible skills from these phenomenal athletic artists. This piece was epic with its rarity and uniqueness of alluring passion and intrigue.
There was a moment where the momentum of circular flow within the choreography took you down a rabbit hole, full of intrigue and captivating moments with intense commitment from the cast keeping you engaged right to the finish.
The lead up to Luke Hayward's piece The Remnants Of offered an intriguing pause filled with anticipation as the soloist showcased a truly mesmerising performance full of creativity, humour and contemplation. A well thought out creation with repetitive sequences that built with energy to impact an overall thought provoking and deeply thought out performance. Full of artistic qualities, personalised music with layers of captivating and gripping content. Quite the performance!
Finally you will be immersed into a world full of wonder and curiosity in how you perceive our every changing world, particularly with the advancement of our technological playground. How we are affected by it, as it embarks a sense of craving and possibly control. Or perhaps even how it opens us up to infinite possibilities. Drunk Tank Pink choreographed by Charmene Yap was certainly a strong finish to this intriguing choreographic showcase.
Inspired by a pink bubblegum example with forces of overstimulated tendencies, we are taken on a glorious journey that actively makes you think outside that pink box.
It's almost like Enya meets Beethoven with the talented dancers immersing their passion and athletic moves like orchestral highs and lows.
A welcomed message executed to take away from this experience is that Dance is our medicine, passed down through generations, that articulate and tell stories. The use of artistry to express ourselves, our messages, emotions and feelings through this language in such diverse and unique ways, continues to give us the freedom and pinnacle awareness that we are all truly individuals, yet connected as we each vibrate our wholeness!
What a gift creativity and the expression through that, truly is!
New Breed opened on the 30th November and runs until the 17th December.