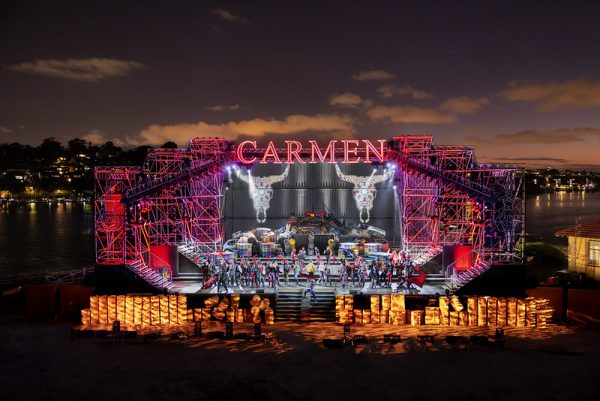 Carmen on Cockatoo Island
Opera Australia
Reviewed by Sarah Navin
A mixture of pin-up, grunge and Spanish frivolity under the stars, this rock 'n' roll adaptation of Carmen is truly unique.
When you think of Opera, it's often associated with imagery of lavish Elizabethan gowns, elaborate headpieces and chandeliers. Opera Australia's Carmen on Cockatoo Island flips this on its head. It is a grungy opera, with a backdrop of crumpled cars stacked on each other, and female performers with punk-rocker hair, corsets and midriffs. Even if you're not an Opera aficionado, you're guaranteed to have heard at least the Toreador song, the sultry Habanera, or Carmen's Overture, which are so often playfully used in pop culture like movies, advertisements, or the iconic champagne spraying at the end of every Formula 1 race.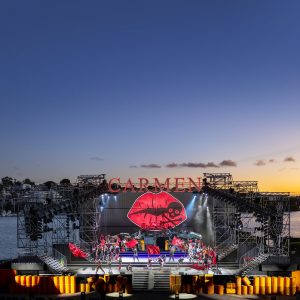 An outdoor production, Carmen is a full immersive experience beyond what happens on stage. First you board a ferry to the UNESCO World Heritage Cockatoo Island, offering stunning views of the harbour city as the sun sets. Journey through the rustic and industrial former ship-building workshop, before a bite to eat at picnic tables on the grass. Then follow the fairy light walkway to find your seat, with the assistance of approximately 65 helpful event volunteers.
With the rev of motorbikes to kick off the show, and fireworks before intermission, it's a performance you'll need to strap yourself in for. Opera Australia adds freshness and vibrancy to a work that first premiered in 1875. The dancing is part contemporary, part hip hop. There are dynamic smooth and sharp transitions, mixed with breakdancing and popping and locking – as the dancer's shapes hit flute accents in the music.
Choreographer Shannon Burns, who was also behind Handa Opera's La Traviata on Sydney Harbour in 2021, says she drew on the characters of rockstars, who are misfits, rebels and outsiders for Carmen. She says the score by Georges Bizet features "intricacies in the orchestration which are delicious for a dancer" – and I'll add – her choreography is entirely 'edible' for the audience too. There are highly effective cannons as dancers hold cigarettes on the stairs of towering scaffolding, and the stage comes alive when the strong 58-person cast gathers in clumps – their movement highly animated and energetic. Hero status is given to Elvis lookalike Escamillo, played by Daniel Sumegi. His rambunctious persona is celebrated by a jumping, squealing cast – but he fails to initially capture the attention of love torn Carmen, played by Carmen Topciu. She is both racy and vulnerable, as her characterisation shines through.
Screens translate the opera into English either side of the stage, helping to guide the audience through the plot, driven by the rebellious female lead. Lyrics like "here they are, cheeky minxes", sung in impossibly high operatic notes, give the crowd a giggle. At times it's a challenge to keep up with the action on stage and the translation screen, but at least it gives context to follow the storyline. Director Liesel Badorrek describes the production as like watching a 'bullfight', in which we know bloodshed between 'unevenly matched opponents' will take place.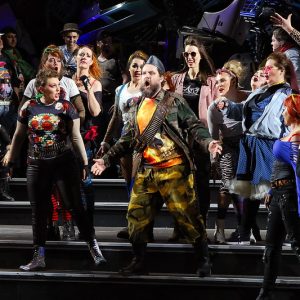 Be warned – the ending is unsettling and startling. Carmen rejects Don Jose, played by an imposing Roberto Aronica, for Escamillo (perhaps due to Mark Thompson's outstanding costume design, putting him a double layered patent leather cape with what appears to have a velvet lining and psychedelic shimmer, no less). Then, like a jealous lover scorned, Don Jose chokes her – as a giant warning 'this production depicts violence against women' is displayed on the back screen. It's possibly too late for any audience member disturbed by the raw brutality. The only consolation to the blunt final scene, is the thought that Carmen bravely lived a life on her terms.
This rock and roll adaptation of Carmen is a truly unique. There are colourful milk crates being passed across the stage, dancers dressed in skull patterns, chains and fishnets, with fluro sunglasses and bedazzled denim jackets. Fairy lights frame the outdoor stage, with seagulls squawking overhead and noisy party boats passing, for added ambient sound – alongside the immaculate Opera Australia Orchestra, conducted by Tahu Matheson.
Carmen is a mixture of pin-up, grunge and Spanish frivolity, with giant red flags slicing the air as the opera builds to a crescendo. It has all the trimmings of a large-scale musical spectacle, with a cabaret feel, and outstanding Operatic vocal talent. One final velvety note by Danita Weatherstone as Micaela in particular, lingers in a way that induces aural goosebumps. The four act, one interval performance is a lively experience for a first-time Opera-goer – or – for frequent attendees, it revitalises an old classic. Still as scandalous, but with added sass.
Carmen on Sydney's Cockatoo Island runs until December 18, 2022.