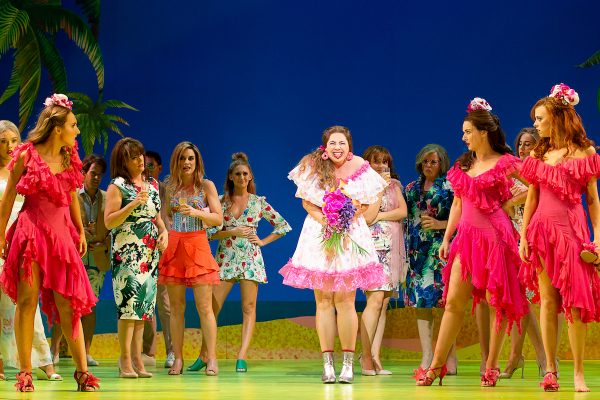 You're Far from Terrible Muriel… in Fact, You're a Delight!
Lyric Theatre, Sydney, Thursday July 4
Reviewed by Chris Duncan
QUESTION: What's better than an ABBA song?
ANSWER: Not much according to some, but Muriel's Wedding the Musical now playing at Sydney's Lyric Theatre comes close!
"You're TERRRRIIIBBBLLE Muriel!!"
The return season of this home-grown hit brings all of our favourite 'bogan-ite' characters from the original 1990's film back to life in a standing-ovation-worthy rendition of this Australian tale of self discovery.
Following its new season opening in Melbourne, the show has returned to Sydney for a strictly limited season before it heads to Brisbane in September.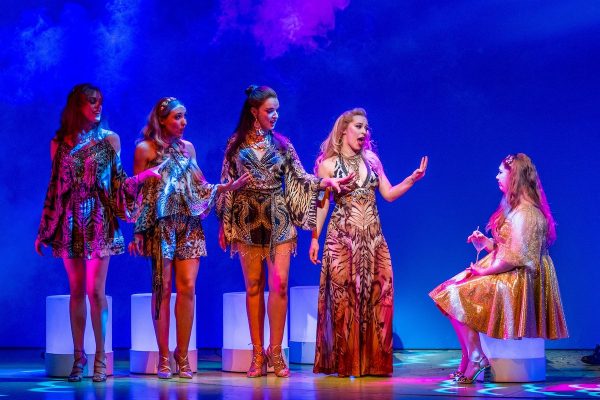 Muriel Heslop is the designated loser of small-town Porpoise Spit and the subject of her like-loser sister's personification of 'TERRRRIIIBBBLLE'. Together with her three siblings, Muriel is a heavy 'albatross' around the ambitious neck of their politician father Bill Heslop who sees his long suffering wife and low achieving children as a hindrance to his aspirations.
At just 23, Natalie Abbott makes her main stage debut as one of Australia's most beloved fictional characters. "There are some days I go in and I can't believe this is my life," she says. "I can't believe there's going to be actual people in this actual auditorium, there's going to be actual people watching me actually do this!"  In this role, Abbott was nominated for a Helpmann Award for Best Female Actor in a Musical.
Stefanie Jones plays Muriel's best friend Rhonda, and for her the relationship between its female characters is what gives it a particularly contemporary edge. "There are so many strong female characters in the show, and more female characters than male characters, which is rare. Two female heroes and it's not a love story between a man and a woman but a love story between two female friends," said Jones.
Muriel is complicated and stubborn, and her actions can be thoughtless, cutting or criminal. But in the original 1994 film by PJ Hogan, Muriel's Wedding, and this engaging stage adaptation, she is also disarmingly loveable. Muriel just wants to be loved, and don't we all? Despite her lies, her deceit, her disillusioned pursuit of marriage despite a lack of true romantic connection, can't we all understand the way her pain, and the rotten foundation of a cruel father and a small-minded community, have fuelled her to change her life by any means possible?
We all rejoice when Muriel's re-found friend Rhonda, a fellow Porpoise Spit-expat, takes down Muriel's frenemies with a single line and follows Rhonda to Sydney where she pursues her path to liberation. Sydney represents Muriel's reinvention. A town that looks endlessly exciting – a place full of queers, queens and weirdos coming together. Muriel's 'Sydney' is a place is where you "finally get to be you."
Directed by Simon Phillips, Muriel's Wedding the Musical is a smart, devastating, hopeful confection that runs on pop music dreams and a distinctly Australian understanding of the world.
After an incredible first season at the Roslyn Packer Theatre and a trip down to Melbourne, Muriel's Wedding The Musical  has returned to Sydney ⏤ the city that sits at the centre of its broadly beating heart. The show has updated and tightened a little since its premiere season, but the changes are good and the show moves more swiftly and tightly because of them, with a renewed emphasis on the story at its heart: the epic friendship between Muriel and Rhonda.
Kate Miller-Heidke and Keir Nuttall's score, written to sit alongside and in harmony with ABBA's time-loved hits, still sparkles, and the new cast bring refreshing, energised performances.
Andrew Hallsworth's choreography is dynamic and complements the essential character moments with dramatic, humorous delivery.
The show will have you laughing from the get-go and quietly tearing up in the second act. You'll rejoice with every triumph and feel every disappointment and heartfelt sense of loss.
Muriel's Wedding the Musical is much more than an ABBA-drenched hit of nostalgia. PJ Hogan has re-imagined the original story to reflect priorities of today with the elements of smart-phones and social media woven into the narrative, but it is the tale of human spirit and an unlikely heroine triumphing over superficiality and her life circumstances that makes us love this show so much.
MURIEL'S WEDDING THE MUSICAL
SYDNEY

– Lyric Theatre
Until September 8
Bookings: www.ticketmaster.com.au
BRISBANE

– Lyric Theatre, QPAC
From September 19
Bookings: www.qpac.com.au