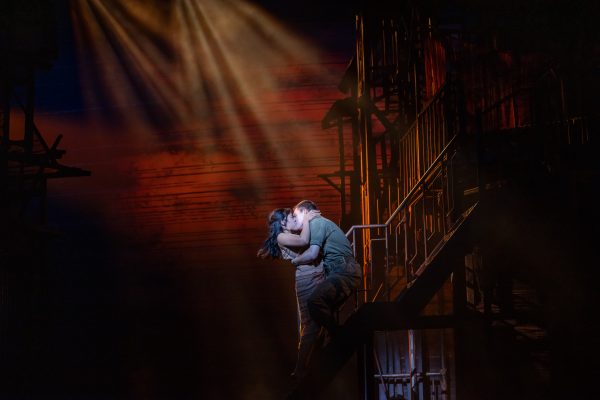 Miss Saigon
A Musical Masterpiece!
Reviewed by Karina Lawrence
Well the heat was certainly on in Sydney at the Opening Night held at the iconic Sydney Opera House of the acclaimed Miss Saigon.
Direct from the West End and Broadway this epic love story of passion and tragedy will keep you on the edge of your seat!
It was truly Spectacular!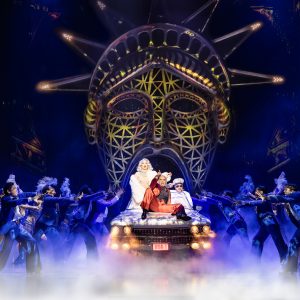 Presented by Opera Australia, Cameron Mackintosh's revival of the acclaimed new production of Boubil and Schonberg's, Miss Saigon was flawless. It literally connects inward with your heart and draws out so many emotions and reminders, that are so pertinent with what is going on in our world right now.
Arriving at this world renowned venue on Sydney's magnificent harbour certainly set the scene. The red carpet was filled with industry stars and celebrities who were equally buzzing to see this incredible performance.
Directed by Laurence Connor with Australian Production Director, Jean Pierre van der Spuy and Resident Director, Theresa Nguyen this show will definitely take your breath away in more ways than one.
With Orchestrations by William David Brohn the music hauntingly heals with its incredible power and beauty.
Boy the cast was just phenomenal. Completely embodying the characters and sharing their extraordinary talents. You were totally captivated with each cast members performance, from the moment the curtain rose and revealed the brilliant sets.
The energy was electric right from the start as we start the scene in Saigon with spectacular performances by Gigi played by Kimberley Hodgson. We are introduced to the purity and innocence of Kim played so passionately and embodied with absolute dedication and talent by Abigail Adriano. Their vocals are piercing and evoke such strength and beauty, filled with a range of emotions mixed with the moving music. It is certainly a stand out moment with the soaring musical score, "The Movie In My Mind"
From there, the playful chemistry is apparent as we are taken on the beautiful journey where Kim and Chris played brilliantly by Nigel Huckle meet and instantly surrender to their love and impactful connection that enhances the meaningless emotional defeat that war entails.
Again, the set changes are seeminglessly effortless and captivate the imagination as we are transported through the streets of Saigon to the safety of the two love birds intimate encounters, done tastefully and beautifully with incredible Lighting Design by Bruno Poet and Associates, Warren Letton and Hugh Hamilton, that is apparent throughout this impactful show.
It certainly takes a village with the amazing efforts from Production Designers, Totie Driver and Matt Kinley along with the Design Concept by Adrian Vaux and Associate Set Designer, David Harris.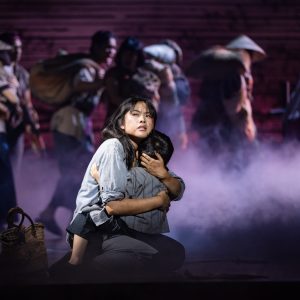 The production quality is first class with some awesome and impactful moments during the show with phenomenal interaction of visuals from projections and real life sets, that draw you in and make you feel like you are right there, with every breath in the journey this performance will take you on.
Such credit to the crew that enhance this beautiful storyline to the fullest with Technical Direction by Michael Rogerson, Projections by Luke Halls and Associate Zakk Hein.
One truly WOW moment was the absolutely incredible performance from Seann Miley Moore who plays the role of The Engineer in a way that will leave you gobsmacked and wanting more. The way he deliver's the humour and undefinable charm with this vivacious character is truly unforgettable, particular with the shows theme and significant heart wrenching moments.
The sound, the music, the voices, the range and variety within the plot and story line completely captivates you for the entire show. Stunning moments offered by Kerrie Anne Greenland playing Ellen and Nick Afoa playing the role of John along with Laurence Mossman playing Thuy. Their dedication and talent certainly enhanced this already impressive cast.
What a cast it was with the Ensemble in glorious numbers, delivering impactful moments with brilliant choreography by Associate Choreographer, Richard Jones.
The sweetness and incredibly professional performance from Bryce Li at such a young age who played Tam added another layer of depth and the awareness of the innocence that are born out of war to be a beautiful gift in amongst heart felt tragedy.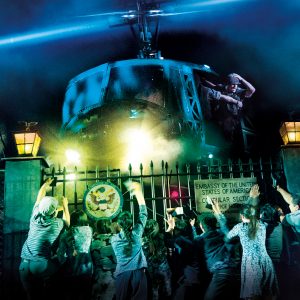 It was just PERFECT with Sound Design by Mick Potter, Shelly Lee along with Musical Director, Laura Tipoki, Musical Supervisor, Alfonso Casado Trigo, Guy Simpson and the Musical Staging by Bob Avian and Additional Musical Staging by Geoffrey Garratt.
The Costuming was epic and continued to enhance the professionalism and magnificence of this iconic musical. The incredible creative team behind the costuming, wigs, hair and make up certainly deserve a mention too. Congratulations to Andreane Neofitou, Lee Tassie, Jennifer Irwin and Stefan Musch for complimenting the visual masterpiece of this show.
You won't want to miss this truly incredible performance that does contain scenes of sexual and violent nature. Along with wartime themes and the impact and devastation that comes with such heartache.
It will remind and install within you the necessary importance of humanity and how love shall and will always conquer, heal, move and impact us in the end!
A musical Masterpiece!
A MUST SEE!