Michael's Missing but Innovation Arrives
DanceLife Review by Michelle Slender with Tiffany Duncan
Many years ago I had the pleasure of seeing a Michael Flatley 'Lord of the Dance' mega-productions in London – and I was blown away! So, naturally, I jumped at the chance to see his latest production – Dangerous Games – in Sydney last week.
This latest incarnation of Flatley's successful Lord of the Dance franchise has been touring Australia since September; visiting Perth, Adelaide, Melbourne, Canberra, Brisbane, Gold Coast and finally, Sydney. This follows a sell-out London West End and UK season and extensive tour of Europe. Next, the show will continue onto New York for 3 months, featuring Flatley's farewell retirement performances.
As creator, director, producer and choreographer there is no denying Flatley always delivers an extravaganza. The likes of which were never before seen until the meteoric success of the 'Riverdance' phenomena in the 1990s – from which Flatley arose as the Irish-dancing hero. Back then, few knew what Irish dance was let alone could have predicted its popularity.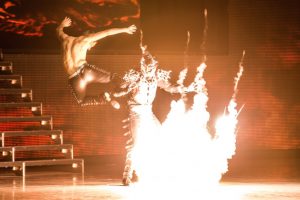 Dangerous Games has an intriguing opening. The picture of a large clock is projected down onto the stage with the holographic images of Michael Flatley and his 'son' capturing the viewer's attention. It sets the scene of the story and drama to follow.
The technology and special effects are great, and although it has an attention-grabbing start, Dangerous Games didn't manage to reach the heights promised by its reputation. And there is no escaping the obvious – Michael Flatley is not in this show. He is not performing in Australia and has announced he will be retiring from performing after the New York shows. (Read our interview here.)
Perhaps this is an interim problem for the franchise, but it felt obvious onstage in Sydney. This may have been due to the fact that much footage of Flatley dancing was shown on screen – which, unfortunately, just highlighted how much he was missed. However, the opening moments seeing him dance with his son on screen were quite touching.
What was most interesting about this new production is the continuation of Flatley's ambition to reinterpret Irish dance by intertwining different dance genres, as well as voice and acrobatics, into the story and bring to the forefront his contemporary vision of Irish dance. This is a show for NOW!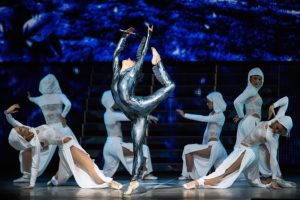 The feature vocalist, Erin O'Connor, 17, from The Voice UK commanded the stage with a very powerful voice reminiscent of Céline Dion as she performed as 'Erin the Goddess'.
A highlight was seeing the two violinists Giada Costenaro Cunningham and Eimear Reilly perform on stage with the dancers. Along with the dancers, they turned an Irish jig into an event. The rhythmical sounds of the hard shoe blended well with the stunning sounds of the violin, creating a captivating energy as they performed together.
Part of the innovation was seeing dancer Erin-Kate McIlravey as Sairose – 'Little Spirit' – perform gymnastic moves amid the chaos. It would have been good to see 'Little Spirit' perform more acrobatic moves throughout the show not just at the end.
Despite the fact Flatley isn't performing in Australia, nothing should be taken away from Morgan Comer who is the lead male dancer in Dangerous Games. He is brilliant! His dance skill, performance, charisma and personality shine bright. Reminding us of Flatley himself, Comer dances with the same command and confidence.
In fact, the male dancers steal the show. And not just because they receive an applause for removing their shirts!
Both the closing numbers of the first and second halves were stunning with impeccable timing and, of course, some of the best dance cannons in the world. They were tight with intricate choreography and looked amazing on stage. However, the bigger hard shoe numbers were performed to a pre-recorded tap beat for, I assume, technical and sound quality reasons; but it left the audience to wonder what these show-stopping routines would be like if left purely live.
It's important to note that this production is trying to create something new in the dance world – some of it works and some of it misses the mark. The mixing of dance genres and performers is a little awkward and unrefined at times. But one of the big successes of this experiment is the finale featuring two male dancers perform an innovative hip-hop-style hard shoe. It was rhythmic, fresh and contemporary.
Flatley's new show Dangerous Games employs exciting and ground-breaking new technology, including holographs, dancing robots, world champion acrobats, and 34 of the greatest Irish Dancers in the world.  A new score composed by Gerard Fahy, new choreography, stunning new costumes and special effect lighting add a breath-taking new dimension to the original masterpiece.
Lord of the Dance: Dangerous Games is created, directed and choreographed by Michael Flatley and is produced in Australia by Lunchbox Theatrical Productions and Base Entertainment Asia.