Lord of the Dance talks about his DANGEROUS GAMES

For more than two decades, celebrated dancer Michael Flatley has brought the drama and magic of Irish dance to the world's attention. His name and the Lord of the Dance 'brand' have become synonymous with spectacular artistry and grand scale productions that have mesmerized more than 60 million people in 68 countries around the world.
Michael Flatley's latest masterpiece – Lord of the Dance: Dangerous Games – exploded onto the Australian stage in Perth in September as part of a 15 country tour after a sell-out season in London's West End last year. The final leg of the Australian season will see Dangerous Games at Sydney's Capitol Theatre from 20-25 October. Lord of the Dance: Dangerous Games is created, directed and choreographed by Michael Flatley and is produced in Australia by Lunchbox Theatrical Productions and Base Entertainment Asia.
DanceLife had the pleasure in speaking with Michael Flatley about the success of his new show.
________________________________________________________________________________________
Q:  How did the inspiration for 'Dangerous Games' come to you?
A: It was something that had been in my mind for a long time. I suppose that any artist or dance creator knows that with the creative process … the creative mind works in strange ways. It's been great to do something new. We are coming up to our 20 year anniversary in the business, and I couldn't wait to do this new show 'Dangerous Games' – which is the latest reiteration of the 'Lord of the Dance' – the original classic. In many ways it's brand new. It has a brand new magnificent soundtrack and score, brand new costumes, fabulous new set and lighting design with many, many special effects. The world champion gymnasts and fresh choreographic work that has been really sharpened in the show! I've done a lot of work to rebuild the show from the ground-up, and the reaction so far from the audience has just been superb.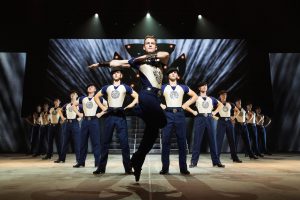 Q:  All of your productions have been on such a grand scale. What inspired you originally to bring Irish Dance and Step Dance to the world stage in such a grand way?
A: For me, I always had a dream that dance should be the centre attraction. Growing up as a young man I was always told that you had to be a pop singer or in a rock band to be the main focus, but I didn't believe that. All these jobs as a dancer I'd come back from without even a thank you and I thought "Hey who made up this rule?!" … I didn't have the dance training background, I didn't have Ballet or Modern or Tap or Jazz. So I took what I knew … I took the thing that I had myself and I said "Ok, I need to turn this into something special."
I was first told from theatres "Oh, don't be ridiculous! Dance has to be intimate and small." My thought was if singers can do it, why can't we as dancers do it? Why can't we build a show that is big enough and powerful enough to fill that stage in an Arena? … And we did! We sold out all over the world!
By 1997 we had sold every big 'rock-n-roll' room in the world according to Poll Star. And I'm glad we did it!
Q:  You grew up in America, and have both American and Irish background: How did you connect with your Irish heritage?
A: To be honest with you, I was always way more Irish. My father is from Ireland, my wife and son were both born in Ireland and I have been in England and Ireland the last 25 years. I've always been Irish in my own heart.
Q:  Who were your greatest influences in dance?
A: To be honest, I didn't have a lot of influences because the the type of dance that I do is so different from what I saw frowing up. I loved percussive style dance! I think what influenced me was anyone who was great at what they do. I mean, who wouldn't love Fred Astaire or Gene Kelly … you could just go on and on with inspiring people, they are just incredible! Though, they don't do the style of dance that I do – or could do even – because what I do is so different to them. It took a long time to create my work because it is so different. I couldn't look at what was around me. I had to go inside of me to find the actions. I had to develop it. That's what made us so unique and the reason why we still around today is that we were so different.
Q:  Did you completely originate this whole style of dance?
A: I did – I had learnt Irish Dance and it was wonderful! I loved the percussion, but it was all too confining for me. I wanted to use my whole body to dance, use facial expressions, syncopations and accelerate the foot work. I wanted to create this with a newer style of steps … and that was a real big change for me.
Q:  What inspired you in terms of the musicality and the tapping rhythms that you created?
A: I don't think there was anything in particular; it must be something in our genes. It was just always in my head. I would take these old tape recorders … I didn't have anyone else to practice with, so I'd take two tape recorders … tap out the rhythm on the first recorder, then put the secondary one there and have to switch the tapes … then just keep doing that until I got the rhythms I needed. It worked, and I got it!!
Q:  You have won a few world records in your time, do you think that has enhanced your popularity and been an important part of your career … or is it just an aside for you?
A: Honestly, no. Those things aren't important to me; they are just things that happened. The tap dance record is something that when I was young and ripping through the shows I was asked to do it. I did it and it was great press talk, but it didn't make me a better dancer. Although, what is good about setting those records is that they drew attention to dance … And that's magic!!
Q:  I believe you are hanging up your boots this year as a performer, is this correct?
A: In July (2015) it will be my last show in the UK, will tour around and end up on Broadway at the end of the year … but certainly yes, this year is the end for me. I believe now is the right time for me to move on. I've achieved what I set out to achieve and now it's my time to go on to other things. I have a lot of things up my sleeve to create for other people and projects and I'm really looking forward to future challenges!
______________________________________
www.lordofthedance.com
LORD OF THE DANCE – DANGEROUS GAMES




Brisbane

:  Concert Hall, QPAC:  13 – 16 October
Tickets from QPAC


Gold Coast

:  Jupiter's Casino:  17 – 18 October
Tickets from Ticketek


Sydney

: Capitol Theatre:  20 – 25 October
Tickets from Ticketek