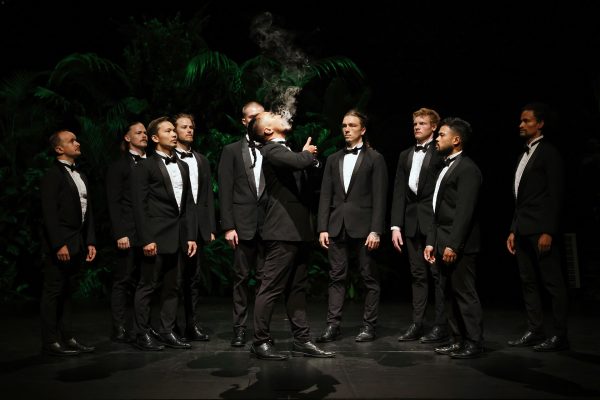 King
Shaun Parker & Company
Reviewed by Karina Lawrence
Playing at the Seymour Centre from the 28th February to the 4th March this show is definitely a stand out in some rather authentic ways.
King created by Shaun Parker and Company is returning to Sydney before heading off to festivals across Europe.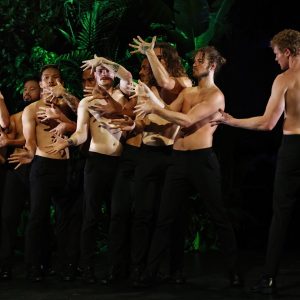 Firstly, we are greeted with a distinct musician and vocalist that opens the show in a simple yet engaging manner. The music and singing is truly divine and creates such an alluring atmosphere to this performance.
Composer, songwriter and vocalist Ivo Dimichev  engages you right from the beginning. He's authenticity and rare, individual mannerisms compliments his inviting talents and tributes the choreography that is both innovative and quirky. He's vocals are indeed a gift! An incredible vocal range explored as we are taken on highs and lows not only vocally with he's impressive range of scales, however how he's performance interacts with the cast in a seeming less manner.
In association with with Sydney WorldPride Arts, Director, Choreographer and Artistic Designer, Shaun Parker has created a very thought provoking and distinct performance. Set in a fantastical realm this performance touches on an assortment of cabaret and b.boy influences shown in elements of he's choreography with some beautiful visual moments and light hearted quirky movements, touching on some serious topics within this story telling piece.
Be prepared though, as the performance has nudity that showcases brave performer Toby Derrick as he performs naked during the show that enhances this thought provoking and deeper message, tapping into masculinity and portrayals the notions of power that can be brutality found within this subject.
There's certainly some comical, quirky and compelling moments of creative forces and structures that pushes boundaries and I guess raises some questions about the deeper narrative that ultimately reinforces the power of artistry and ones perception of what they take away from such a performance.
The dancers whom have also contributed as collaborators are committed during this performance. They execute great athleticism, stamina and definite drive with such engaging energy. With a variety of talent in styles from contemporary dance, hip hop and street dance the cast certainly enhance this one of a kind creation.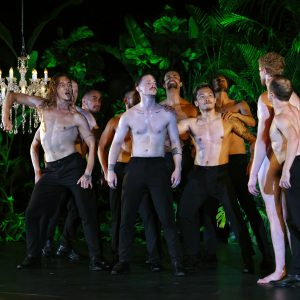 There are moments of circus art and influences of a boyband charm and even comedy in amongst some deeper more confronting issues and in some ways the influences of how masculinity may be perceived within social structure and systems.
It's brash and simple, engaging, yet leaves you in this intrinsic mode of questioning and understanding all in one. Certainly outside the box and creatively pushing boundaries within its story telling.
The curtain revealed a simplistic and stunning scene as the stage is filled with natures gifts of plants, beautifully lit by lighting director Benjamin Brockman. A single classy chandelier hangs from the roof and at times interacts within the dancers, as they flow and execute grand levels of strong, powerful isolations and shapes through pictured movements.
Beautifully orchestrated with angels and dynamics executing true team work and charisma on stage.
It's like being submerged in a forrest with the stage filled with live plants that seem to go on forever, offering a wonderful creative set in itself, beautifully designed by Penny Hunstead.
It's obvious that while this show may not be everyones cup of tea, its turning heads while creating a strong support network of creative and visual art work that's outside the box focusing on inclusion and diversity in a definitive and interactive form.
You'll definitely be left going deeper within ones own awareness. A guaranteed conversational piece, that could be certainly considered an artistic directors dream.