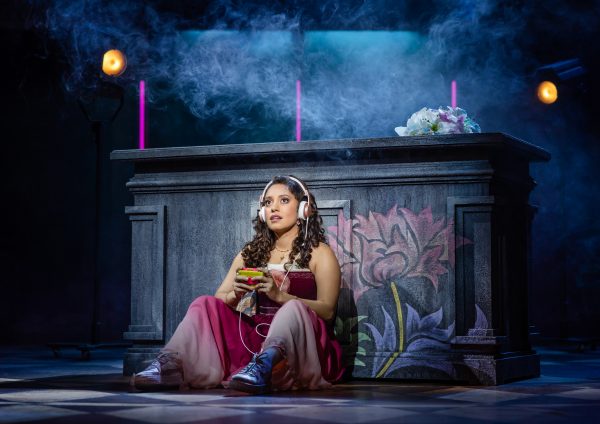 And Juliet The Musical
Electrifying and Exhilarating New Musical that Revolutionises a Timeless Story
Reviewed by Brendan Daynes
& Juliet is an electrifying and exhilarating new musical that revolutionises a timeless story with a modern twist, packed with unforgettable pop anthems that will leave audiences beaming with joy!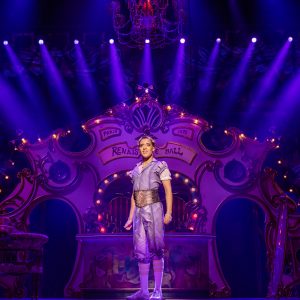 Australian theatre-goers were brimming with anticipation as they eagerly arrived at Melbourne's Regent Theatre for the Australian premiere of & Juliet, locally produced by Michael Cassel Group in association with MTM/Leyline. The crowd's energy was explosive as they bore witness to a fresh jukebox musical, spotlighting the iconic music of Swedish pop mastermind Max Martin, that reimagines the literary classic Shakespeare's "Romeo and Juliet."
& Juliet kicks off with Shakespeare being dared by his spouse, Anne Hathaway, to rewrite the tragic ending of his new play. Anne proposes, much to Shakespeare's disdain, that the play should investigate what might have occurred if Juliet chose to live, rewrite her own destiny, and even fall in love once more. The show subsequently tracks Juliet's journey, with intermittent interruptions by Shakespeare and Anne who narrate and argue about the plot, jostling to recount Juliet's tale the right way, as Juliet takes charge of her own fate, empowering herself and those around her.
While the concept may appear a tad ludicrous, Schitt's Creek writer David West Read has fashioned an updated iteration of a classic narrative that examines several topical themes of today, including empowerment, gender roles, self-discovery, and acceptance, while staying true to the classic themes of love and friendship. When you add in the catalogue of Swedish pop genius Max Martin, you have a dazzling new musical that is brimming with timeless pop songs that flawlessly interweave with a clever and witty story that is sure to have audiences laughing and belting out tunes at the top of their lungs.
The creative team has done an exceptional job of bringing this story to life on stage. Director Luke Sheppard has fashioned a visually striking production that is both whimsical and theatrical. The choreography by Jennifer Webber is inventive and playful with the movement which perfectly capturing the show's bubblegum pop spirit. The costumes by Paloma Young are exquisite and vibrant, while the lighting design by Howard Hudson is simply breathtaking. The sound design by Gareth Owen and the video and production design by Andrzej Goulding are also first-rate, creating a fully immersive and unforgettable theatrical experience that feels contemporary and cutting-edge.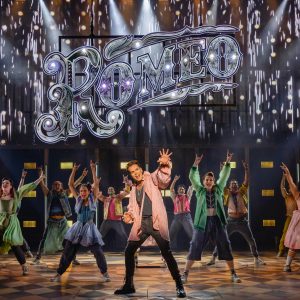 The cast is genuinely phenomenal, and each actor brings their own distinct flair and personality to their roles. Lorinda May Merrypor shines brilliantly as Juliet, infusing the character with both vulnerability and strength. Performing so many beloved pop songs could be daunting, but she handles them with ease, not only doing them justice but making them her own. Amy Lehpamer's depiction of Anne Hathaway/April is both heartfelt and uproarious, and her rendition of a Celine Dion classic establishes that she is not only a gifted actress but an outstanding vocalist. Familiar favourite Rob Mills is, as anticipated, magnetic as William Shakespeare, bursting onto the stage in true pop star fashion, rising from the orchestra pit as the show commences to a rapturous crowd. Hayden Tee delivers a commanding performance as Lance Du Bois, striking the perfect balance between strict authoritarian and sincere and sensitive father figure to François Du Bois, played by Yashith Fernando, who delivers a genuine and unforgettable performance. Jesse Dutlow, by his side on this journey, brings an endearing charm to the role of May Arun, and together they tenderly and sincerely depict a queer storyline that is not often portrayed in a popular musical. Becoming somewhat of an Australian musical theatre icon, Casey Donovan brings her incredible vocals and captivating stage presence to the dual role of Angélique/Nurse, showcasing another side to her acting skills in this uproarious role. Blake Appelqvist is perfect as the romantic lead, Romeo Montague, and delivers a mesmerising portrayal of the irresistibly charming rogue that the audience simply can't resist falling head over heels for.
is an extraordinary and awe-inspiring musical that glorifies the themes of love, camaraderie, and the force of self-discovery. It boldly challenges entrenched gender norms and vigorously promotes acceptance and magnanimity towards others, while delivering an absolutely captivating and enjoyable experience. The entire cast and creative team have unequivocally surpassed all expectations with this exceptional production, and it is an event not to be missed.
& Juliet is presently playing at the Regent Theatre in Melbourne for a limited season. For further information or to buy tickets, please visit https://andjuliet.com.au/