Joseph and the Amazing Technicolor Dreamcoat
A Treat for All Ages That Should Not Be Missed!
Reviewed by Brendan Daynes 
Bursting onto the stage with energy, excitement and colour, this new version of Joseph is a treat for all ages that should not be missed!
On Wednesday 16th November there was a real buzz as people arrived at the Regent Theatre, in Melbourne, for the opening night of Joseph And The Amazing Technicolour Dreamcoat. This classic musical, with music by Andrew Lloyd Webber and Lyrics by Tim Rice, that first opened in Australia in 1993, has been refreshed and reimagined by a new creative team. This particular production, produced by Tim Lawson in association with Michael Harrison by arrangement with The Really Useful Group, first opened in London in 2019 and continues the timeless joy and love for Joseph that has spanned more than 50 years!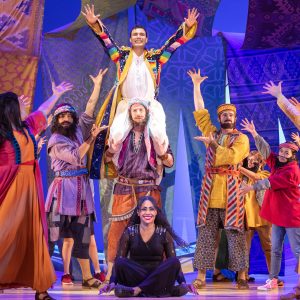 The story revolves around Joseph, the favourite of 12 sons, who is gifted a beautiful technicolour dreamcoat by his father. This doesn't go down well with the 11 siblings who, in their frustration, sell him into slavery. While working as a servant to Potiphar, the captain of the Pharaoh's guard, Joseph catches the eye of his masters wife but refusing her advances he finds himself in prison. Joseph has an ability to interpret dreams and this soon becomes his way to the top. He is brought before the Pharaoh, deciphers his dream and finds himself free, promoted to the Pharaoh's number two and lives abundantly. Meanwhile, his family, having fallen on hard times travel to Egypt and turn to him for help, not realising that this is their long-lost brother.
Although many would have either seen or even performed this classic with it being performed by more than 200,000 schools and colleges worldwide, this fresh new take showcases everything we know and love while giving it an energetic new life. Directed by Laurence Connor, this slightly shorter version moves with pace, running for just 2 hours and 5 minutes, including interval. This is further enhanced by the slick work of choreographer Joann M. Hunter, who has the ensemble cast, including the children, showcasing their precision and skill with a variety of show-stopping numbers including a rhythmical tap, a hoe-down and even a high energy can-can. Set and Costume designer Morgan Large, adds to the magic with vibrantly colourful costumes, with Hair, Wig and Make-Up design by Richard Mawbey, and awe-inspiring sets that are glorious grand, the gold on gold pillars of Egypt even join in with the performance moving to appear to be joining in with the vocals. All of this is further enhanced by the creative lighting design of Ben Cracknell.
The music and lyrics, which cover a variety of genres, are one of the highlights, with musical direction by Peter Rutherford, musical supervision by John Rigby and sound design by Gareth Owen. Being a performance that is sung throughout it requires many of the characters to possess superior vocal talents and our Narrator, expertly played by Paulini, proved that she is a bonafide superstar. Her expertise not only as a singer, but also as an actor, having to appear as various characters using various guises, are showcased and she does an exceptional job with smooth and soulful vocals. Our leading man Joseph, played by Euan Fistrovic Doidge, must also be commended on a standout performance. His portrayal  of Joseph is charming, warm, and charismatic from start to finish and he has many standout moments including a powerful and heartfelt rendition of Close Every Door. Another standout performance was Those Canaan Days by Simeon, played by Daniel Raso, who's powerhouse and moving vocal performance earned a mid show standing ovation. The role of the Pharaoh, played by Shane Crawford, and the ensemble cast entertained the excitable crowd who enthusiastically cheered him on in his musical theatre debut. The children of the ensemble, were another standout playing a variety of roles throughout. These talented little youngsters keep up with the seasoned professionals and are certainly going to be the musical theatre superstars of the future.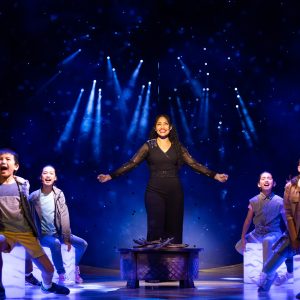 After over 50 years it would be easy for a production to be tired or overdone but this new production of Joseph and The Amazing Technicolor Dreamcoat really breathes new life into a well known classic. Providing an opportunity for people of all ages to fall in love all over again or for the first time with this musical theatre masterpiece, this amazing production and stellar cast provide audiences with a bright and colourful spectacle of soaring vocals, energetic and tight choreography that really is worth getting excited about.
Joseph and The Amazing Technicolor Dreamcoat is playing in Melbourne at the Regent Theatre, Collins Street from 13 November 2022 and Sydney at the Capitol Theatre, Campbell Street, Haymarket from 11 February 2023. For more information or to make a booking visit https://www.josephthemusical.com/