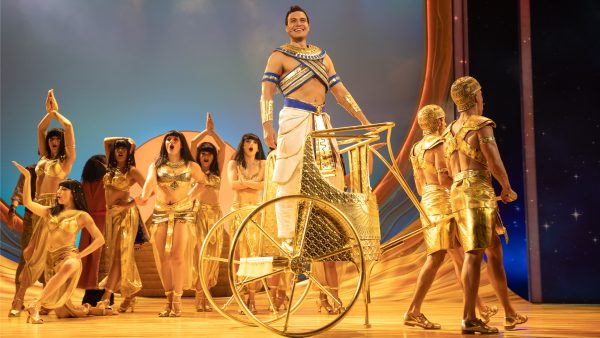 Joseph and the Amazing Technicolor Dreamcoat
Capitol Theatre
Reviewed by Karina Lawrence
The hype and excitement was apparent when approaching the rainbow of technicolour lighting that framed the Capitol Theatre for the opening of Joseph and the Amazing Technicolour Dreamcoat.
With rainbow glitter paving the rainbow red carpet at the entrance, there were celebrities and the who's who of the creative arts industry, all excited to view the show here for the season in Sydney.
Paulini was just phenomenal! What an incredible talent, that holds the show together as the Narrator, with flawless vocals and a natural appeal that captures your appreciation with a likeable energy to her characterisations.
The lead role of Joseph played by Euan Fistrovic Doidge certainly didn't disappoint! Full of commitment and infectious energy that had you engaged as he explored the variety of emotions experienced on he's journey. Beautifully embodied showcasing superb talent and charisma.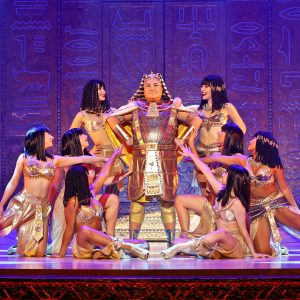 The children were delightful, showcasing incredible professionalism with their youthful vibrancy and passion executed. Trevor Ashley who played the Pharaoh was another stand out and integral part to the show! Definitely a crowd favourite.
The audience's appreciation and support through out the performance was transmittable, genuine and abundant! The performance is full of excitement and joy with wonderful elements of humour, impactful moments that truly affected your heart with reflective emotions and raised energy, as we are guided through the impactive messages underlying the story, that is ultimately about the belief in oneself and their unique dreams. 
With music by Andew Lloyd Webber and lyrics by Tim Price, the orchestral adaptions for the Really Useful Group, by David Andrew Wilson and musical supervision by John Rigby along with the musical direction from Peter Rutherford was tight, impactful and of sheer brilliance. Originally created by Oscar nominated John Cameron for the 1991 London Palladium production.
The cast a crew have certainly delivered and incredible show. Full of wonder, passion and exquisite, memorable moments.
Resident director and choreographer Thern Reynolds has done an exceptional job! Along with Australian choreographer Joann M Hunter, associate choreographer Billy Mitchell and associate directors Nikki Woollaston and Darren Yap.
From start to finish, the perfomances were engaging and shared sheer joy with pocketful moments of magic, excitement and exceptional 'cheesy' yet tasteful concepts executed. Holding the audiences attention and leaving us wanting more. It was a smorgasbord board of sheer delight for ones eyes to witness.
Associate choreographer Billy Mitchell has certainly excelled with the projection of this tightly knit show including the finale style mega mix, a stand out and wonderful way to finish the show!
The show flowed effortlessly from start to finish with clean sets and wonderful lighting designs by Sarah Brown and Tamykha Patterson throughout. Eyes were fixed and we were captivated through the immaculate transitions of Egypt to Vegas and many magical lands in between.
Producers Tim Lawson and executive producer Paula McKinnon have certainly excelled in the production of Joseph for this Australian Tour. It certainly takes a village with everyone involved, to get this show on the stage every night for the public to enjoy!
Costuming was full of magic and colour, particularly the assortment of coats worn by Joseph.
Definitely a new found appreciation for this show and all that it offers for the whole family!
If you're looking for an enjoyable and infectious, uplifting evening with wonderful music and oozing talent, then this is your show.
 Be sure to catch it while it's in Sydney this season, playing at Sydney's Capitol Theatre. Only disappointment you'll feel is if you miss out of all the amazement that Joseph offers!