Garfield: The Musical with Cattitude
Chapel Off Chapel, Prahran, Tuesday April 3
Reviewed by Carly Crawford
Who would have thought a piece of musical theatre could keep two little boys transfixed – for one whole hour?

The first ever Australian production of Garfield: The Musical with Cattitude genuinely achieves this, which is no small accomplishment in this current 'screen age'.
The show – which played at Chapel Off Chapel – is the antithesis of what passes for entertainment among kids these days – there are no screens or gadgets in sight.
The simple set consists of little more than a door frame, a large wooden box and a couple of partitions, modest lighting effects are delivered with purpose and precision, and costumes involve little more than cat-eared headbands and face paint. The production nails these basics and in doing so, achieves maximum engagement for a young crowd with strikingly little fanfare.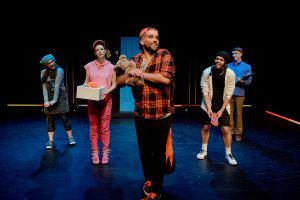 The strength of the show, though, lies in its wonderfully tight direction and warm, larger-than-life performances by a talented all-Australian cast. The famously lazy, lasagne-loving cat Garfield is cleverly played by Lachlan Graham, whose previous performances include the role of Young Ben in Follies in Concert, Luke in It's Done at the Melbourne International Comedy Festival, and the male swing in StageArt's Falsettos.
The production tells the story of a grumpy Garfield's misadventures with his friends Odie (Callum Warrender), Arlene (Grace Browne) and Nermel (Laura Greenhalgh) as he grapples with the false impression his owner, Jon (Alec Steedman), has forgotten his birthday.

Director Luigi Lucente (whose credits as a performer include Muriel's Wedding, Jesus Christ Superstar, Jersey Boys among others) has a young audience front-of-mind. The musical numbers were perfectly paced, choreographed and scripted to retain the interest of even the dreamiest of little dreamers which. Brought to life with spritely, flamboyant performances, the show is well worth a look.
Perhaps the only drawback was the theatre's layout. The tiered seating made it tricky for the smaller members of the crowd to see past taller audience members in front, so if you see the show with a smaller young person, perhaps take them a cushion for extra height.

All up, though, StageArt's first youth offering has delivered to a very high standard.
Big on human expression and low on technical razzle-dazzle, the show is a testament to the power of imagination and the impact of emotion in communication. In a hi-tech world, sometimes it's the simple things that deliver the best stimulation for growing minds and bodies.
It's a musical fit for the whole family, a fast-paced comedy that spotlights coming of age and the unwavering strength of true friendship.
[Read our previous article on Garfield here.]
***