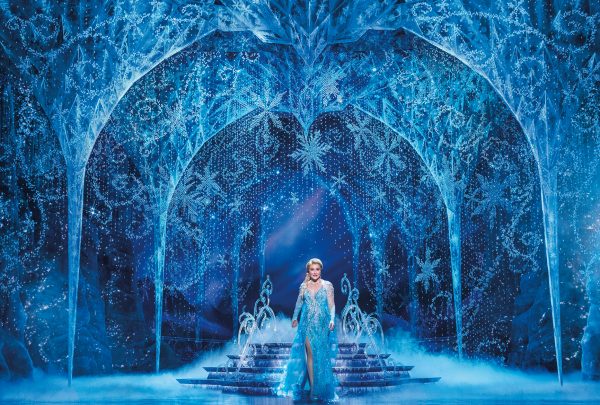 Magic of Frozen Will Give You Chills
Capitol Theatre, Sydney, Thursday December 10
reviewed by Chris Duncan
It truly felt like the "… first time in forever …"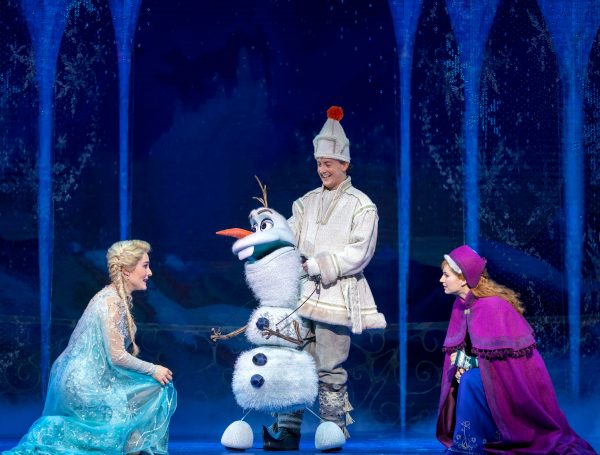 Such an enriching, heart-warming spectacle, Sydney's opening night of FROZEN The Musical at Capitol Theatre brought back all the magic of a live Disney production with gusto. The party started with the lovely Leah Howard mixing up the old school tunes from her outdoor DJ podium as throngs of excited guests queued, donned masks and Covid-safely signed in.
In Disney's first production outside of the USA for this hit Broadway Musical, Director Thomas Schumacher's Australian production of FROZEN is simply bursting with excellence on all levels from production values to finely-tuned, truly brilliant performances.
Spontaneous applause erupted as lights the dimmed and the first orchestra notes flowed.
A sensory delight, the opening act transports us to Nordic-inspired 'Arendelle' where we meet young princesses Anna and Elsa played respectively by Chloe Delle-Vedove and Deeana Cheong Foo on opening night.  Chloe is particularly dazzling as young Anna with Sabrina Franco, Faith Hedley and Siena Kann as alternates. Deeana also delivers a stellar performance as the cryo-kinetically 'gifted' young Elsa with Sara Petrovski, Amelia Heaven and Lucy Farmborough all taking their turn in this dynamic role across the season.
The sisters deliver a delightful rendition of 'Do You Want to Build a Snowman' as Elsa creates snow in their bedroom and they construct their beloved Olaf snowman. Struggling to understand the depths of her growing power, Elsa then accidentally injures her beloved sister while playing. King Agnarr (Joti Gore) and Queen Iduna (Tanika Anderson) call for the aid of the colony of 'hidden folk' led by Grand Pabbie (Jakob Ambrosse) who heals Anna and removes her memories of Elsa's magic.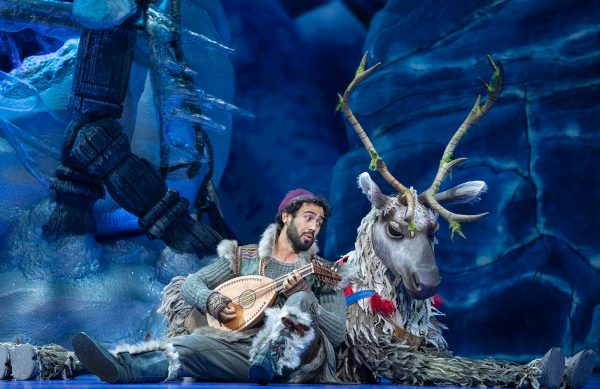 Elsa is frightened by her power and the harm she believes she is capable of, as Grand Pabbie warns "fear will be your enemy." The King isolates the sisters within the castle believing it is for their own good. When the King and Queen perish at sea, young Anna and Elsa live a lonely existence, growing up completely isolated from each other and the outside world until Elsa is to be crowned queen of Arendelle when she turns twenty-one. The child to adult transformation scene is inspired and we meet adult Elsa played sensationally by Jemma Rix (Wicked – Elphaba, Ghost – Molly, The Wizard of Oz – Wicked Witch, Evita – Eva Peron), and grown up Anna, brilliantly embodied by Courtney Monsma.
Filled with colour and attention to fine detail, sets and costumes are emblematic of Disney perfection. The Nordic sets have been inspired by research trips to Scandinavia by designer Christopher Oram and Director Michael Grandage where 'glaciers and forests and churches' inspired his lush design concepts and reflect the region's magic and mystery. The costumes are just as magical featuring layers of satins and silks with lush accents of beading and embroidery. Costumes have been laboriously hand-dyed to create stunning ombre effects in blues, golds, scarlets and whites.  Elsa's famous ice dress is covered in 14,000 beads animating her royal majestic form to iconic heights.
Set changes in this production are seamless, with the surprise magical summer blizzard a personal favourite, featuring the enigmatic Matt Lee as Olaf. With a wealth of high-end productions under his belt (such as Mary Poppins, Singin' in the Rain, Miss Saigon, The Boy From Oz, We Will Rock You and more), Matt commands the stage with perfect pitch vocals, clever puppetry and complete showmanship. His characterisation of Olaf is a highlight among so many peaks of this production.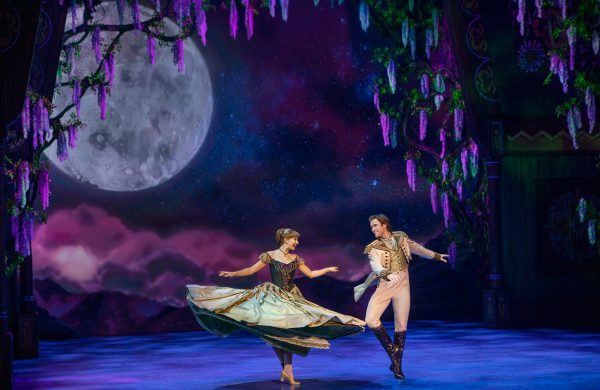 Act One builds in tension as Queen Elsa's attempts to "conceal it, don't feel it…" fail and her emotions overflow, thus freezing the city and causing her to flee. Hence, the quest to bring back Queen Elsa begins, headed by Anna's new love interest Hans (Thomas McGuane) and accompanied by comic-relief villain 'Weasel-town'/ 'Weselton' played convincingly by Aljin Abella. The conclusion of Act One is marked by Gemma Rix delivering a soaring rendition of now-iconic 'Let It Go' leading the audience to intermission with thunderous applause, gasps and goose-bumps.
As Act Two opens the audience are already buzzing. The heart-warming ditty 'Hygge' resplendent with 'nude' sauna scene and ensemble chorus line elicits an infectious frenzy of uncontrolled giggles. As the story unfolds, Hans played by Sean Sinclair takes a central role with his reindeer side-kick Sven played by newcomer Lochie McIntyre (with Jonathan Macmillan as alternate). We are led to Queen Elsa's self-made ice castle where Anna begs her to return to Arendelle. 'I Can't Lose You' is pristinely delivered between a dynamic vocal duo from Rix and Monsma.
Sensational lighting design, LED screens and stunning special effects skilfully enhance the storytelling, mystery and enchantment of this supersized stage show. FROZEN The Musical is not a simple adaptation of the movie. In fact, before the movie was released, plans were underway to create a version of it for the stage. With songs by husband-and-wife team Kristen Anderson-Lopez and Robert Lopez, FROZEN The Musical was always deemed a  natural candidate for the stage, and this version goes far beyond the original movie with re-imagined material, new scenes and artfully paced action. Dance numbers syncopate the storyline bringing added richness to the narrative with choreography by Rob Ashford.
Perhaps the most magical element of this show is the lightning fast costume, wig and set changes ⏤ all at times while the cast continue to sing and dance, and adding to the magic of this live production.
Like all Disney tales, FROZEN The Musical delivers its share of simple life lessons with the recurring concept that "the heart does not so easily let go of its pain …" but also, thankfully, that "love will thaw a frozen heart".  This show is a definite hit for the entire family to enjoy.
FROZEN THE MUSICAL
Until March 2021
Capitol Theatre, Sydney
Bookings:  www.frozenthemusical.com.au or 1300 558 878
@FrozenTheMusicalAU   #FrozenAus