EXHUMED: The 'Best' of Bradley Storer
Bradley Storer's Dark Elegance Shines in a Mesmerising Showcase
Reviewed by Brendan Daynes
Entering the basement of The Butterfly Club and stepping into Bradley Storer's world is akin to stepping into a surreal, ethereal dreamscape. Right from the first note, EXHUMED: The Best of Bradley Storer defies conventional narrative norms, with Storer emphatically encouraging the audience to abandon the quest for a linear storyline. Instead, he presents a self-proclaimed "greatest hits" compilation of his cabaret journey, daring us to explore the intricate depths of his artistry without preconceived expectations.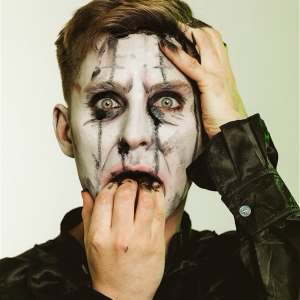 Storer's character is a mystery—an exuberant figure who effortlessly straddles the line between performer and audience. He welcomes interaction with the crowd, drawing us into his world with a magnetic pull. His persona is a captivating fusion of darkness, humour, and subtle, somewhat sinister undertones, all enveloped in an endearing package. It truly showcases his versatility as a performer, effortlessly navigating these contrasting facets, consistently leaving the audience both enthralled and piqued with curiosity. His remarkable vocal tone adds depth, guiding us through the emotional rollercoaster of his thoughtfully crafted musical voyage.
While exploring profound and somber themes, the content of the performance acts as a mirror to the intricate realities of our contemporary world. Amid this exploration of darkness, Storer skilfully intertwines his artistry and emotional depth into a rich tapestry, guiding the audience through moments that range from spontaneous laughter to profound contemplation and waves of nostalgia.
The show's setlist is a dynamic collage of musical gems, each with Storer's unique twist, serving as a backdrop that encapsulates the essence of his artistic evolution. While the absence of a traditional narrative might disorient some, it aligns perfectly with Storer's challenge to the audience—to embrace the unpredictability and fluidity of the performance. The "greatest hits" approach isn't a concession to nostalgia but rather a celebration of an artist who refuses to be confined by convention.
In this cabaret, you'll find a compilation of self-proclaimed "greatest hits" that serve as the soundtrack to an introspective journey. Storer's exuberant persona is dark, comedic, sinister, yet loveable, inviting the audience to step out of their comfort zones and embrace the unexpected. While some may find themselves adrift, those willing to navigate the uncharted waters of this world will discover a profound and emotionally resonant theatrical voyage. EXHUMED: The 'Best' of Bradley Storer is an immersion into the depths of the human experience, and a celebration of an artist who defies convention with every note and every gesture.
EXHUMED: The 'Best' of Bradley Storer is playing at The Butterfly Club in Melbourne as part of Melbourne Fringe. For more information on the show or to purchase tickets please visit https://melbournefringe.com.au/event/exhumed-the-best-of-bradley-storer/