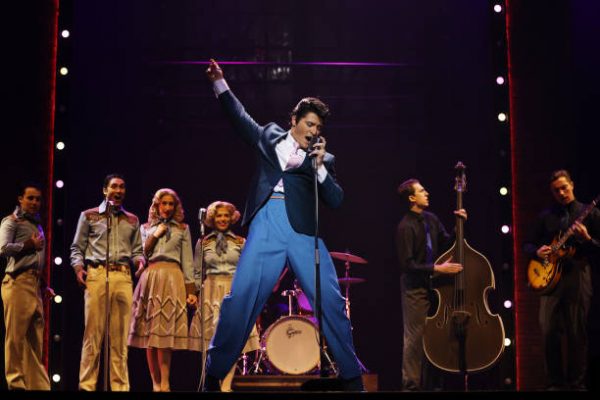 Elvis: A Musical Revolution
It Will Definitely Leave You ALL SHOOK UP!!!
Reviewed by Karina Lawrence
What an absolute sensation this Australian Premier of the new Elvis, A Musical Revolution was!
It will definitely leave you ALL SHOOK UP!!!
From the moment you arrived at the iconic and stunning State Theatre in Sydney you felt electric!
A crowd overflowing the footpath with a impactive Red Carpet arrival rubbing shoulders with the who's who of the creative art's industry, looking the part in a Rock and Roll, Glamour Theme.
Pre-show entertainment had everyone in the mood with a surprise flash mob. Moving into a jam-packed theatre with a simple yet effective staging set up, created a moment of anticipation Gazing around at the brilliance of this theatre architecture, while waiting to see this iconic story of the extraordinary life of Elvis Presley.
Based off a book by Sean Cercone and David Abbinanti and concept by Floyd Mutrux, this incredible revolution inspired by the legendary Elvis Presley features over 40 hit songs as we follow he's childhood in Mississippi, to his triumphant '68 Comeback Special' and ascent, to become 'The King of Rock 'n' Roll', this brand-new high-energy production explores the pivotal moments in Elvis's life and music career through the perspectives of those who knew him best.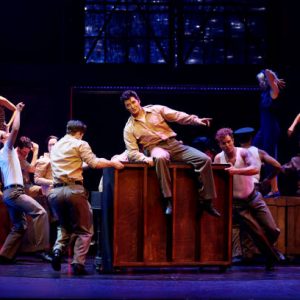 With an All Star Australian Cast, high energy and flawless choreography and iconic hit after hit, you are entertained from start to finish!
Produced by David Venn, founder of David Venn Enterprises and Directed by Alister Smith and Associate Director Tanya Mitford, this musical revolution is truly out of this world! The way this story is bought to life and presented right before your eyes, as you feel captivated in this musical wonder land of Rock and Roll. The journey you are taken on is both inspiring and indeed a visual master piece, as we transition through different eras and storylines that continue to captivate and flow in a seeming less sense of spectacular ease, right in front of you!
You seriously forget you are watching a live show in a theatre, as we are drawn into the world of Elvis Presley.
The cast are all exceptional with the leading man of Elvis beautifully executed by Rob Mallett. He sounds just like the original King of Rock, with he's smooth and soulful vocals. An engaging performance full of focus and commitment that takes us on the many cycles of the Elvis personality train.
His talent making this iconic role effortless to watch, yet certainly not an easy one to deliver. Rob delivers beautifully as does the young kid version of Elvis shared by four little superstars.
The opening night kid Elvis role, was played brilliantly by Rhys James Hankey, a definite natural that looked right at home on the stage as we are integrated and reminded where this superstar came from. You can't help but think what an incredible role to be playing for this upcoming star.
Annie Chiswell plays the character of Pricilla Presley beautifully, as does Kirby Burgess as Ann-Margret along with Ian Stenlake playing the role of Colonel Parker.
All the featured cast and ensemble are a buzz of energy and talent throughout this superb Musical.
The choreography is another stand out! High energy and beautifully executed from the talented cast and a credit to Choreographer Michael Ralph. You are just captivated and feel like you're at a rock concert that meets the screen to stage with the vibrancy and captivating styles offered. It's up beat and uplifting!
The lighting design by Declan O'Neill and visual effects by David McKinnon are exquisite. It's modern yet in keeping with this historic story. It's obvious what an incredible production team is behind this visual smorgasbord.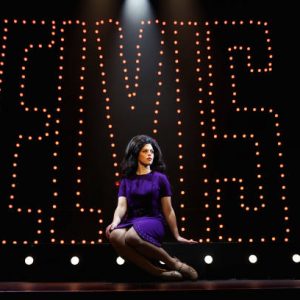 The costuming is perfectly executed by designer Isaac lumps, teamed up with the wigs, hair and make up designer Trent Whitmore.
The sets play an integral part to this production as we are transformed into different times, sequence and worlds like a magical Tetris game, that is so successful because you don't even notice it until you arrive, with thanks to Set Designer Dan Potra.
Music is by far delivered as one of the most important factors for obvious reasons with this production. It is next level and again a wonderful credit to an abundance of talent with an incredible team made up of Musical Director Daniel Puckey, Associate Music Director Adrian Szondy and Sound Designer Greg Ginger.
This show will make you fall in love with Elvis all over again. With his music, his incredible and impactful story, high energy choreography and hit after hit!
This iconic story this Musical Revolution is certainly NOT to be MISSED!
"The first time that I appeared on stage it scared me to death. I really didn't know what the yelling was about. I didn't realise that my body was moving. It's a natural thing to me. So, to the manager backstage I said…What do I do? What do I do? And he said…Whatever it is, go back and do it again"
Said Elvis Presley in a 1972 taped interview used in MGM's documentary "Elvis on Tour"
You will definitely feel this precise sensation during this alluring and engaging show!
Tickets on sale NOW! Be sure to get in quick before its off for the Melbourne season!
It's A BIG Yes from Me and a credit to an all star cast and crew!
Congratulations everyone!