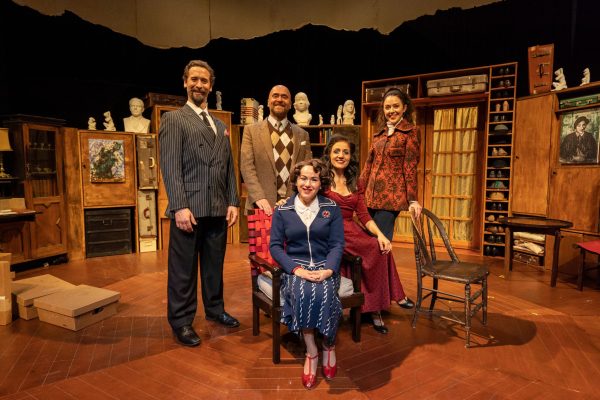 Driftwood The Musical
Driftwood The Musical Tells a Tale of Courage and Creativity
Reviewed by Brendan Daynes
This epic story traverses three continents and three generations and is based on an original stage play by Jane Bodie, and memoir of Eva de Jong-Duldig. Book by Gary Abrahams and Jane Bodie, music and lyrics by Anthony Barnhill, additional lyrics by Jane Bodie and Tania de Jong AM.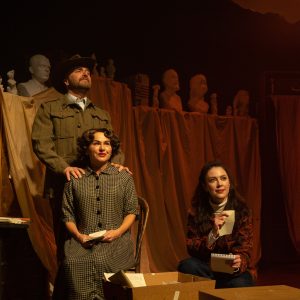 The story follows the lives of Karl and Slawa Duldig, two renowned Austrian artists who fall in love in pre-war Vienna. Slawa is a talented inventor, credited with creating the foldable umbrella, while Karl is a skilled sculptor. The couple faces numerous challenges, including the rise of Nazi power, which threatens their safety and the safety of their loved ones. They eventually flee Austria, finding refuge in Singapore before settling in Australia, where they are classified as enemy aliens and interned in a camp in northern Victoria. Despite these adversities, Karl and Slawa find solace and strength in their art and love for each other, which allows them to overcome the trauma of war and displacement.
The exceptionally talented cast and crew bring this poignant story to life in a way that is both emotionally resonant and visually stunning. Tania de Jong AM gives a captivating performance as Slawa, a woman who had to navigate the complexities of war, displacement, and heartbreak, masterfully embodying the character's sharp-wittedness, inventiveness, and unwavering perseverance. Anton Berezin delivers an incredibly powerful performance as Karl, his authoritative presence and understated vulnerability give his character an immense sense of humanity and profound compassion. Bridget Costello's portrayal of Eva, the couple's charming and endearing daughter, exudes a remarkable level of emotional fragility and authenticity, allowing her to fully embody the characters complexities. Michaela Burger's portrayal of Rella exhibits an astounding level of emotional depth and nuance, painting a vivid picture of a character with unwavering strength and resilience. She illuminates the stage with her infectious humour and radiating warmth. Nelson Gardner's performance in multiple roles is a masterclass in versatility, as he effortlessly transforms himself into each character with astonishing precision and depth. His chameleon-like ability to embody various roles with such finesse is so impressive that it's easy to lose sight of the fact that it's the same actor performing each part.
The original score, composed by Anthony Barnhill, is both beautiful and haunting. The melodies are emotive, well-crafted and fittingly capture the moods and sentiments of the story. The music beautifully complements the stage action, adding depth and resonance to the already rich and complex narrative. The musical's staging is equally impressive, with innovative use of lighting, projections, and stage design. The set, designed by Jacob Battista, features movable panels that shift and transform, representing the various locations and time periods in the story. The projections, designed by Justin Gardam, add depth and texture, effectively transporting the audience into the world of the performance with their intricate textures and immersive qualities.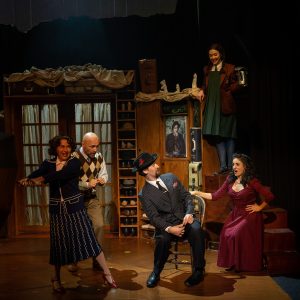 The lighting, designed by Harrie Hogan, is subtle and evocative, and the use of shadows and light helped to create a sense of tension and drama, adding to the emotional impact of the story. All of these elements come together to create a visually stunning and emotionally resonant production.
Director Gary Abrahams deserves praise for his skillful direction of the show. He has managed to create a cohesive and engaging narrative that seamlessly blends music, theatre and history. Abrahams has expertly navigated the complexities of the story, balancing the poignant and difficult themes of war, loss and displacement, with moments of lightness and hope.
Driftwood The Musical is a triumph of storytelling that leaves a profound impact on its audience. Through the captivating stories of Karl and Slawa Duldig, the production rekindles our appreciation for empathy, compassion, and the unyielding human spirit. The remarkable tale of survival and resilience highlights the enduring power of love, art, and the tenacity of the human mind to adapt and create. Expertly brought to life by a gifted cast and a visionary creative team, Driftwood stands as a magnificent display of theatrical brilliance that leaves an indelible mark on the hearts of all who witness it.
Driftwood The Musical is playing at the Chapel Off Chapel in South Yarra from 3-20 March, followed by seasons in Sydney at Glen Street Theatre, Riverside Parramatta and the Eternity Playhouse. For more information and tickets visit https://driftwoodthemusical.com.au/