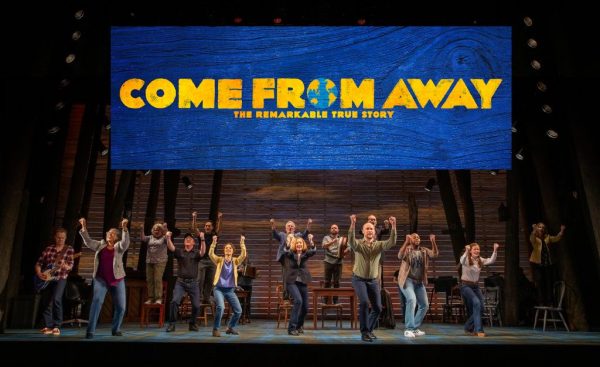 Return of Feel Good Musical the Perfect Reward for Sydneysiders
Capitol Theatre, Sydney, Wednesday October 27
Reviewed by Sarah Navin
Somewhere in the middle of nowhere, 19 animals and 7000 'strays' land in a giant airport on a remote island, where they're welcomed by open arms and big hearts. The 9/11 terrorist attacks forced flights to be diverted and 38 planes landed in Newfoundland, Canada – almost doubling the population of a small town called Gander. Frightened and exhausted passengers are met by chirpy and overly zealous townsfolk, who spring into action to provide clothes, food and shelter to tourists who never chose to visit.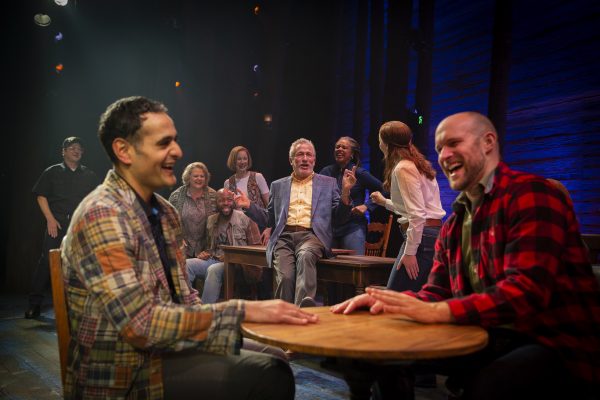 Come From Away is the most foreign-feeling musical for a Sydney audience emerging from lockdown. A story about an international flight emergency while overseas travel is off the cards, characters interacting from all corners of the world, cramped into close quarters without social distancing and even a scene kissing a fish – in what would not be deemed COVID-safe, in a non-theatre setting. We are all masked-up in Sydney's Capitol Theatre, but jumping out of our skin to be back, and the joy on the performers' faces is contagious. However, the overarching theme that really hits us to the core – and one of the biggest things lost in the pandemic – is the value of community.
The non-stop 100-minute show, written and composed by Irene Sankoff and David Hein, captures a heart-warming tale that emerged from unmistakably tragic events. It's equal parts emotive and light-hearted as we follow the chaos of collecting toothbrushes, bedding, and mobile phones for the 'plane people', while catering to dietary requirements, finding prayer rooms and rescuing animals in the cargo hold.
The cast of 12 exudes limitless energy and warmth, telling the story of multiple characters with clever costume changes and flawless transitions. The musical staging by Kelly Devine and use of space and props is outstanding. The movement of chairs transforms the set into narrow aircraft aisles filled with the rising tensions of passengers, or bumpy bus rides taking travellers to a place to rest their weary heads.
The choreography is mostly subtle throughout, but adds intricate and compelling movement that is integral to the storytelling. There's a canon of impatient 'slumps' from the overtired, impatient plane people trapped on the tarmac for 28 hours, or the cast members anxiously grabbing themselves while watching the tragic images of the planes crashing into the towers for the first time. It is chilling and moving.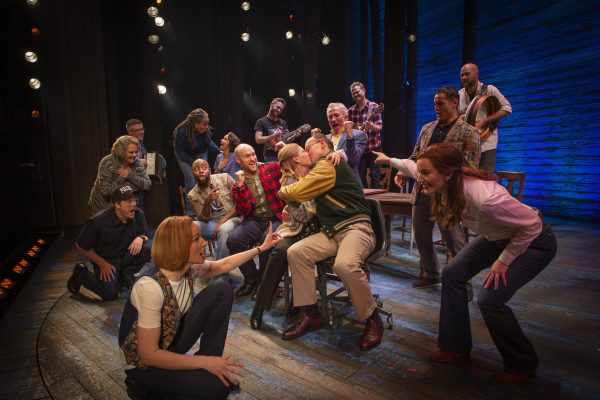 Other scenes are lively – with flailing limbs, chair climbing and foot stomping – with a real Celtic vibe, as the case erupts into a jig. Standout moments of choreography include the all-male group of cardiologists in white coats that bravely volunteer to clean toilets… their masculine, suggestive movements evoke a loud cackle from the audience. The bar scenes where band members join the ruckus with interludes of wild percussion, bring moments of pure celebration. The split ensemble work in 'Heave Away' is playful and energetic, while the fun is infectious in 'Screech In' – where the accidental tourists are invited to convert into 'Newfoundlanders'.
The cast is to be congratulated for their stamina in a show where scenes roll at rapid pace, and they barely leave the stage. The characterisation is brilliant – one of the hallmarks of the performance. Gene Weygandt plays a stoic, gruff and loveable mayor, that you can't help giggle at; Emma Powell captures the old school country charm in her role as 'Beulah' – the woman people turned to when they were hungry or in need of a hug. Pilot Zoe Gertz transports us to the pain of 9/11, capturing the toll of the events that upended so many lives. Dan'yelle Williamson's voice at the end of 'Something's Missing' is goosebump-inducing. However, it almost seems unfair to pluck out individual strengths, as the cast's biggest strength is how they work as a cohesive whole.
This is an extraordinary true story about a gathering of strangers who become unlikely comrades through five days of shared fear, feasting and frivolity. The merging of different cultures and religions with people from 92 countries brought a humbling lesson in diversity and empathy. It is easy to see how it won the 2019 Olivier Award for Best Musical, with its cleaver storytelling, infectious pace and celebration of small town hospitality – best expressed in the hilarious line "Thank you for shopping at Walmart, would you like to come back to my place for a shower?"
In a letter of thanks to the people of Gander, Australian passengers Julia and Iain Campbell expressed it beautifully, 'You showed us the greatest of humanity at a time when civilisation had suffered the greatest of evils.'
Uplifting, expertly executed and sure to make you leave the theatre grinning from ear to ear. A must see.
COME FROM AWAY
SYDNEY

– Until 9 January 2022
Capitol Theatre
Bookings: comefromaway.com.au
CANBERRA

– Opens February 2022
Canberra Theatre
Bookings: comefromaway.com.au
---
Sarah Navin

 started ballet at age 6, as she couldn't walk in a straight line without skipping and twirling. As well as studying classical dance, she went on to perform in hip-hop ensembles, cheerleading squads, cabaret shows, and musical theatre – starring in shows such as The Boy From Oz, Legally Blonde The Musical and Rock of Ages. She also has a keen eye for costuming, designing tutus as part of her HSC major work. Sarah is a Sydney-based television journalist by day, swapping political reporting for dancing at night. She is a regular at Sydney Dance Company classes and has been reviewing Australian dance performances since 2014, enjoying the chance to combine her two great loves of journalism and the arts.