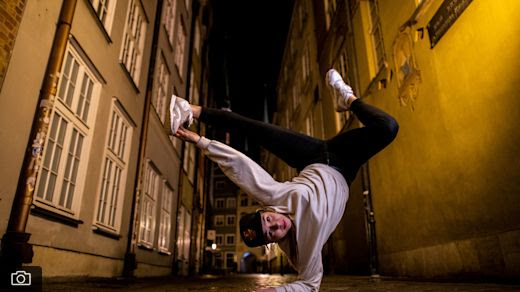 Red Bull BC One World Final 2021
Ergo Arena in Gdańsk, Poland
The stage is set at Ergo Arena in Gdańsk, Poland, where the world's best b-boys and b-girls will battle it out at the Red Bull BC One World Final 2021 on November 6.
Here is all you need to know:
– For the first time since the event's inception in 2004, the competition will include a complete top-16 b-girl line-up.
The blockbuster invitational line-up of 12 b-boys and 12 b-girls includes reigning champions B-Boy Shigekix (Japan), the youngest winner in the history of the competition, and B-Girl Kastet (Russia), who has won two consecutive championship belts. Both dancers are returning this year to defend their 2020 titles against the best in the world.
– Seventeen countries are represented across the total roster of 24 confirmed competitors. Four b-boys and four b-girls will additionally join the World Final line up from the Red Bull BC One national winners. These remaining spots will be determined at the Last Chance Cypher, happening on November 4 at the Gdańsk Shakespeare Theatre. More than 50 breakers will go head-to-head for the final eight spots.
– Red Bull BC One All Star and three-time Red Bull BC One World Champion, B-Boy Menno, hailing from the Netherlands, will judge this year's b-boy and b-girl competitions. He will be joined by world-renowned breakers B-Boys El Nińo (USA) and Kleju (Poland), and B-Girls Beta (USA) and Sarah Bee (France).
– Hosted by B-Boy Amjad (Switzerland) with DJ Plash (Poland) on the decks, the Red Bull BC One World Final 2021 will be available to stream live on Red Bull TV and the Red Bull BC One Facebook and YouTube channels on November 6.
MEET THE B-BOYS
Sunni (UK)
B-boy Sunni started breaking at 10 and has more than a decade's experience behind him. Career highlights include victories at the Notorious IBE, Unbreakable, Circle Industry, BBIC and Radikal Forze Jam and two-time winner at the UK B-Boy Championships.
Wild Jerry (Belarus)
Seliazneu Mikita, aka Wild Jerry, started dancing when he was 12 years old. He won the Just4Rockers 10th anniversary jam with Nord Diamond in 2019 and a 10-round exhibition tournament called Russian Roulette in 2021.
Zoopreme (Denmark)
Zoopreme was born and raised in Copenhagen and is a member of The Ruggeds, Lack of Crowns and Capsule Corp crews. Known for incorporating lots of musicality into his breaking, Zoopreme won the 2019 Unbreakable World Championship and 2019 Undisputed Championship.
Shigekix (Japan)
From Osaka, Nakarai Shigeyuki aka B-Boy Shigekix is a member of K.A.K.B crew. Shigekix is a Red Bull BC One All Star and has clocked several accolades across the globe. His proudest breaking achievement is his win at the Red Bull BC One World Final 2020.
Lagaet (France)
French dancer Lagaet first started breaking in 2000 at the age of 12. He has developed a creative and well-rounded style that's helped him win numerous competitions, including the Raw Circles 2on2 competition in Belgium and the 2011 Red Bull BC One Western European Final.
Phil Wizard (Canada)
Hailing from Vancouver, Phil Wizard is a member of United Rivals and 7 Commandos crews. Big wins include the 2017 Red Bull BC One LA Cypher and 2018 Red Bull BC One Canada Cypher. He's also proud of being the 2018 Undisputed World Champion.
Thomaz (Poland)
Thomaz first started breaking in 2003 at the age of 16 and is now a member of RockaFellaz and Polskee Flavour crews. He's known for the character, style and musicality that he brings to the floor, which has led to him winning numerous competitions.
Flea Rock (USA)
Coming out of LA, Flea Rock is a member of Skill Methodz, First Class Dream Team and Street Masters crew. Flea Rock is one of the best known and most respected breakers in the world. He has won a lot of competitions with his crew, including Circle King and the B1 Battle in Japan.
TawfiQ (Netherlands)
TawfiQ first started breaking at the age of 15. A member of the Ruggeds Crew, TawfiQ has travelled the world competing in high-profile competitions and has toured shows with his crew, whilst also performing with them on television.
Bart (Brazil)
Born and raised in Fortaleza, B-Boy Bart is a member of the Flying Steps, Perfect Style and Sul Clan crews. Bart has won the Fc2 1-on-1 competition in Brazil twice, the Quando as Ruas Chamam competition and was the 2018 Red Bull BC One Brazil cypher winner.
Xak (Spain)
Residing in Madrid, Xak started dancing at the age of 15. Now a member of XVII Generation and Arcopom crews, Xak names his fellow crew members as influences. A three-time winner of the Red Bull BC One Cypher Spain, Xak also won Battle of the Year in 2015 with Arcopom.
Gun (Russia)
Alexander Ganachyn, aka Gun, was born in Rostov-on-Don. With a long list of battle wins behind him, he can't choose just one that means the most. Victories that stand out for him are his wins at R-16 in Korea, Green Panda in China, and at the Russian National Sport Championships in 2021.
MEET THE B-GIRLS
Sidi (Greece)
Sindi Tashos, aka B-Girl Sidi, was born in Berat. Sidi's first big win was at Battle Of The Year Balkans in 2017 in Thessaloniki, where she came first in the b-girl category, while her proudest achievement to date is making it to the top 16 at the Red Bull BC One World Final in 2019 in India.
Kastet (Russia)
The first breaker to ever win the Red Bull BC One World Finals twice in succession, Kastet is the 2019 and 2020 Red Bull BC One defending B-Girl Champion. From Krasnodar, in Russia, she is a member of 3:16 crew and the Red Bull BC One All-Stars.
San Andrea (France)
Born in Toulon and now based in Montpellier, San Andrea started breaking in 2009 at the age of 13. She's a member of the Rockerz Delight Kru. In her career as a competitive b-girl, she's won B-Girl France, was a solo finalist at Outbreak Europeand won the Red Bull BC One France Cypher.
Yell (South Korea)
A member of Gamblerz crew, B-Girl Yell started breaking when she was 16. She won the 2019 Red Bull BC One South Korea Cypher, after which she went on to qualify from the Last Chance Cypher at the Red Bull BC One World Final. In 2020, she was runner-up in the Red Bull BC One E-Battle.
Madmax (Belgium)
Madmax first started breaking at 14. She enjoyed a memorable 2020, first winning the Red Bull BC One E-Battle and then going on to finish second at the Red Bull BC One World Final. She followed this up in 2021, winning the Unbreakable Championship and the 3on3 Concrete Jam battle.
Luma (Colombia)
A member of Crew Peligrosos, Luma started breaking at 17. She's is proud of having won the 2017 Temple Rock competition, the 2019 Red Bull BC One E-Battle, the 2021 Break Free Worldwide B-girl competition, and the 2021 Queen16 competition.
Paulina (Poland)
Paulina is a member of the Breaknuts crew and has amassed dozens of victories during her career, including winning the 2014 and 2016 Outbreak Europe B-girl Battle, the 2015 and 2016 Unbreakable B-Girl battle, and the Polish Breaking Championships.
Ram (Japan)
Born in Kawasaki, Ram is a member of Floorriorz crew and has been breaking since she was five. Her proudest achievement in her breaking career is winning double gold at the 2018 youth games; taking the victory in the b-girl solo competition and the Bonnie and Clyde competition.
Ami (Japan)
From Saitama, B-Girl Ami Yuasa is a member of Good Foot crew and the first b-girl to become a member of the Red Bull BC One All Stars. In 2017, she won the Silverback Open B-Girl competition and the Undisputed World B-Boy Series b-girl competition.
Carito (Argentina)
Carito is a member of the Superpoderosas crew and describes her breaking style as "ninja rapper sweet". Although she reached the finals in the Break Free Worldwide championships, she says that competing at the Red Bull BC One World Final is her biggest achievement so far.
Logistx (USA)
Logan Edra, aka Logistx, is a Red Bull BC One All Star, and a member of Underground Flow and BreakinMIA. A big accomplishment in her career came when she won the 2018 Silverback Open b-girl solo competition. She also won the junior 7 to Smoke battle at the Radikal Forze Jam 2019.
Nadia (Russia)
Siberian B-Girl Nadia made her entrance into the breaking scene at the age of 15. When it comes to style, she's a fierce opponent in battle. She fuses complex musicality, creativity and deep spirituality with her love of funk, free expression and explosive delivery.
Watch the Red Bull BC One World Final 2021 live HERE.