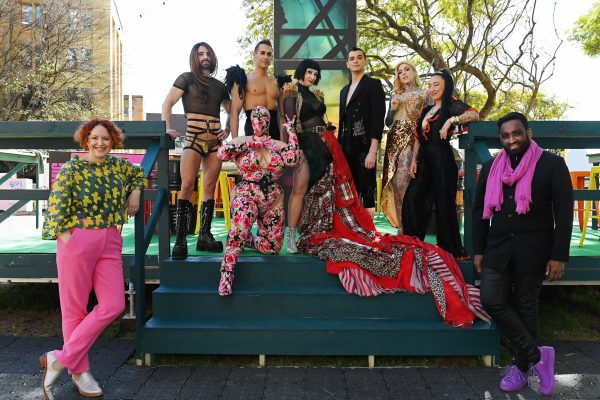 Bernie Dieter's Club Kabaret
Spectacularly Salacious & Deliciously Debaucherous
Reviewed by Brendan Daynes
Spectacularly salacious & deliciously debaucherous, Bernie Dieter's Club Kabaret is a mesmerising night you won't forget!
One of the headline acts of this year's Melbourne Fringe was Bernie Dieter's Club Kabaret.
Billed as a boundary-pushing Spiegeltent spectacular, this production did not disappoint. Due to phenomenal demand there was additional late night shows added during Fringe, as well as an season extension, the production played for a month to sold out audiences at the purpose built Runway Festival Park – Magic Mirrors Spiegeltent and it is easy to understand why it was such a smash hit.
Club Kabaret is the wickedly wild creation of cabaret superstar and title artist Bernie Dieter. For just under 100 minutes she has the audience eating out the palm of her hand, or anything else she wants them to for that matter. During the first song our headliner and MC seductively removes a tartan skirt while she swoons the audience with her soulful tone which is just a warm up for what is to come. She explains to the audience that no
audience member is safe and within the first 5 minutes the "fourth wall", which invisibly separates a performer and their audience, is absolutely knocked down. Bernie moves into the audience to find and straddle some friends, who she affectionally names "Shaven Haven" and "Silver Fox". Informing the audience, "Tonight is about letting loose, letting go, and getting a little bit more intimate with each other", she wastes no time by insisting that her new friends wrap their arms around her, caresses her thighs and "enjoy it", before carrying her back to the stage.
Our shining star doesn't hesitate to share the spotlight with her audience or fellow performers. The exceptionally talented group are just as polished and professional as our lead vocalist. The "haus band" treat us to an eclectic mix of reimagined classics as well as some original compositions which provide the soundtrack for the mesmerising cirque-style acts performed by the cast, who are clearly just as ridiculous as Bernie herself. Each
performance demonstrates a mature elegance, has sex appeal, and celebrates individuality and diversity. Whether it is gender bending aerial, fire breathing, pyrotechnics or contortion, the audience is kept on the edge of their seats and watches with marvel and amazement at the magnificent talent that has been curated to perform under the spiegeltent.
Bernie Dieter has been celebrated and has garnered a cult following in various locations worldwide, and it is easy to see why. She is bold, confident, unafraid to speak her mind but also beautifully vulnerable and down to earth. Bernie Dieter's Club Kabaret is a spectacularly salacious, deliciously debaucherous visual spectacular that is jam packed with emotion that is sure to excite, thrill and delight viewers and could be watched over
and over again.
Bernie Dieter's Club Kabaret played as part of Melbourne Fringe at Runway Festival Park – Magic Mirrors Spiegeltent from 6th Oct – 6th Nov. For more information on Bernie Dieter and her other shows and upcoming performances visit https://berniedieter.com/