Tim Maddren as Prince Charming & Jaime Hadwen as Cinderella. All photos courtesy Theatre View.
Cinderella – Bonnie Lythgoe Productions
State Theatre Sydney | July 1 – 17
Cinderella – The Pantomime is showing at The State Theatre Sydney until 17th July 2016, and is the third family pantomime brought to Sydney by Bonnie Lythgoe Productions, following in the successful footsteps of Snow White & Aladdin.
The show is everything a family audience could ask for in theatrical entertainment; with great music, slapstick comedy, topical jokes and audience participation from start to finish.  Jaime Hadwen is radiant as Cinderella and Hi-5's Tim Maddren is wonderful as Prince Charming.
The classic Cinderella story unfolds onstage, however it is peppered throughout with hilarious, topical jokes and timely references relevant for the audience with a fun script by Christopher Wood, which kept the audience in stitches of laughter for almost the entire show.
There are some excellent high energy dance numbers that are beautifully designed, with the adult ensemble performers working expertly alongside the children in the cast. Choreography is by Australia's super-talented Juliette Verne. The audience is transported into a magical and fun-filled world further via the stunning costuming and simple yet highly effective scenery.
Cinderella – The Pantomime is simply THE most fun I have had at the theatre in a long time.  It was fun and cool to be involved as an audience member. There are beautiful moments of dancing and singing throughout the whole show. And the rest of the time I was giggling away, surrounded by kids having a total blast!
Next on the agenda for Bonnie Lythgoe Productions is Peter Pan in 2017 – a show which family audiences will surely be lining up to see, after this gorgeous and fun production of Cinderella – The Pantomime.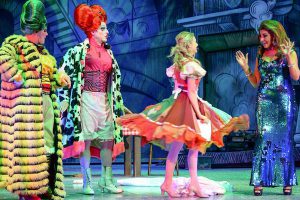 Reviewed by Jo Cotterill