Burn The Floor XX2018
Regal Theatre, Perth, Friday April 13
Review by Janelle Vaccaro & Olivia Ostaszewskyj 


Celebrating its 20th anniversary, Burn The Floor was first inspired by an electric display of Ballroom & Latin dancing at Sir Elton John's 50th Birthday Party in London 1997. Perth born Peta Roby was part of the original Burn The Floor cast produced by Harley Medcalf in 1999 and, as the choreographer and director of the 2018 production, sites the spirit of her dancers as her constant inspiration. [Read our interview with Peta Roby here.]
From the start of this new production of Burn The Floor – XX2018 – the scene was set at Perth's Regal Theatre on Friday the 13th of April. The audience were reeled in by roving cast members before the show even began … inviting them to feel a part of this interactive entertainment experience. The constant and dynamic mix of dancers, scenes, costumes, cultures and musical genres combined with the undeniable energy, intensity and passion from this international cast was sure to keep audiences from all walks of life entertained and engaged.
Stairway to Heaven was a stand out number rounding off the stunning and powerful Carmen section. Followed by a softer and heartfelt Hallelujah, there were numerous stand out solo and partner performances throughout the night as well as some truly captivating all male ensembles.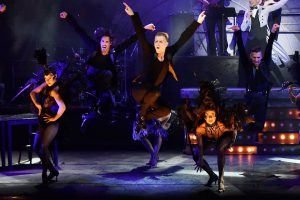 Other highlights included the seductive Smooth Criminal, in-your-face Dark Side intro, simple but sexy Kiss arrangement and magic moments when the whole cast came together to perform the intricate choreography as a united front.
The live musicians and singers on stage added to the vibrant and inviting scene, with some genius moments of nonchalant brilliance from the female vocalists. Powerful performers in their own right, their talents and personality only added to this visual spectacle. Moments of silence and depth interlaced with high energy dance numbers throughout the evening brought the audience to a standing ovation during the shows final encore.
Burn The Floor has not only entertained audiences around the world for 20 years but educated and invited them into the world of Ballroom dance – translating it into a universally accessible and celebrated language.
[Read our previous article on Burn The floor XX2018 here]
***
PLUS! … We still have a double pass to giveaway to Burn The Floor XX2018 playing in Brisbane and Sydney! To enter, simply send in your name & phone number to win@dancelife.com.au with the subject title 'Burn The Floor – Preferred city'. Entries close before each city's opening night and will be drawn at random. [ALL ENTRIES NOW CLOSED]

BURN THE FLOOR XX2018
PERTH  Regal Theatre – April 12 – 21
MELBOURNE  The Palms at Crown – April 26 – May 5
BRISBANE   QPAC Concert Hall – May 8 & 9
SYDNEY The Darling Theatre at ICC Sydney – May 12
Tickets from www.burnthefloor.com/australia.html