Discover Yourself at Australian Dance Theatre's 'Be Your Self Redux'
The Art House, Wyong, Aug 30
Reviewed by Heather Clements
Adelaide-based contemporary dance company Australian Dance Theatre is currently in the middle of a regional tour of one of its signature works – Be Your Self – Redux version.
This tour presents a scaled-down version of the original production choreographed by Artistic Director Garry Stewart alongside Assistant Choreographer Elizabeth Old, however the hour-long show does not feel edited or disappoint at all.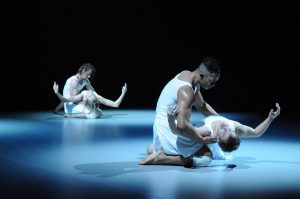 From the start, this work grabs the audience's attention with several minutes of stillness as the narrator (Cathy Adamek) eloquently describes how the mind and body work together to perform the simple task of lifting a foot and leg. Dancer Kimball Wong demonstrates this simple move with great control and sets the dramatic scenes to come. Medical and scientific terminology is used throughout to describe all these movements and it succeeds in both baffling and educating the audience at the same time as focussing our attention on the incredible human form as the dancer. I seriously don't know how the narrator remembers all these long medical monologues!! Wow!
The cast in this show were: Jana Castillo, Zoe Dunwoodie, Harrison Elliot, Thomas Fonua, Chris Mils, Matt Roffe, Felix Sampson & Kimball Wong. The physicality of this small cast is immediately on show. Put simply – these guys are amazing!! From flowing, powerful floor work to intricate and sensual partner work, these dancers deliver 110 per cent.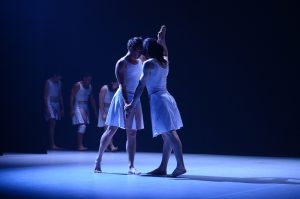 Contemporary dance can often be confusing. The official brochure for this show describes it as a Buddhist interpretation of the mind and body interaction of the concept of 'self' and 'I'. Personally, I interpreted Be Your Self  to be about the understanding of one's self from the physical cellular and skeletal level through to the emotional and spiritual level, and how we interact with the bigger world. In other words, it depicts the evolution of human awareness from physical, to emotional, to sexual to self. And be warned: there are simulated sex scenes that may be suitable for adults only.
The choreography of this work is beautifully unique and original. Surprisingly, there were moves I have not seen before on stage, yet it was not pretentious or eager to just be different. It was poetic, dramatic, explosive and funny as well. This show is fluid and subtle without losing its force and strength. Cleverly, each of the stories/vignettes in the show are easily absorbed because they are short enough not to linger. The scenes, moods and music transition perfectly between each concept in the story.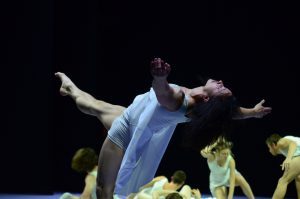 Costuming is minimal and genderless with each dancer's body printed on the skirts for story-telling effect.  The overall effect is of strength and androgyny – cos' 'people are people'. The accompanying soundscape and music perfectly matched the evolution of the humans on stage: from blood and cells to movement and emotions. From abstract sounds to melodic tunes. The result? The complete human form!
The cast of 8 dancers were incredibly strong, however the male dancers were especially outstanding on the night. In particular Kimball Wong, Thomas Fonua and Chris Mills were striking. The cast were tight, well rehearsed and completely in the moment on stage.
Highlights for me were the dramatic, animated walking sequence half way through the show where performers showed individual emotions as they slowly crossed the stage; as well as the incredibly powerful floor work from all of the cast where if often looked like they were moving in reverse! [Yes You – Kimball Wong!]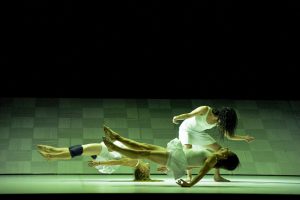 After all the analysis of the human body and its functions, eventually Be Your Self concludes that our existence is entirely dependant on our memories and how we interact with the world. As the narrator summed up towards the end: "We are all alone in the world; yet we are connected to all of it".
As far as contemporary dance goes, you will not find many shows as easy to watch and happily received as Be Your Self. It is easily relatable and followed. This is as good as contemporary dance gets in Australia. Be sure to see it if possible.

Read our previous article on Be Your Self here
BE YOUR SELF REDUX | Australian Dance Theatre