Be Your Self Redux
ADT Tour QLD, NSW & VIC
After the Melbourne season of the full production of Be Your Self, Australian Dance Theatre will take a scaled down version of the show on the road.
Created and directed by Artistic Director Garry Stewart, Be Your Self reveals the instability of the concept of 'self' and notion of 'I'. In the analysis of selfhood, Stewart situates the body at the centre of his enquiry. Dancers are transformed into erupting. Powerful, creative entities projecting physical images and impressions set to an unpredictable and cartoonish score.
In the distilled version of the full work, which will tour, ADT dancers are transformed into erupting, powerful entities. Fusing Stewart's audacious choreography with spoken word, Be Your Self Redux is a visually exciting dance work leaving audiences questioning the underpinnings of who they are.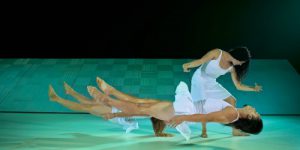 ADT | BE YOUR SELF
Melbourne, The Sumner Southbank Theatre
2 – 5 August
Bookings
ADT | BE YOUR SELF REDUX
Townsville

(QLD), Townsville Civic Theatre
15 August


Bookings
Lismore

(NSW), NORPA
18 –19 August


Bookings
Toowoomba

(QLD), Empire Theatre
24 August


Bookings
Wyong

(NSW), The Art House
30 August


Bookings

 
Parramatta

(NSW), Riverside Theatres
2 September


Bookings
Frankston

(VIC), Frankston Arts Centre
8 September


Bookings
Mildura

(VIC), Mildura Arts Centre
12 September


Bookings