Interview | Mia Michaels 
Watch Video from Workshops! 
Many hundreds of excited dancers – young and old – recently took part in the first ever Mia Michaels Live workshops in Melbourne and Sydney where they got to learn from 'herself' and share her in her wealth of experience and passion for dance. DanceLife had the great privilege to attend the recent Sydney workshops with director Chris Duncan again having the opportunity to personally talk to the visiting famed-choreographer. We happily share their conversation and Mia's insights with you all here… Enjoy! 
 
Q: The tattoo on the back of your neck reads 'I AM' what is the meaning of that?


MIA: It's kind of like an affirmation that 'I am, that I am, that I am'… it's always about positive things… and the other thing I like about it is that if you keep putting it together like 'IAMIAMIAM' it actually becomes 'MIA'!!
Q: What's your choreographic process?
MIA: It changes depending on the job or the project. In general I would probably say that I'm a 'world builder' first so I create the world… What does it look like, feel like, smell like? What are the colours and the textures? Then from here I figure out who the players are in it and then the choreography will come … the choreography always comes last! I like to give dancers WINGS… I like to strap on their wings and help them fly!
Q: What inspires you in terms of choreography?
MIA: As far as watching movement it's European contemporary concert work that inspires me for sure!  As far as teaching goes it's more about how I love to 'dig' in to the students and try to get their uniqueness out … to me that is the most important part of anything because once they have that they can go on and do anything. I like to throw everything into a big mixing bowl of dance when I'm choreographing and stir it all up.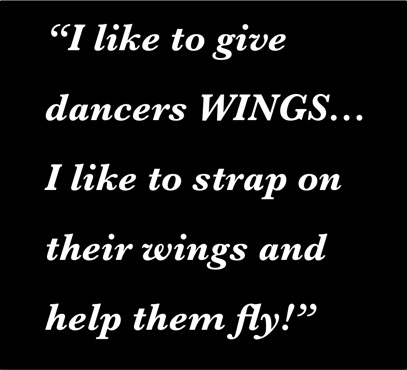 Q: What has influenced your signature repertoire of movement?
MIA: Well it's funny; because many choreographers have had their own physical limitations influence their 'styles'… For example, Bob Fosse… he was this little man and he couldn't move his hips at all… so everything was this (demonstrates constricted hip movement)… he created the 'Fosse Style' – which is iconic now – because he couldn't move!! He was just really locked in his hips and that's how his style developed.
It's really interesting looking back when I was young… I had metal bars on my legs for the first 8 years of my life… I had this structural disability in my legs and so I started dancing very young… but my mum would put oil on the bars so that I could plié and I was like 'ooooh' (demonstrates difficulty pushing and bending the bars) … everything was like trying to BREAK OUT and I was a strong girl… they used to call me BAMBAM!! But, when you think about it, because of my legs and the metal bars and the way I was built, my movement came out of as a big strong woman that had structural issues that were trying to break out of bars… and so it goes right alongside with the Fosse example who created his style because he had issues with his hips … and also … Gregory Hines is a dear friend of mine, and he had a spinal issue and he stood like this (demonstrates bent over position)… he couldn't ever stand up straight!
So all of these choreographers who have created their 'dance voice' because of the way their bodies were built it's kind of fascinating… it's an inspiration to those who think that they don't have a 'dancer's body' … it's really about understanding and finding out who 'you' are. Finding out how your body wants to move is really the first step of knowing about yourself as an artist and as a dancer… how does your body want to move? There were so many unique, talented dancers in that last class (at the Sydney workshops) and they were all so different! But they had their own thing and that's the beauty of it!!
Q: Tell us about 'So You Think You Can Dance' and your career after that exposure.
MIA: Nigel Lythgoe (producer of SYTYCD) had seen pockets of different types of my work and asked me to be part of the show. I was already known in the dance world but once SYTYCD happened it became like GLOBAL… it was crazy! No-one knew or even thought that the show was going to be as big as it was… we were like 'we're just gonna do choreography and dance' and do what we do and little did we know that it was going to AFFECT the world on a really massive level!
All of a sudden choreographers became celebrated and people who didn't even know what the word 'choreography' meant now knew all these choreographers and their work and the different styles. It was a really interesting time. The show opened the mainstream eyes to dance and celebrated it on a level that nobody had done before.
My career is still the same to me after the show. I went back into my dance thing and I started creating and directing and did some Broadway, I did the NY Radio City Rockettes, I wrote a book which is coming out this year [ 'A Unicorn in a World of Donkeys']… it's about empowerment, and standing in your authenticity and never conforming… it has stories of my life and 'unicorn spottings'… it's very cool!
Q: How did you come to be a dancer?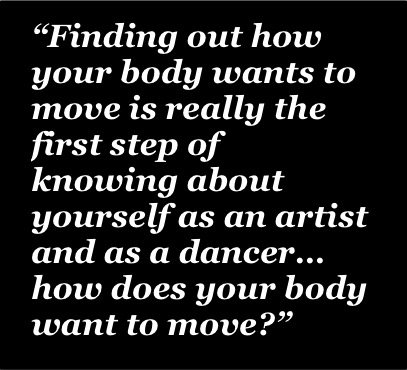 MIA: I was born into a dance family. My mum and dad had a dance studio. My dad was a model… a very handsome man, the original 'Marlborough Man' and he loved dancing … but he was a terrible dancer! But he loved it SO MUCH and he opened a studio and it was so successful because he was so GOOD LOOKING that everybody would just show up to take class with the 'Marlborough Man' and my mum would just collect all the money!!
I was literally in diapers in a studio… I was just destined to be inside a dance studio. I grew up there, I did my homework in a broom closet in the dance studio, I danced until 9 o'clock in the dance studio every night and then we'd go home and we would cook… because my dad was Italian… we would cook pasta. I had a really fun time growing up … I had the ACCESS to a dance studio at my fingertips. I remember I started exploring in class and changing everyones work, changing my dad's work, because I thought 'that's not cool enough, I wanna do it this way' … so that's how it started – that feeling of changing and exploring movement… I knew from a young age that I wanted to create DANCE!
Q: Have you ever been through any 'rough patches' and how did you deal with it?
MIA: The highs and the lows are part of it… it's a rollercoaster… without the lows there are no highs… when it goes up just enjoy it and when it goes down, don't freak out because it's always gonna go back up!
I had a 'rough patch' when I left the show (SYTYCD), like for a year and a half, I went to Los Angeles for a while and I was like 'what am I doing?'. I knew I didn't want to do the show anymore but I felt a little 'lost' … the show continued on but I just knew that I COULDN'T do it anymore … and I remember one night I was really praying and I was like 'God, what is next?' and I was really praying and I was being drawn back to New York and I wanted to do live theatre and that was kind of calling me.
I didn't know I was a 'storyteller' until I did SYTYCD… I thought I was a concert dance choreographer and somehow I turned into a storyteller and I didn't even know I had that in me! So I knew that the next step was to do Broadway, to do Theatre… and I literally woke up the next day – talk about prayers being answered! – to find an email from Harvey Weinstein asking me to do Finding Neverland if I was interested. I was on the next plane to New York. I remember sitting at the reading just balling my eyes out because it was such a beautiful, beautiful show and it was about an artist that was 'stuck' and 'lost' … and I had just lost my parents … and it was also about death and it had a lot of layers that I felt were speaking right to ME and I knew that I had to do it!
So I went back to LA, packed my things, sold my house and moved to New York! I'm still there. But I'm also a big risk-taker, I follow my heart, I let things lead me … I'm not afraid of anything!!
Q: When you started your company you were very young, did you ever think people would judge you or not take you seriously?
MIA: Yeah, but I didn't care! If I cared about what people thought about me I wouldn't be here! I was told 'you're fat', 'you're a rebel', 'you will never be successful', 'I don't know what you're thinking' … I had so many people constantly, I mean CONSTANTLY being negative … even when I was on the show (SYTYCD)! … I just had to stop watching or looking at any kind of social media because it was very cruel. You just gotta be like 'I don't CARE!'
This is ME; I am an extraordinary human being and I am put on this earth for a reason and I have a LOT to say … and if you don't like to hear it then DON'T LISTEN or don't watch my work. You know though, because I got told all those negative things I thought to myself 'Ok then, I'm gonna go and create my own world of dance and it's called Mia Michaels Movement, and I'm gonna do that – bye!' And I DID! I actually had one of my old teachers apologise to me recently through an email and ask you for my forgiveness because she said you I taught her a lesson!

Read our previous interview with MIA MICHAELS here where she talks about her future ventures, working with Tom Cruise and Australian dancers!

BIO | Mia Michaels
Best known to the mass market as a choreographer, judge and artist on So You Think You Can Dance, Mia's huge following in the dance world goes way beyond this of course. She has personally worked with: Madonna, Prince, Ricky Martin, Mary J Blige, Julianne Hough, the Rockettes, Heidi Klum, Tom Cruise, Russell Brand, Alec Baldwin, Matthew Morrison, Kelsey Grammar, Catherine Zeta Jones, Jennifer Hudson and more; choreographed and directed Cirque du Soleil and the incredible Rockettes in Radio City Music Hall; choreographed and coached Tom Cruise in the Rock of Ages and the list goes on!  
As a side note, Mia also does the latest NY buzz workout called Bari (http://www.thebaristudio.com/), plus yoga, and boxing to keep strong, supple and super fit.  She has also written a book called "A Unicorn in a World of Donkeys", is producing her own fitness and movement clothing line for women sizes 2 to 24 and has a television show in production loosely based on "The Academy of Mia" a very underground/militant/emotional, physical, technical, spiritual boot camp for chosen dancers.
In 2015, Mia joined forces as choreographer with dream team Harvey Weinstein, Diane Paulus, and Barry Weissler for the hugely successful Broadway musical FINDING NEVERLAND. She choreographed a special preview of the song, "Neverland" for the 68th Tony Awards featuring Academy Award winner Jennifer Hudson, as well as served as guest choreographer of the opening number for the
Rockettes Spring Spectacular at Radio City Music Hall and as guest artist and mentor in Broadway at the White House hosted by Michelle Obama, Kristen Chenoweth, and Matthew Morrison.
Mia has turned dance into inspired and unique works of passion and beauty. Mia's brilliant choreography was showcased when she reunited with her So You Think You Can Dance judge alumnus, Adam Shankman, in the big screen adaptation of the hit Broadway musical, ROCK OF AGES. Her moves were showcased by the star-studded cast, which includes – Tom Cruise, Julianne Hough, Alec Baldwin, Russell Brand and Catherine Zeta-Jones. She followed that with a co-starring role in Summit Entertainment's STEP UP 4.
Not only has Mia won three Emmy awards for Outstanding Choreography for the television series SYTYCD, but also her role in SYTYCD contributed to the show receiving the "Best Reality TV Show" award at the 2008 Reality TV Show Awards. Mia also directed and choreographed a dream sequence with Hugh Laurie for the hit television show, HOUSE MD, entitled "Get Happy."
Mia choreographed the most notable Celine Dion show, A New Day, which played at Caesars' Palace in Las Vegas for over five years and received stunning reviews. The New York Times raved, "The greatest pleasure…was the go for-broke physicality of the choreography". The show featured a cast of 50 dancers with two hours of pure dance artistry. Other shows featuring Mia's choreography include Celine Dion's world Tour, Taking Chances and Cirque du Soleil's first touring show, Delirium, which premiered in March 2006. She has also created works for numerous recording artists including: Madonna, Ricky Martin, Gloria Estefan, Anna Vissi, and Prince.
Mia's dedication to the art of dance naturally carries a presence in the dance concert arena. Included in her diverse concert and stage work was the critically acclaimed New York based dance company, RAW, for which she was the founder, artistic director, and choreographer; the Paper Mill Playhouse's production of "Hello Dolly!" starring Tovah Feldshuh; Les Ballet Jazz de Montreal; Jazz Dance Chicago; and the Oslo Dance Ensemble. Recently, Mia was honored to receive the prestigious Tom Adams award for her dedication to TITAS and the arts. The La Fete du Ballet chairs, Ambassador Ron Kirk and Matrice Ellis-Kirk, presented the award.
Mia's expertise in the area of dance has made her a highly sought after guest instructor and choreographer worldwide. She has held faculty positions at prestigious institutions of dance around the world including Alvin Ailey, the Joffrey Ballet, and International Dance Festivals all over the world.
Mia continues to teach inspirational master classes worldwide. Every year Mia is on faculty for the Jump International Tour with Break the Floor Productions for 100,000 aspiring dancers – a dynamic and unique weekend dance event, featuring the top choreographers and instructors within the dance industry.
Her students and peers around the world have noted her as a memorable influence. She has a way of touching people's lives with passion, emotional expression and style of dance.